Brian Burke is the new General Manager of the Calgary Flames. For how long, who knows? After firing GM Jay Feaster and Assistant GM John Weisbrod Dec. 12, he said he was already looking for a replacement. Many names have been mentioned since but the process could be lengthy. In fact, Burke hasn't ruled out remaining "acting" GM until the end of the season.
One thing is for sure: Burke wants the Flames to be much tougher. "You can pick the top 10 teams in our league right now," he said. "The coaches might be different, the systems might be different but the one thing they have in common: They're big. And I really believe once the Anaheim team won the Cup in '07 every team started to blueprint themselves after that."
He has a point – but the success of that Ducks team had more to do with having two of the league's best defensemen in Chris Pronger and Scott Neirdemeyer and a hot goaltender in Jean-Sebastian Guigere – than being the biggest and baddest team.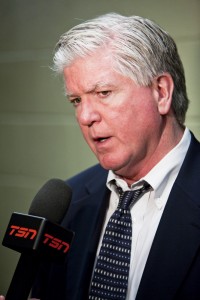 "Successful teams are big," said Burke. "We're not big enough. That's one thing. And we're not hostile enough. I don't like playing flag football. I like teams that bang. I don't like the way we play."
Burke doesn't like the way the Flames play? Few will argue that coach Bob Hartley is wringing all he can out of this team. Burke said the coaching staff is safe until the end of the season but one wonders – when the new guy comes in as the GM, will he bring in his own coach, as is often the case.
What the Flames need is bigger bodies, especially among the forward ranks, true. Fans hope that Burke doesn't intend to ice a team of tough guys. Speed and passing is the name of the game. The top teams feature a nice mix of speed and passing skills with some toughness added in.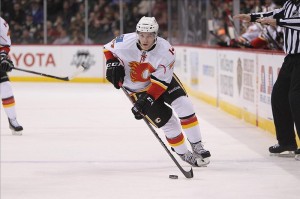 Curiously, Burke's very first move, made mere minutes into taking over, was to send Sven Baertschi to Abbotsford. A prelude to a trade? Burke didn't mince words at the beginning of the season, criticizing the young player for lacking commitment. There needs to be a place for skilled players like Baertschi or the Flames stay in the league's basement will be a long one. If the intent is to have Baertschi work on his defensive deficiencies and play a lot of minutes, then that can work for both him and the Flames in the long run.
When Burke throws out favorite words like "truculence," you can't fault the fans in Calgary for wondering if this means small, skillful players like Baertschi and NCAA star Johnny Gaudreau have no place in the team's future. One look at the recent Stanley Cup champions and these types of players – Patrick Kane of the Chicago Blackhawks for example – are a big reason for their successes.
Burke talks of "skill surrounded by beef" which is actually not a bad idea. In order for players like Baertschi and Gaudreau to be at their best, it doesn't hurt to have a big tough linemate patrolling the ice.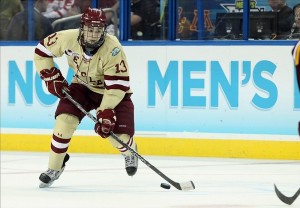 Burke also added this interesting and scary bit: "I was born impatient. I'm going to die impatient. I know that. It can't come as fast as I'd like it to." A solid rebuild takes time. A team can't rush young players, even someone like Sean Monahan. He made the team as an 18 year-old but will not peak for a while yet. The core of a successful team needs to reach their potential at the same time. Perhaps young goaltender prospect Jon Gillies is the one to truly replace Mikka Kiprusoff and lead the Flames back to the finals. The pieces are slowly being put into place but it will be some time before this team contends again.
Be sure to check in with our partners TiqIQ for your Winter Classic Tickets