It might be that disastrous collapse in game 7 of the first round. It also might be the fact that their number one goalie and captain have just one year left of their deals. Dave Nonis faced many questions as General Manager of the Toronto Maple Leafs Thursday at locker clean out day.
The media was unleashed on the Leafs and Management for the first time since game 7. The expectations weren't high for what we would be getting out of questions asked of Dave Nonis, but he delivered a press conference that offered more insight than past years. Brian Burke offered nothing in the way of an honest answer of substance. Nonis, rather, spoke honestly and elegantly while giving Toronto media a little something to chew on.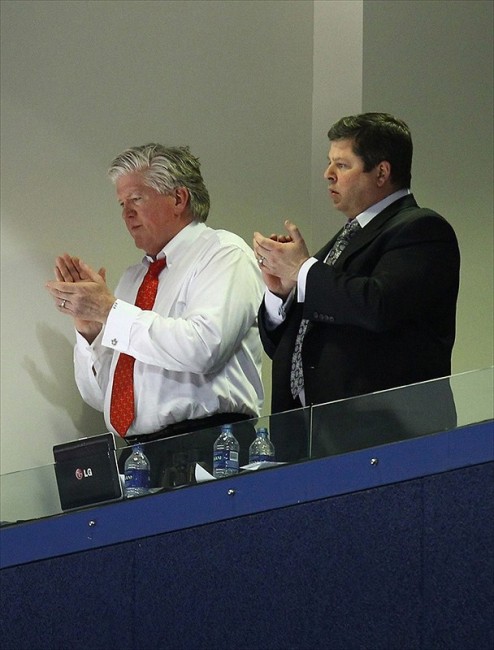 In terms of players available to pursue during the off-season Nonis explained his thoughts on what would be best for the team. Starting with buyouts, Nonis didn't circle the question hoping to avoid it at all costs, he gave it a thoughtful answer. He probably doesn't have a blueprint of what he's going to do with each guy yet, and that's fine to admit. Nonis gave much more insight into what he is thinking now, as opposed to what Burke would have forced through his pursed lips and furrowed brow.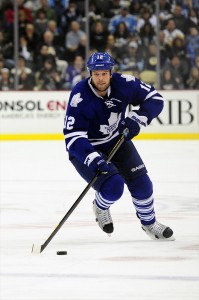 Question: When do you make a decision on the buyout option and what kinds of things might go into making those decisions?
Burke's Potential Answer: There is not one player on the Toronto Maple Leafs roster that will be bought out by the Toronto Maple Leafs.
Nonis engaged in discussion: "We have up until July to decide on compliance buyouts. The thinking there will be cap space. Is there a better way of using cap space if we create some more? Creating cap space and then spending it foolishly doesn't help us…". Nonis went on to mention spending all your money on your players doesn't necessarily mean you have improved your team, or have the best team. "If there's a way to spend that money better, then we may look to create some more cap space".
Q: Is this summer going to be different in that there are teams in cap trouble that you'll be able to kind of leverage or be able to look at their talent and pluck away at some of that stuff?
BPA: Maple Leaf Sports and Entertainment as well as The Toronto Maple Leafs are not about bullying other clubs into giving us their assets. This organization operates with respect for other GM's and their clubs. As long as I'm GM of this historic franchise, we will not be making moves to take talented players away from the teams that need them because they can't afford them.
Nonis answered "We are in a fairly good position cap-wise. We have some players we have to re-sign so that's going to eat into that cap space a little bit. We're not in a position where we have to shed money which some teams clearly are. There's going to be two ways for teams to do that, one is going to be compliance buyouts, the other is to move bodies." He continued to explain the situation the league is in this year as opposed to other years; "I would expect the weeks leading up to the draft are going to be fairly busy and I think the draft itself will be busy. You could see some bigger movement this year just because of the cap situation. This is the first time, if you go back to when the cap came in, I believe this is the first time the caps gone down. This is the first time as a league we're going to have to adjust to a lower cap."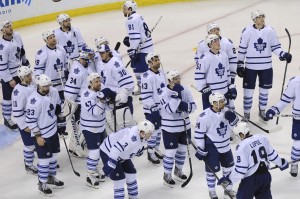 Q: This is your first off-season as a GM and I guess people are curious how bold are you willing to be, is anyone available, would you trade Dion Phaneuf, would your trade your captain?
BPA: Dion Phaneuf is the Captain of the Toronto Maple Leafs and is the face of this franchise. He is a player you build a team around. He's an active member of the community, he plays with truculence, belligerence, and testosterone. He is the personification of the product we at MLSE want to put on the ice at the Air Canada Centre. Dion is a great guy. As far as I'm concerned he's untouchable.
The typical Brian Burke response met with some contrast from Dave Nonis. "I've always felt that the world 'untouchable' is really silly in this sport. There [are] players that would be unlikely you would move, there are players that we see as being long-term solutions to success here, so there are guys that are unlikely to get moved. I think untouchable doesn't help you if you're looking to get better." Maybe Nonis was biting his tongue all those years as Burke's right hand man; "If there's something out there that makes sense for us, there's not a player you would look at and say 'No, we're not willing to move him'."
Q: Does the way Monday night went in any way change your view on what needs to happen with, or how the group needs to be adjusted going forward?
BPA: The team Dave Nonis and myself put on the ice is the team that showed up on Monday in game 7 of the Stanley Cup Playoffs. We wouldn't change a single roster player that we had lace up their skates for that game. The best team was suited up for the Toronto Maple Leafs. I wouldn't change a thing if I had to do it again. I can't say what will happen this summer, but I can tell you I am confident moving forward with this team representing the City of Toronto.
Sometimes, simple answers are the best. In the middle of the question asked by Hockey Night In Canada's Elliotte Friedman, Nonis says "No, no, it doesn't. What happened was disappointing… if we play that game 100 times I don't think it happens again. The notion that there was 10 bad minutes is just not true. If you watch that game again I think they had 2 or 3 shots from the time they scored that second goal until we got to under 2 minutes. It happened. We have to deal with the pain and the heartache and the disappointment, but it doesn't diminish the improvement we made over the course of the year, it doesn't take away from the 7 games we played which I think were excellent."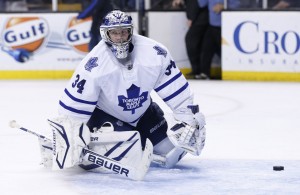 Q: What did you learn about James Reimer this season and do you think he'll be back as the number one goalie next year?
BPA: I believe you have to build a team from the back out. You start with goaltending, move to defense, and then you look at your centreman. I feel the Toronto Maple Leafs have starters in James Reimer and Ben Scrivens. I believe we have found two guys that can share the net and compete at a high level. If you asked a GM do you want a number one goalie or two goalies that can compete for that spot, what do you think they would say? Competition will bring out the best in your goaltending situation and this organization is content with having two world class athletes compete for the job of starting goaltender for the Toronto Maple Leafs.
After just mentioning making the team better and stronger for the next season is not an opportunity any team would pass up, Nonis comments honestly on his evaluation of Reimer: "At this point I would say he'd be back as number one. He did a very good job for us , I think his mental make-up or mental strength is something people questioned maybe last year and I think it was clear that a lot of his issues a year ago were based upon his health. When we needed quality goaltending I think for the most part, and I would say that's the same for every goaltender- no one's going to hit it 100% of the time- James was very good and I don't think anyone can point to goaltending as an issue with our team."
To listen to the full press conference with Dave Nonis, Randy Carlyle and player interviews click here.
Help Me, Help You
Dion Phaneuf's name was brought up in a question to Dave Nonis by Michael Grange of Sportsnet. His name has been fluttering around town as the whipping boy for Maple Leafs fans. Some of it deserved, most of it not. Phaneuf may not be the Leafs most talented, or productive defenseman, but he plays the minutes allocated to one.
Sportsnet and TheFan 590's Gord Stellick who was the General Manager of the Leafs from 1988-89, joined Tim Micallef on Tim and Sid Thursday. He talked about the situation the Leafs are in with Phaneuf and agreed with Sid Seixeiro and Jeremy Roenick that Phaneuf should not be re-signed. "The question you can ask is not are you going to buy [Phaneuf] out, not are you going to strip the 'C' off, I mean those things aren't going to happen but contract extensions, you can start talking in July. I would have been interested hearing what they had to say in either case." Host Tim Micallef asked if Dion Phaneuf's contract was front and centre for the Leafs to which Stellick answered "Maybe the fact [Phaneuf's contract] is not being discussed is there's nothing to discuss. Fact is, one year left, he's not going anywhere, he was Ron Wilson's teachers pet, Randy Carlyle loves him too. They gave him the 'C' which unfortunately clouds the issue all the time but he didn't do that to himself. The guy has played well but unfortunately we expect Norris Trophy things here in Toronto".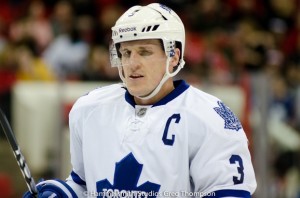 As a captain of an NHL team, you should always be able to produce. Niklas Lidstrom, Jarome Iginla, Sidney Crosby- they all perform their best and put up great numbers for themselves as well as doing their best for their team. I'm not accusing Phaneuf of being a bad captain. The decision to make him captain wasn't a bad one at the time. NHL captains are highly overrated in terms of how much you need one. What you really need is a few leaders to motivate. Phaneuf's role as captain has placed unrealistic expectations upon him to be the best defenseman. As Stellick said, Leafs fans expect a Norris Trophy nod, or a season worthy of one. What those fans don't realize is Phaneuf had the talent early in his career to get there, but has since developed into a much different player. He doesn't score like he used to, he doesn't hit like he used to and he doesn't fight like he used to. He's dependable- most nights- as your fourth best defenseman.
Where do the Leafs go from here? Giving him the C has given him the right to a big long-term contract that his play hasn't warranted. Would he take a pay cut to stay on as captain of this team and relinquish minutes to defenseman like Jake Gardiner and Carl Gunnarsson? It's unlikely that kind of shift won't create tension within the locker room.
As Jeremy Roenick and Sid Seixeiro suggested on Tim and Sid (Sportsnet Fan590 May 15th) you might as well leave Phaneuf's contract as is and let him play out the last season. If he plays well and is a productive defenseman, you can talk about him taking a pay cut, but if he does not improve his game, and as Dave Nonis said, there are other better options, so there's no harm in letting your captain walk. The team can be turned over to someone else, and that person is speculated to be Joffrey Lupul.
The Leafs should use their money elsewhere, instead of keeping their captain on a team he where he sits half way down the depth chart. Use that money to reward James Reimer, Nazem Kadri, and Phil Kessel. Those are players you need for the future, Phaneuf is expendable.
Katie Flynn is a News Editor at theScore and theScore App as well as an NHL Analyst for H4TV Sports News.