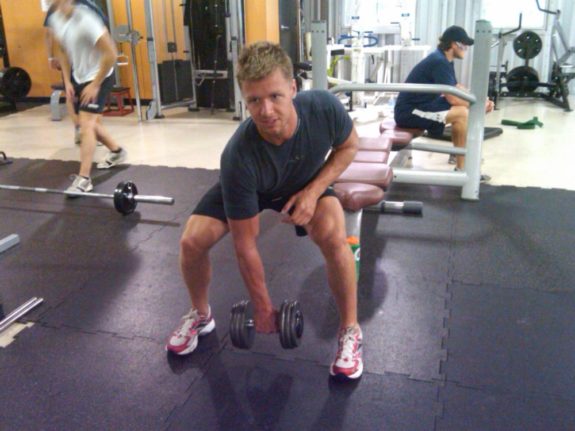 Marc Methot has come a long way since his Junior A days playing for the Kanata Valley Lasers. A steady stay-at-home defenseman for the Lasers, he transitioned perfectly to major junior and continued to play his hardnosed style. After getting drafted in the sixth round in the 2003 NHL Entry Draft, a possible career in the NHL seemed unlikely. It wasn't until the following few seasons with the London Knights that he emerged as a legit NHL prospect. Following his Memorial Cup victory in 2004-2005, he spent three seasons with the Syracuse Crunch while also playing 29 with the Columbus Blue Jackets. In 2008-09 he finally made the fulltime jump to the NHL and quickly became one of the most underrated defenseman in the league.
On July 1,2012, he was traded from the Columbus Blue Jackets to his hometown Ottawa Senators in exchange for Nick Foligno in a move that was questioned by Senators fans immediately. He was brought in to be a complimentary player on the top defensive pairing for Erik Karlsson by providing his steady defense. When the season finally began this year, Karlsson and Methot showed instant chemistry quickly becoming one of the best duos in the league. It wasn't until Karlsson's injury that Methot really flourished and became Ottawa's best and most consistent defenseman. He is a terrific skater, throws huge hip checks, and does an excellent job shutting down opposing teams top lines.
A chance to make the Olympic Team?
Methot benefits from being left-handed and that right there is already a huge plus. When you consider that Kris Letang, Drew Doughty, Shea Weber, PK Subban, Brent Seabrook, and Alex Pietrangelo are all right-handed; there appears to be a few spots on the left side open. Duncan Keith is likely a lock as a left-defenseman on Team Canada and Marc Methot will be against stiff competition in Dan Hamhuis, Dion Phaneuf, Brian Campbell, Francois Beauchemin, and Marc Staal. It's almost a guarantee that some of the right-handed defenseman will transition to the other side making only one or two spots open.
The upcoming Olympics will be held on international ice and it would appear to be a concern for a player of Marc Methot's style.  Methot however is an excellent skater and has played on international ice before as he has represented Team Canada in the IIHF World Championships the previous two seasons. As a defensive defenseman, it will questioned if he is better defensively then someone like Shea Weber who is also able to put up points consistently. Playing with a healthy Erik Karlsson next season should certainly improve his offensive totals which will help his cause. His willingness to win, great leadership, and past history with Team Canada will give him an extra edge come selection time.
Methot has benefited from playing in a stronger hockey market and has really turned some heads this season as one of the best shutdown defenseman in the league. He has been one of the major reasons the Senators have been successful at all and has been great so far in the playoffs even scoring the game winning goal against the Canadiens in Game 1. So does a Marc Methot stand a chance? While the chances are slim, he will continue to improve his game leading up until the Olympics and his name will be tossed around often. The only way I can see Methot making the team is through injuries or some of the likely candidates really struggle next season leading up to Sochi. Marc Methot just to needs to consistently play his game effectively and if he can increase his offensive totals he should get a long look. It seems as though it would take a miracle for him to make Team Canada, but he would play a great shutdown/penalty killing role on the team.
The chances are slim, but then again, there's a chance.