With the threat of a lockout just a few days away it is hard to imagine the 2012-13 season commencing on time. Both the NHLPA and the NHL Owners continue to be miles apart on a potential new agreement, which means we could be looking at late December before we watch any meaningful hockey or possibly another missed season.
Of course, the way things have gone around the Air Canada Center the past seven years the majority of Toronto Maple Leaf fans can afford to wait a few months before they endure what might just be another season of futility.
Since the last lockout the Maple Leafs are the only team to miss the playoffs for seven consecutive seasons. Along the way MLSE brought in Brian Burke to take over the general managers role in hopes of turning this once proud franchise around from the joke it slowly became.
Just how bad have things been since Burke arrived?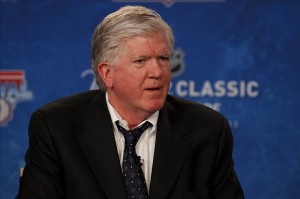 Toronto finished the 2008-09 season with 81 points followed by another trying season in 2009-10 when they finished with a paltry 74 points. The 2010-11 season was the first time the team had been above 82 points since the 2007-08 season finishing with 85 points. After a quick start which saw the Maple Leafs sitting in a playoff spot for a good portion of the 2011-12 season they regressed to 80 points, once again finishing out of the playoffs and with many questions to be answered.
Since his arrival in Toronto Burke has all but cleaned house, trading or letting go of just about every player he didn't have a part in bringing to Toronto. In fact, with Burke trading away defenseman Luke Schenn this summer, only two players— Mikhail Grabovski and Nikolai Kulemin—remain from the 2008-09 everyday roster.
A quick look at the 2008-09 roster reveals Burke had little to work with when he got here.
Gone are under performing players like Matt Stajan, Jason Blake, Nik Antropov, Dominic Moore, Niklas Hagman, Lee Stempniak, John Mitchell, Jeff Finger, Jamal Mayers, Alexei Ponikarovsky, Boyd Devereaux, Jonas Frogren, Jeff Hamilton, Alexander Steen, Mike Van Ryn, Anton Stralman, Jeremy Williams, Jiri Tlusty, Carlo Coliaiacovo, Christian Hanson, Ryan Hollweg, Brad May, Phil Oreskovic, Tim Stapleton, Jay Harrison, Kris Newbury, Vesa Toskala, Martin Gerber, Justin Pogge and Curtis Joseph.
Let's face it, all Burke really had when he took over was an aging Tomas Kaberle, a diminishing asset in Pavol Kubina, the oft-inured Ian White, the offensively challenged Steen, the aging duo of Ponikarovsky and Antropov and the newly departed Schenn. Most of the other players are struggling to find NHL jobs, are injury prone, over the hill or are out of the NHL all together and of the ones that remian in the NHL none of them are considered major contributors to their respective NHL clubs.
Starting with virtually nothing Burke has built a decent team, but he has failed to build a playoff team, which has many people talking about Burke's future as general manager of the Maple Leafs.
Burke signed a six-year deal when he joined the Blue and White back in November of 2008. With Burke about to embark on his fifth season as GM many are suggesting it is a do-or-die season (make the playoffs or else) for Burke.
When you consider what Burke inherited when he got here and the difficulties surrounding getting rid of those players it is a miracle Burke has anything resembling an NHL roster, let alone a playoff contender.
Loyal to a fault, the Leafs Nation continue to fill the Air Canada Center to capacity every night, all the while praying that this will be the year their beloved Maple Leafs make the playoffs. While there is no guarantee the Buds will make the playoffs next season there is reason for optimism, no matter how misplaced it appears to be at times.
Up front the Maple Leafs feature the dynamic duo of Phil Kessel and Joffrey Lupul. Together they placed sixth amongst the top one-two punches in the NHL last season, solidifying themselves as a dangerous threat every time they hit the ice.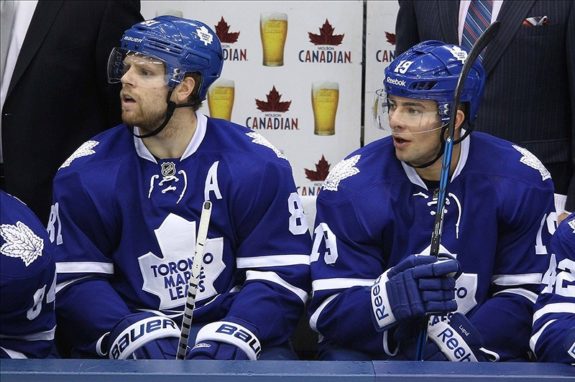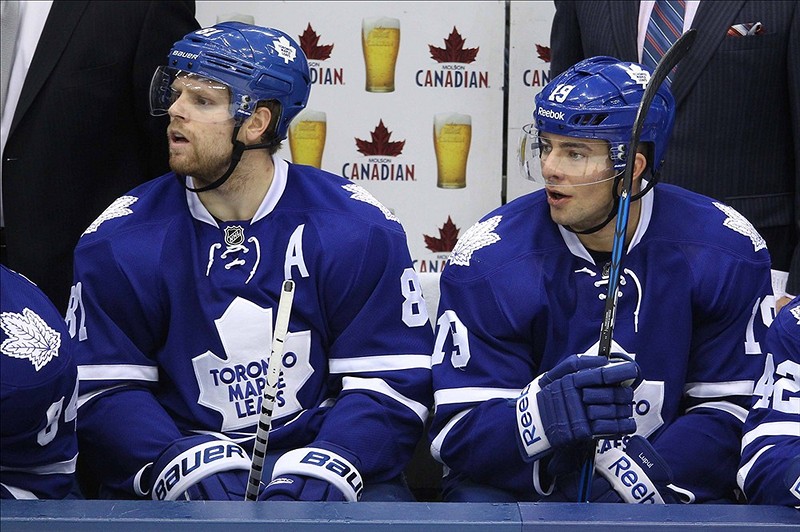 The rest of the top-six will likely come from a long list of players which includes James van Riemsdyk, Clarke MacArthur, Nikolai Kulemin, Mikhail Grabovski, Tyler Bozak, Nazem Kadri, Tim Connolly and Matthew Lombardi.
Toronto's scoring prowess and aggressive style of play earned them the tenth best offense last season averaging 2.77 goals per game. JVR should help elevate that number, or at least keep the Maple Leafs in the same ballpark despite the threat of a more defensive style of play being instituted for the 2012-13 season.
Toronto's power play was equally good, succeeding at a 18.4 percent rate, which was good enough for a share of ninth overall.
As much as we'd like to concentrate on the positives, the defensive side of the Maple Leafs game was horrendous, bottoming out at 29th overall, giving up an ugly 3.16 goals per game. Meanwhile the penalty kill was equally inept, humming along at a pathetic 77.3 percent which ranked the Blue and White 28th overall.
It was the defensive side of the game that sank the Maple Leafs playoff hopes, culminating in a disastrous 35-37-10 record, which was "good" enough for 26th overall in the standings.
On the backend the majority of the duties fell on the shoulders of captain Dion Phaneuf and veteran defenseman John-Michael Liles. With Luke Schenn being moved the Maple Leafs will rely on sophomore defenseman Jake Gardiner to make up Schenn's minutes, while also asking Carl Gunnarsson to pick it up.
Korbinian Holzer, Mike Komisarek, Cody Franson and Jesse Blacker will fight it out for bottom-pair duties, with Franson (who is still a RFA) and Holzer probably emerging as the best of the bunch.
James Reimer and Ben Scrivens look to be Burke's only options between the pipes. Both goaltenders are unproven at the NHL level, neither one is a true number one goalie—at least not yet anyways.
Despite a rough patch with his injury struggles, Burke still believes in Reimer. As for Scrivens, his dominant performance in last seasons AHL playoffs has people talking, but we have seen far too many AHL goalies lay an egg at the NHL level, so we will hold off making any silly predictions regarding Scrivens' performance next season.
In terms of prospects the Maple Leafs ranked 20th in The Hockey News 2012-13 Yearbook receiving a grade of B-. On the surface 20th out of 30 teams does not seem overly promising, but when you consider just how bare the Maple Leafs prospect cupboard was when he arrived, a B- is not so bad!
With prospects like Holzer, Blacker, Morgan Reilly, Nazem Kadri, Joe Colborne, Carter Ashton, Tyler Biggs, Stuart Percy, Brad Ross, Matthew Finn and Greg McKegg in the system the future looks bright for the Maple Leafs—as long as the fans are willing to continue to be patient.
Burke will forever be chastised for pulling the trigger on the Kessel deal, but when you consider his body of work as GM of the Maple Leafs he looks to have done a good (not great) job.
In two seasons time Burke (or some other GM) will have to make a major roster decision in terms of whether or not to re-sign the likes of Joffrey Lupul. Given the chemistry Lupul and Kessel have it would be a shame to let him go, but with Lupul already earning $4.25 million what will it take to re-sign him if he has a 70-point season next year? $6 million per season? $6.5 million? And where would that leave Kessel the following summer? $7 million per season? $8 million?
Are Kessel and Lupul worth a combined $14 million to stay with the Maple Leafs?
The reality is, unless Burke can sell these two offensive juggernauts that the Maple Leafs are on the right track (playoff bound in a hurry) both Lupul and Kessel could test the free agent waters. Should Lupul leave Burke may be able to replace him with another UFA, but if Kessel walks Burke will be in big "Barney".
Phaneuf will be a UFA the same summer (2014-15) that Kessel will become a UFA. If you have been watching the most recent UFA signings Burke has two years to make the Maple Leafs into contenders or his most valuable players will likely walk for greener pastures—both financially and in terms of playoff success.
Once a desired destination by many players, Toronto (Burke) has struggled to make any  impactful signings via free agency. Mike Komisarek has been a bust, as was Colby Armstrong. If the past is any indication Komisarek will have trouble sticking with the team, while Armstrong was bought out this summer, signing with Toronto's arch-rival, the Montreal Canadiens.
Other free agent signings of note include Tim Connolly (who struggled to find his way with the Maple Leafs last season), Joey Crabb (who was a decent free agent signing, but was hardly an impact player), Colten Orr (who now is playing in the AHL) and Phillippe Dupuis who was also a disastrous signing for Burke.
Burke is on the record as saying he feels more mistakes on made on July 1st than any other time in the year. Clearly, free agency has not been kind to Burke, which may have swayed his feelings.
To be fair, the only decent signing Burke has made was bringing in Clarke MacArthur, although his stock seems to be sliding downward somewhat these days. A case can be made that veteran defenseman Francois Beauchemin (later traded for Lupul and Gardiner) was a good signing, but he never showed enough for Burke to keep him around.
This off-season Burke signed defensive forward Jay McClement via free agency. While he is expected to help out on the penalty kill he too will be hard-pressed to be a significant player next season.
Where Burke has excelled at times is on the trade front where he has acquired Jake Gardiner, Joffrey Lupul, Phil Kessel, James van Riemsdyk, David Steckel, Mike Brown, Dion Phaneuf, Joe Colborne and Carter Ashton. Colborne and Ashton are yet to establish themselves as NHL regulars, but there is hope both will have an impact with the big club sooner rather than later.
Kessel and Lupul were one of the best duo's in all of hockey last season, Gardiner looks like he will be a star, Phaneuf made the all-star team last season, JVR has all-star potential, while Brown and Steckel are valuable role players.
Burke has also made some questionable trades, including the acquisitions of J.S. Giguere (who was adequate but not great), Kris Versteeg (who impressed Burke enough that he was traded before playing a full season in Toronto) and Matthew Lombardi who remains a big question mark heading into next season.
Overall Burke has done a decent job of rebuilding the Maple Leafs, but an argument can be made that he has not lived up to expectations.
Those that chastise Burke point to the Kessel trade as a huge failure, but how many GM's were able to pull off a deal for a top-ten scorer in the past four years? Sure, the price was steep (two first round draft picks and a second rounder), but there were no guarantees that Boston was going to get a lottery pick (which turned into Tyler Seguin) or that Dougie Hamilton would be available where he was. As for Jared Knight he is a long shot to make the NHL.
The fact remains, Burke has built the Maple Leafs from NOTHING and while his moves are yet to pay off in terms of a playoff birth there is hope the Maple Leafs can turn the corner next season.
Should the Maple Leafs fail to make the playoffs next season odds are Burke's head is gonna roll, but are expectations too high in Toronto? Few experts are picking the Maple Leafs to make the playoffs in 2012-13, in fact, few see this team contending for another year, maybe two. Is there anything wrong with that?
Ask yourself this—could any other general manager have built a better team than Burke has considering what he had to work with when he got here?
Salary cap restrictions, bad contracts (which admittedly Burke has contributed to) and the lame hand Burke was dealt have made it extremely difficult for Burke to improve the Maple Leafs, yet on paper he has accomplish just that—improvement.
Should Burke get canned, who would you replace him with? Would anyone be able to expedite the rebuilding process? Would anyone do a better job than Burke? What could they possibly do, blow the team up and start all over again? If so, would that payoff?
From my seat it appears as if the best thing to do is to just stay the course, hold onto your young assets and let the chips fall where they may.
Despite his critics, Burke has done a decent job since arriving in Toronto. Burke has made mistakes and he has made some questionable moves, but his body of work suggests he has the Blue and White on the right track and there is no sense in replacing him. What the fans need to realize is that the rebuild is well on it's way, and if it takes six full seasons (or more) of Burke at the helm, so be it.
To coin a phrase—be careful what you wish for, you just might get it. Firing Burke would be little more than a band aid solution to a problem that needs time to sort itself out more than anything. Without question, Burke deserves more credit than he receives and he should remain GM of the Maple Leafs regardless of what next season brings.