For those out there who geek out over goalie mask art, yesterday was a big day as Sabres backup goalie Jhonas Enroth revealed his new lid for the upcoming season via his twitter account (@JEnroth125).
My new mask for this season. Let's get the season going! RT if u like it #nolockout #figureitout http://t.co/HBUY4dyX

— Jhonas Enroth (@JEnroth125) September 6, 2012
And the other side of the mask. #classic. RT http://t.co/EPr2yveq

— Jhonas Enroth (@JEnroth125) September 6, 2012
At first glance, it's really quite impressive. The right side features a longhorn skull, wandering bison, and 'Buffalo' nicely scripted down to the chin, with the road jersey stripes dominating the side. On the left, we see the primary Buffalo logo in all its vintage glory (ie: slug free), again with the script down the chin. And through the middle of the mask, there's the intimidating brick wall art that's sure to cause opposing shooters to think twice before trying to sneak one by him (or one can imagine that kind of effect, at least).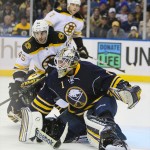 How much ice time this mask sees is largely dependent on how Ryan Miller rebounds from a poor, injury-plagued season. Enroth went 8-11-4 in 26 GP in 2011-12, posting a .916 Sv% & 2.70 GAA with one shutout. The jury is still clearly out in terms of whether this 2006 2nd round pick (46th overall) is able to carry a team for a long period of time, but another injury to Miller or perhaps even a long-talked about potential trade could open up an opportunity for Enroth to get an extended look sooner than later.
Whatever his role may be in 2012-13 (provided there is indeed a season), there's no question that Enroth will have one of the best looking masks in the NHL. And if looking the part truly is half the battle, he'll already have a pad up on the competition right there.
But, first things first; as Enroth pleads to the powers that be in his tweet, #figureitout.