The Blues swung a blockbuster deal in late February to bring in star goaltender Ryan Miller to gear the team up for a long playoff run. General manager Doug Armstrong & Co. felt that a bona fide starter was all the team needed to go the distance.
Backup goalie Brian Elliott might feel like the team already had that sitting on the bench.
Since the trade, Elliott has posted a 2-1-0 record with a 1.00 GAA and a .959 save percentage in three starts. He posted his first shutout since Jan. 2 on Sunday afternoon, recording 33 saves against the high-powered Pittsburgh Penguins.
Elliott's best save came late in the first period, when Penguins forward Lee Stempniak charged in from the blue line and slid a shot along the ice on his backhand. Elliott kept the pads together and covered the puck up to stop play. It was one of 10 saves in the opening stanza.
Late-season heroics are nothing new for the Ontario native. After a rocky start to the 2012-13 season, Elliott posted an 11-2-0 record in April. His 1.28 GAA, a .948 save percentage and three shutouts earned him the NHL's second star of April. He went on to lead his team into the playoffs, losing in six games to the Los Angeles Kings in the Western Conference quarterfinals.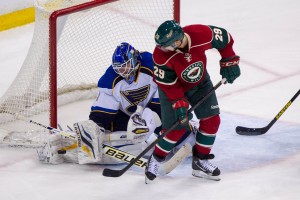 Blues fans don't like to remember that Elliott was in goal for 16 shots against in Game 6 — a game in which the Blues scored just one goal on 22 shots and lost, 2-1. The game-winning notch came with under a second to go in the second period, after the Blues failed to clear the puck, from a Dustin Penner slap shot that glanced off defenseman Roman Polak.
The cries for a starting goalie rang even louder from the fanbase, hyping the Miller-to-the-Blues rumors to an all-time high.
Now that Miller is officially a Blue, the much-debated goalie controversy appears to be at an end. However, Elliott will not be going quietly.
Elliott's future
Does Elliott's play mean that there is, yet again, a goalie controversy in The Gateway City? Likely not, as Miller was brought in to be the team's "playoff goaltender" and perennial starter down the stretch (how bad would that trade look if Elliott was given the reins to open the playoffs?). However, Elliott's strong play as of late works well in his favor for next season and beyond.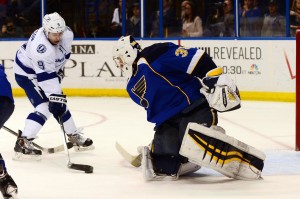 The almost 29-year-old goalie will see his two-year, $3.6 million contract end this summer. It is believed that Armstrong will pursue Miller (also a UFA) to return and share the crease with up-and-comer Jake Allen, who will work with a one-way contract in 2014-15.
However, Miller will come at a price. The Blues will have decisions to make on RFAs Jaden Schwartz and Vladimir Sobotka, along with UFAs Carlo Colaiacovo, Brenden Morrow, Steve Ott and Derek Roy, so Armstrong will have to be careful about overspending in net. Miller, who earned $5 million this season, could warrant a hefty sum on the open market, meaning that the Blues will want to try and lock him up before the free-agency period begins on July 1. If the two camps cannot reach a deal, management will be forced to consider bringing back Elliott.
If the Blues and Miller do reach an agreement, Elliott is likely out the door as Allen, 23, seems to be prepared for a full-time NHL assignment. Elliott will be seeking work as either an NHL starter or, like his situation in St. Louis, as a split starter. Easier said than done, as goaltending vacancies seem to diminish every offseason. Currently, the only NHL teams that may have Elliott on their radar are the Calgary Flames, Detroit Red Wings, New York Islanders, and Philadelphia Flyers. Obviously, things could change in a few short months, but the scarcity of jobs for goaltenders will only improve with NHL expansion — which won't be the case in 2014.
The Blues have two more back-to-back game sets on the schedule (April 5 & 6 and April 10 &11), so it is possible that Elliott will have some more chances to showcase his talents. For Elliott, these starts will be an opportunity to play his way into an NHL job next season, whether it be in St. Louis or elsewhere.