With 19 points standing between the Florida Panthers and the final Wild Card spot in the Eastern Conference, it's all be assured that the team will miss the playoffs for the second straight year. An appearance in the quarterfinal in 2011-12 snapped a decade-long playoff drought and signaled a turnaround for the franchise.
That was two years ago though, and you'd have to forgive fans of the Panthers for getting antsy. The team is in dire financial trouble and with a 26-37-8 record, Florida isn't doing a good job of distracting their base from the off-ice struggle to make a profit. The key to making money in this business is to create a core fanbase through outstanding play across a number of consecutive seasons—not just one push here and there.
For whatever reason, new owners seem to think that simply changing the keys to the rink will excite die-hards enough to get them to spend cash. That's not the way it works. Florida has one of the better general managers in the NHL in Dale Tallon though, and he's slowly building this team towards respectability.
Rebuilds take time. High draft picks and a few free agents don't magically get a team into the postseason. It takes years to create the depth that squads like the Chicago Blackhawks and Boston Bruins have. The Panthers have a long way to go before getting to that level, but the foundation is already in place and growing rapidly.
Building Strength Down the Middle
The Panthers have been able to add a nucleus of outstanding centers due to high draft positions over the last few seasons. The one-two punch of Aleksander Barkov and Nick Bjugstad isn't feared right now, but within the next season or two the duo could become one of the strongest center combinations in the NHL.
Both Barkov and Bjugstad are big—the former is listed at 6-foot-3, 213 pounds and the latter punches in at 6-foot-6 and 218 pounds—and extremely talented. There are similarities between how Tallon built Chicago's core and how he's working in Florida, but this foundation looks a bit more like that of the Anaheim Ducks.
Large players that can lean their way to the net and wear down the opposition across a seven-game series. It has taken Bjugstad a while to find his scoring touch in the NHL, but with only 76 games of experience, he's progressing well enough. Barkov was having a Calder-worthy season before an injury at the Winter Olympics. There's little doubt that the 18-year-old has the chops to be a special player for a long time.
Corey Pronman of The Hockey Prospectus wrote this about Barkov prior to the 2013 draft:
He can slow the game down and dictate the tempo, as well as be the focal point on the power play. He also has a high level of defensive skill, showing ability at a very young age to be a quality defensive center. He has good technique on faceoffs, as he keeps his hands low, pulling pucks back quickly. Despite having good puck skills, he is not a player who will consistently try to stickhandle around players. He is selective, but he has the talent to create offense out of nothing. Barkov is a big, strong player.
Along with Bjugstad—who is a little more willing to crash and bang—the Panthers have a pair of go-to top-end centers that are still several years from reaching their primes. Holding up the No. 3 center spot will be Drew Shore, who has already established himself as a strong scorer at the AHL level.
While Tallon didn't draft Brandon Pirri, he was wise to scoop up the former Blackhawks center when he saw the opening. He's really clicked in Florida, and this could end up being a steal for the organization. Perhaps he's the new No. 3 center for the team moving forward? Once you start getting internal battles like the one that will spring up between Pirri and Shore, that's when depth becomes evident.
Brandon Pirri had 13 points in 35 career games w/#Blackhawks. Has 7 points (3 goals, 4 assists) in 8 games since trade to @FlaPanthers.

— Pete Jensen (@NHLJensen) March 19, 2014
Not many franchises can claim to have four potentially elite centers that are 23-years-old or younger. If success in the NHL is dependent on depth down the middle, Florida is set up to be a top squad in the league for years to come.
Top-Tier Goaltending
The Panthers waited a long while for Jacob Markstrom to evolve from "goalie of the future" to No. 1 goalie of right now. He got shelled at the NHL level whenever he was called up though, and didn't exactly impress in the minors either. After waiting a half-decade for the highly-touted Swede to pan out, Tallon decided to pull the trigger on a deal to bring in the guy many folks thought Markstrom could develop into.
Thank you Vancouver for a great 8 years! Really appreciative of all the support especially the last little while. I will miss the LOOO'ing!!

— Strombone (@strombone1) March 5, 2014
At 34-years-old, one could make the argument that Roberto Luongo's best years are behind him. Despite the lack of a strong defense in front of him in Florida, he's actually been better for the Panthers than he had been for the Vancouver Canucks this season. Through eight starts as a Panther, Luongo sports a .919 save percentage.
He also single-handedly stole a game from the San Jose Sharks on March 18, which is something that elite-level netminders do. Steal hockey games.
With Luongo in goal, Tallon buys himself at least another season or two to trade for or develop another No. 1 goalie. The ex-Canuck is more than good enough to backstop this team to a Stanley Cup playoff appearance, which is the goal for the franchise at this point. Markstrom could eventually lead Vancouver to the playoffs, but would he outperform Luongo? If they both continue on their current performance curves, that seems doubtful.
Luongo isn't a goalie that can win an entire series by himself like Jonathan Quick, but he's still capable of playing at a high level. The biggest difference that the veteran makes is in the consistency department. With Markstrom, Florida was never sure about the kind of goaltending they were going to get on a nightly basis. That's not the case with Luongo. That changes the way forwards play, the way coaches coach and the way that the defense goes about their business.
Defense-Defense-Defense
Florida's top-six doesn't currently inspire awe. Brian Campbell is still a minute-munching stud on the blue line and Tom Gilbert has been an outstanding something-for-nothing addition for the Panthers, but the young guns on the back end haven't held up their end of the bargain.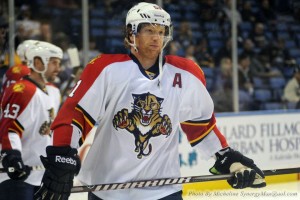 That's to be expected though. Players like Olli Maatta and Seth Jones that can jump right into an NHL role as teenagers without missing a step are rare. It commonly takes young defensemen longer to develop, and that's how things have worked out for Florida's up-and-comers. Aside from Campbell (34), Gilbert (31) and team captain Ed Jovanovski (37), no blueliner on the team is older than 23.
There will be mistakes—a lot of mistakes—when you allow your defensive core to learn by playing in the NHL, but the Panthers have stood by Erik Gudbranson and Dmitry Kulikov while adding Dylan Olsen in a trade with the Blackhawks. Gudbranson in particular is a player worth getting excited about. At 6-foot-5, 216 pounds he's a big man that knows how to use his size. When he's on his game, he's mean as a hornet too.
Gudbranson has struggled with injuries this season and will be an RFA at the end of the year. Tallon doesn't appear to be ready to let the youngster walk though. Instead, he seems to have big plans for the big man.
Dale Tallon on Erik Gudbranson being an RFA: "He's not going anywhere. He is likely going to be the captain of our team some day."

— Ian Mendes (@ian_mendes) March 18, 2014
The Panthers must re-sign Kulikov moving forward as well, since he also will be an RFA at the end of the season. Assuming that Tallon can reach an agreement with the Russian defender, Florida has a unique mix of talented youth and steady veterans on the back end. None of them are going to win the Norris next year, but if the group takes a step forward in the 2014-15 season then the Panthers could surprise.
**********
There's no right or wrong way to build a hockey team. The consensus is that it's a good idea to have a strong goalie, and working through the draft is usually a better approach then going nuts during free agency. Tallon has been adding pieces to this team for a few years now and is on track to get this squad into the postseason in the near future.
He's got two outstanding young centers, a few stud defensemen with NHL experience and a goalie that can bail the kids out when they make mistakes. There are no guarantees in the NHL these days with parity being at an all-time high, but as the pieces come together in Florida, don't be surprised to see them knocking on the playoff door within the next season or two.