The Vancouver Canucks ended some speculation Wednesday when they announced that they had signed head coach Alain Vigneault to a contract extension. This is hardly a huge surprise as general manager Mike Gillis had been hinting that Vigneault would return all spring, but to some Canucks fans this will be a disappointment.
Despite that vocal minority, this was simply the right and only move the Canucks could make behind the bench.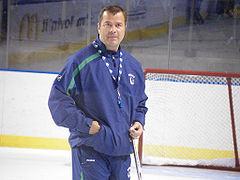 Alain Vigneault is the best coach the Vancouver Canucks have ever had. He has a record of 287-155-50 with Vancouver and has led them to back-to-back President's Trophies and one game from winning the Stanley Cup. Beyond that he has helped make the Canucks a perennial power in the Western Conference and the NHL.
So why were fans clamoring to see him move on?
The answers to that are confusing and mostly un-measurable.
Critics will point to the fact that he has not taken a talented team all the way to the top of the mountain. Falling one game short is a slight in their eyes and reason to make a change. They fail to give Vigneault the credit for managing this team, which is very talented, and would have you believe that he does little more than dump a bucket of pucks on the ice for practice.
Vigneault should get credit.
When Vigneault took over the team in 2006 the Canucks struggled to score goals and Vigneault managed to guide them into the playoffs with a shut down defensive system. As the Sedins, Ryan Kessler and Alex Burrows blossomed into scorers he adjusted the team's style to play more open and ended up winning the President's Trophy and Western Conference. He knows how to get the most out of this roster.
Vigneault saw the potential in putting Burrows on the top line with the Sedins, a move which has turned Burrows into a valuable two-way threat. He has taken some innovative steps to maximize the potential of his best players with things like having the twins, almost exclusively, start shifts in the other teams end which results in more scoring chances. It is no surprise that they have won Ross and Hart Trophies while playing for Vigneault.
Some say that Vigneault has 'lost the team' which would explain this past season's lack luster play and quick exit from the playoffs. The Canucks did seem to play with little enthusiasm this season, especially after the new year, and despite winning games were limping along during the second half. Was this the head coach's fault? Should he have done something to motivate the team more?
It's hard to say what effect the short summer and long playoff run the previous season had on the 2011-2012 Canucks. The players would never admit to being worn down or tired, but that is how they looked. While they will never admit these things played a role, but we can. We found out this month that Ryan Kesler was playing with an injured shoulder, one that required surgery when the season finally ended. Daniel Sedin missed the last month of the season with a concussion. Clearly the team was struggling physically.
Are these things the coach's fault? Hardly.
There are still others who feel that Vigneault is too arrogant, stubborn and that costs the franchise in the long run. They will blame him for Cody Hodgson's lack of ice time and for Aaron Rome's abundance of ice time, claiming that he plays favorites.
While Rome's ice time does remain a mystery, to think that Cody Hodgson deserved more ice time is absurd. For starters, he was a centre who was third behind Henrik Sedin and Ryan Kesler. Which one of those Olympians should he have taken ice time away from? Secondly, Hodgson's success in Vancouver had a lot to do with Vigneault putting him in good situations. Hodgson has a ways to go defensively and Vigneault made sure he sheltered him from starts in his own end. Because of this Hodgson's offensive numbers benefited. If anything, Vigneault should get credit for Hodgson's season.
The bottom line is that Vigneault has earned this extension and in the end the Canucks would have been hard pressed to find a better coach to replace him had they decided to let him go. The list of available coaches with better pedigrees is pretty short to non existent. Would Canucks fans really be excited to have someone like Craig MacTavish from the AHL, or perhaps some other re-tread take over for the Canucks? Would that really have been an improvement?
So now Vancouver fans are going to be stuck with another season where the team will win the Northwest Division and be among the favorites to contend for the Stanley Cup. Alain Vigneault is a big reason for that and some fans will be reminded he is the reason this is a good time to be a Canucks fan.
Andrew writes about the WHL and NHL Draft Prospects. He also covers the Seattle Thunderbirds for 710 ESPN Seattle and spent two years with Sportsnet. Follow him on Twitter @andyeide.