With the NHL Compliance Buyout Window Looming, Should the Capitals Buy Out Brooks Laich?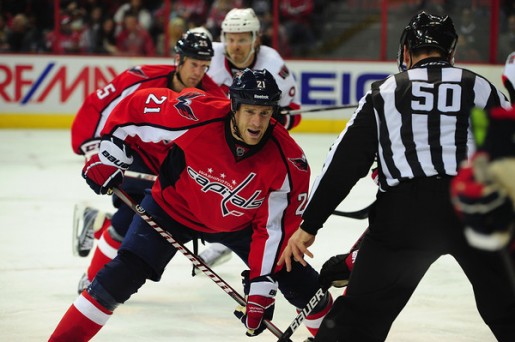 Capitals fan favorite and all around good guy Brooks Laich has had a rough go in Washington the past few seasons.  Hindered by numerous groin injuries and sports hernia surgery, Laich has not played a full NHL season since the 2011-2012 season.
The 30-year old from Wawota, Saskatchewan was acquired late in the 2003-2004 season from the Ottawa Senators in a package that sent Peter Bondra the other way.  Laich was originally selected by Ottawa in the 2001 NHL Draft in the sixth round.
What is Brooks Laich?
Brooks Laich has been a very versatile forward for the Washington Capitals.  He has played both centre and wing and has virtually played on all four lines at some point during his tenure.
Laich's ideal upside has led many to believe that he could become a second line centre.  This has been a hole that has haunted the Capitals for many seasons.  Laich can win faceoffs, play defensively responsible hockey, and can cycle the puck well.
Laich signed a six-year contract extension back in 2011 which carries an average cap hit of $4.5M dollars.  At the time of the contract signing, it was considered a bargain deal.
Should Laich Be Bought Out?
Laich has been a key member of the Capitals success for many seasons.  His versatility throughout the lineup makes him a real valuable asset.  But is he a key to the Capitals future?
This writer seems to think that Laich's time in Washington has run out and it is time for a change.
With the emergence of young studs Evgeny Kuznetosv and Tom Wilson, and with Mikhail Grabovski in the mix to re-sign, there is really not much room for a guy like Brooks Laich on the team.
Laich's $4.5M cap hit and three years left he has on his contract is a tough sell to other teams for a possible trade.  If the Capitals were to try and trade Brooks Laich, there is no doubt that they would have to eat some of his contract.  It is safe to say that Brooks Laich may not be the same player he was three years ago when he was putting up 40+ points per season.
If the Capitals did somehow manage to trade Brooks Laich, the trade could end up being a bad contract for a bad contract.  An ideal Laich trade would have some defensive help coming back to Washington.
This writer thinks that Laich's $4.5M cap hit could be best utilized in addressing the Capitals blueline needs.  The Capitals are two defenseman away from having a well structured blueline.
After the 2014-2015 season concludes, the Capitals will be making lots of roster decisions.  Some of the names that will be up for contract renewal include: Joel Ward, Mike Green, Marcus Johansson, and Braden Holtby.  Some of these guys will be in line for a good raise.  With a salary cap that can fluctuate and can go up and down between seasons, is having Brooks Laich on the books a real viable option?

It is tough to say if Laich will ever be the same player again with all he has been through with his numerous groin injuries.  There is plenty of veteran leadership on the team, so that is not an area where Laich is needed.  The Capitals had the best powerplay in the NHL last season without Laich for a majority of the time, so he is not needed there.  With guys like Eric Fehr, Joel Ward, Troy Brouwer, Nicklas Backstrom, and Jay Beagle who are all good forward penalty killers, Laich is expendable in that area too.
This writer does not see the fit for Laich with the Washington Capitals.   While this writer thinks Laich is a quality individual and still a serviceable player, his talents are not needed in Washington.  Laich would be best suited to go to a younger team with lots of youth and inexperience.  Teams like Florida, Edmonton, Calgary could use a guy like Brooks Laich because he could give them extra depth and good leadership.
The Capitals still need to fix their problems on the blueline and in between the pipes.  Laich's cap space is valuable in the modern salary cap era.  With glaring holes on defense and questions in goal, that money could be used better somewhere else.  If there was an unlimited salary cap in the NHL, Laich would still be worth something to the Capitals and their future.  When someone is paid the amount of money he is, he is expected to produce consistently.  If that someone is not producing consistently, management, fans, and media will take notice.  It is not Laich's fault for his unfortunate injuries, but this writer is concerned with how productive he can actually be when he is completely healthy.
A $4.5M cap hit can buy a quality defenseman or goaltender in today's NHL.  While the Capitals do not have many major concerns at the forward position, the money needs to start shifting around for them to get back into the postseason.
The Capitals have just under $15M dollars in cap space available to use during this offseason.  This writer believes that the Capitals need: one top six forward (or two if Grabovski does not re-sign), two top-four defenseman, and one goaltender.  With a Laich compliance buyout, the cap space money shoots up close to $20M dollars in cap space.  The unrestricted free agency class is a bit weak this year.  The restricted free agency class has some interesting names on it.  The Capitals could theoretically throw a large offer sheet at someone and could acquire a major impact player either at forward or on defense.  If Laich's cap space was freed up, it is very possible the Capitals could make a major splash during free agency.  This writer likes the thought of the Capitals potentially throwing a large offer sheet at P.K. Subban during the offseason, especially if they have the cap space to do so!
Thanks for tuning in!