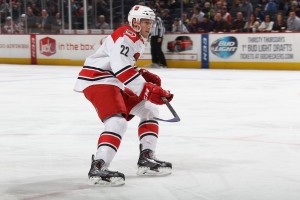 In the world of professional sports bloodlines run deep. Influences can come from a variety of family members ranging from brothers to cousins. At the moment, there are a band of brothers in the National Hockey League that cannot be overlooked Eric, Marc, and Jordan Staal who are arguably superstars in the league.
There is one brother missing from the equation and that is 23-year-old Jared who is honing his offensive craft in the American Hockey League with the Charlotte Checkers, the top development team of the Carolina Hurricanes, the same team that showcases Eric and Jordan.
Prior to a Checkers midweek contest in November, The Hockey Writers correspondent Ted Warren had a Q & A session with the youngest Staal.
THW: How do your older brothers influence your game?
J.S.: It's pretty amazing when you have three older brothers playing at the level where they're playing. It's something you want to follow. They're really big influences for sure.
THW: When your rights were traded from Phoenix to Carolina did you talk with Eric before arriving in the organization?
J.S.: We talked about the Hurricanes for years because he was there for many years. Because of that, I had a comfortable feeling with the organization all ready before talking with Eric from being down there on visits when I was younger. I knew most of the people in the organization already.
THW: A couple years later Jordan signed on to play with Carolina. How exciting was it to you and your family to have every brother except Marc playing in the same organization?
J.S: It's neat; it's not something that you see every day in the NHL. To have Jordan there with Eric, I know they're excited about it. Our whole family is ecstatic that they're playing in the NHL together. If you have that opportunity you would want to do that.
THW: Last year you made your NHL debut alongside Jordan and Eric. How was it finally playing alongside them in the NHL?
J.S.: (Laughs & Smiles) It's weird to think about even now. It was my greatest hockey moment to date. It was a lot of fun and I hope I can do it a lot more. It's something I'll never forget.
THW: Did Eric or Jordan tell you anything before the game?
J.S.: They didn't say too much. It was more play the game you've been playing down in the American League and just bring that to the table. Don't try and do anything exceptional–just play solid, have fun and enjoy the moment.
THW: During the off-season do you and your brothers go anywhere back home in Thunder Bay to hangout and forget about hockey?
J.S.: My brothers have some places on the lake out there about 45 minutes out of town. That's one of the places we like to get out to during the summer and on the weekends to get out on the lake and play some beach volleyball and just get away.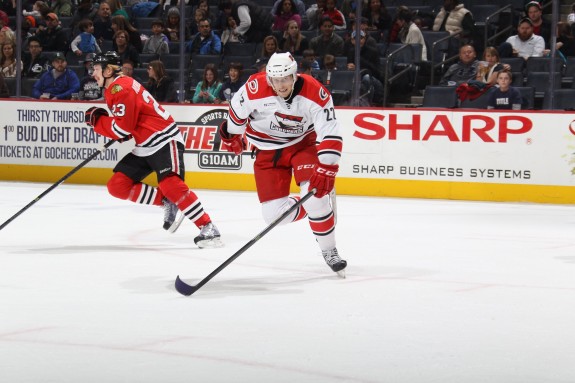 THW: TSN's Cabbie seems to have a pretty good relationship with the Staal's. Is that staged or is that real?
J.S.: (Laughs) He's done a few interviews where he is part of the family like he is one the brothers. I haven't had the chance to interview with him yet, but I know they enjoy doing that and calling my Mom during the interviews. It's pretty funny.
Zach Boychuk who is currently on recall with the Hurricanes gave his two cents on the youngest Staal, "He is one of the most improved players that I've played with. He's a big strong guy that can kill penalties, cycle the puck and protect the puck. He's starting to get a little bit more bite to his game by finishing some hits and being rough out there. He's definitely a guy that can be a depth player in the NHL."
If Jared Staal continues to give it his all in the minors, it's just a matter of time until he finds himself back in the NHL with his brothers.
Follow Ted on Twitter @Bauerhockeydude
Ted grew up in Virginia. Warren has a passion for the AHL and dishes out articles about the Norfolk Admirals and the AHL. Follow him on Twitter @bauerhockeydude