The Albany Devils have completed the 2013 portion of their 2013-14 American Hockey League campaign and what a ride it has been thus far.  Despite dropping a shootout in their final contest of the calendar year, Albany finished with a flurry, going 7-1-1-1 in December.
Overall, through 31 games, Albany has posted a mark of 19-8-2-2 (42 points).  If the playoffs were to start today, the Devils would place fourth in the Eastern Conference and would have home ice in the first round.  Their record at this point is the best ledger by a Devils affiliate in Albany, since the 1998-99 season, when they ended December with a record of 19-7-3-1 (42 points).  That team wound up with 46 victories and 100 points.
One really couldn't ask for a better run from this team, especially with Eric Gelinas, Jon Merrill and Reid Boucher still up with the New Jersey Devils and Stefan Matteau playing for the U.S. World Junior squad.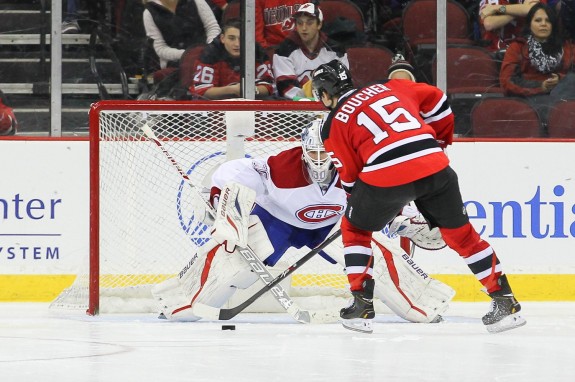 Biggest victory:
A 6-4 win over the Springfield Falcons on December 4.  Posting eight tallies on Bridgeport the game before was one thing, putting up six on the Northeast Division leader was quite another.  It was a gritty win for the Devils, one in which Chris McKelvie registered a "Gordie Howe hat trick."
Toughest loss:
A 3-0 loss to the Norfolk Admirals on November 1.  The Devils were without Keith Kinkaid in this one but even he would've been hard pressed to have out dueled John Gibson in net.  The Ads goalie turned away all 34 shots sent in his direction and completely stymied Albany.
Stat so:
When leading after two periods, Albany boasts a record of 16-0-0-1.  Albany has also outscored its opponents 56-40 at home.  That plus 16 margin is the largest home goal differential  of any Eastern Conference club.
A Calder Cup contender?:
Yes.  Every night a new hero steps up for this team.  When you're that deep on defence, your goalie is a brick wall and your power play ranks eleventh in the league, all of the ingredients are there for continued success.
Three stars:
1.) Keith Kinkaid: Sure he has an impressive defensive unit in front of him but his confidence and numbers are off the charts.  Kinkaid has 13 wins and leads the AHL with four shutouts and a goals against average of 1.92.  Think he has an eye on a spot with New Jersey next year?
2.) Joe Whitney: While others get the call, Whitney soldiers on for the A-Devils.  Whitney's 32 points pace the club and are good enough for fifth overall in the AHL.  He is speedy, sneaky and on spot.
3.) Chris McKelvie: Some guys just know how to jump start a team.  McKelvie does all the little things right and he's a lunch pale, grind it out type of player.  He works his tail off every game.
Honorable mention(s):
Have I sung the praises enough with this defence?  New Jersey fans already know about Gelinas and Merrill but there's a lot to like with the speed and size of the defence in Albany.  Whatever Scott Stevens told these guys in training camp, must have sunk in.  A deep pool of talent.
Michael Gwizdala covers the New York Islanders for The Hockey Writers. Michael is also an Associate Producer at WNYT NewsChannel 13. Additionally, Michael was once a Media Relations intern for the AHL Albany River Rats. Michael is a graduate of The College of Saint Rose in Albany, NY.