After their Game 7 win over the Toronto Maple Leafs, it became apparent that the Boston Bruins would have to roll out a lineup devoid of Dennis Seidenberg, Andrew Ference and Wade Redden once the second round began. Many saw that as a major disadvantage for the Bruins, factoring these injuries in their decision to pick the Rangers to win the series. But in the absence of that trio of experienced Bruins defencemen, youth and organizational depth has stepped to the fore, reminiscent of something that occurred with GM Peter Chiarelli's former employers during the regular season.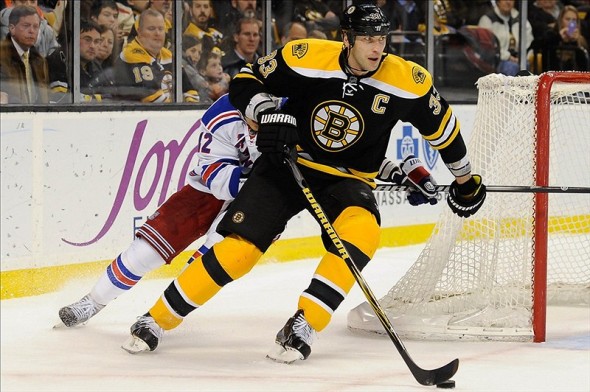 Earlier this year, the Ottawa Senators found themselves in a bit of a spot when they learned that Jared Cowen would miss a significant part of the season due to a hip injury. On top of that, Erik Karlsson's season appeared to be over after the devastating injury to his Achilles back in February. As a result, the Senators had to rely heavily on a trio of defencemen from Binghamton – Patrick Wiercioch, Andre Benoit and Erik Gryba.
Of course, as the story goes, the Senators were not only able to keep the ship afloat despite injuries to key players, they defied all logical expectations by qualifying for the playoffs. While these three d-men have assumed lesser roles as guys have moved back into the lineup, their regular season contributions should not be overlooked.
Over the course of the regular season, Gryba, Wiercioch and Beniot ranked 4-6 in 5 on 5 TOI among Senators defencemen, and Wiercioch also logged the 2nd most minutes on the power play in Karlsson's absence. In fact, Wiercioch appeared in 42 games, scored 5 goals and added 14 assists, essentially led the Sens D with a 19.15 On-Ice Corsi rating, was a +9 and chipped in with 3 PPP. Benoit scored 10 points in 33 games, including 2 game winning goals, and also boasted a 14.30 On-Ice Corsi, while Gryba's learning curve was a bit steeper as he actually had a -3.69 On-Ice Corsi while logging some heavy shut down minutes. (numbers courtesy of Behind The Net)
What helped in this situation was a concerted effort by the Senators not only to draft well and build organizational depth, but to create an environment and a system wherein a player could and should transition seamlessly from one level to the next. As such, a defenceman playing in Binghamton under Luke Richardson would have similar demands and expectations placed on him upon arrival in Ottawa, while playing in a system under Paul MacLean that already had an air of familiarity to it.
As to how that worked out for them, well the proof is in the pudding; Bryan Murray's work in creating this kind of system has paid off with an appearance in the conference semi-finals and a Jack Adams nomination for MacLean.
So what does this have to do with the Bruins defencemen?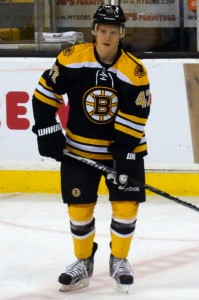 With Seidenberg, Ference and Redden out of the lineup, 3 young Bruins defencemen have been called to step in and step up, and that they have done.
Dougie Hamilton, of course, has been playing at the NHL level all season, but was relegated to the sidelines as the playoffs began, as Claude Julien is wont to do with rookies in the playoffs (see Seguin, Tyler: 2011). In the 5 games that he has played, however, Dougie has put together an impressive 40.31 On-Ice Corsi rating, has chipped in 2 assists, and has helped give the power play a nice look when partnered with one of his young AHL counterparts.
That man would be Torey Krug, the undrafted defenceman out of Michigan State who has made an immediate impact for the Bruins after being called up from Providence. Krug played in 63 games for the P-Bruins this season  – his first as a pro – scoring 45 points (13 G, 32 A), breaking the record for points scored by a Providence rookie defenseman in a season, and becoming a fan favorite in the process.
And in 2 games vs the Rangers, Krug as scored 2 goals (1 PPG) and added an assist, with an On-Ice Corsi of 18.95.
He has also become somewhat of a cult hero in Boston, the long-awaited for "puck handling defenceman" that can and has energized a dormant power play and boosted a struggling offense. His now famous puck kick led to the Bruins second goal in Game 2, and he is causing Bruins fans to utter something to this effect:
kruuuuuuuuuuuuuuuuuuuuuuuuuuuuuuuuuuuuuuuuuuuuuuuuuuuuuuuuuuuuuuuuuuuuuuuuuuuuuuuuuuuuuuuuuuuuuuuuuuuuuuuuuuuuuuuuuuuuuuuuuuuuuuuuuuuuuuuuuu

— Remy (@RemyConnors) May 20, 2013
uuuuuuuuuuuuuuuuuuuuuuuuuuuuuuuuuuuuuuuuuuuuuuuuuuuuuuuuuuuuuuuuuuuuuuuuuuuuuuuuuuuuuuuuuuuuuuuuuuuuuuuuuuuuuuuuuuuuuuuuuuuuuuuuuuuuuuuuuuug

— Remy (@RemyConnors) May 20, 2013
Matt Bartkowski has also made in impact for the Bruins in these playoffs, notching his first career NHL goal in Game 7 vs the Leafs, and thwarting a Derrick Brassard attempt in Game 2 vs the Rangers that led to a Bruins goal at the other end to make it 4-2. Bartkowski was drafted in the 7th round of the 2008 Draft by the Florida Panthers, and was acquired alongside Seidenberg in March of 2001. He has been quietly developing his game in Providence over the last few years, and was thought to be a piece going to the Calgary Flames in a potential deal for Jarome Iginla. Based on his play to date, the Bruins must be feeling good about retaining his rights, and he is fitting in nicely among the ranks of Bruins defencemen.
(Bruins D numbers courtesy of Behind The Net)
Really, this all shouldn't come as much of a shock. As anyone who saw what happened in Ottawa this year can attest to, the model of developing players in the AHL and creating systemic continuity between the two pro levels can and has bred an environment where players are set up to succeed after making that jump. The Bruins are also proving that to be true with the way that Krug and Bartkowski have stepped in after logging heavy and significant minutes in the AHL this season (like Johnny Boychuk and Adam MacQuaid did before them), and one can't help but wonder if young Dougie may have been well served with some time in Providence as well.
If anything, it all reinforces the notion that teams should be populating their AHL squads with good, young talent rather than blowing their stacks on players already at the NHL level (something that contributed to Redden becoming a Bruin in the first place), or pushing players to succeed at the NHL level too early in their careers.
As the Senators and Bruins have shown, the creation of an environment and a system where a player can transition seamlessly from one level to the next can serve the organization well when the need is greatest, and both clubs are reaping those rewards to the tune of an appearance in the second round of the NHL Playoffs.
While any one of Hamitlon, Krug and Bartkowski will be forced to sit once Seidenberg, Ference and Redden are ready to return, these young Bruins defencemen have helped the team amass a 2-0 lead over the Rangers, and that's all that can be asked of them for now.
(For more on this AHL link, please read this great post on Stanley Cup of Chowder – Dear NBC: Time To Acknowledge The AHL)
Follow Ian on Twitter for more hockey updates and commentary.