"This isn't 2011."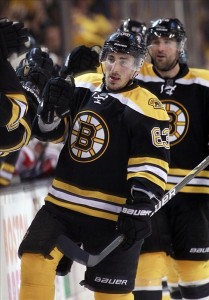 That's what you should have been thinking with ten minutes left in the third period of Game 2, back when the Montreal Canadiens held a 3-1 lead over the Boston Bruins. Had the Canadiens won, the Bruins would be down two games to none heading to Montreal for Games 3 and 4 of the Eastern Conference Semifinals. Just like 2011. Except not at all.
Within five and a half minutes, the Bruins had scored three times, pulling ahead 4-3 before Milan Lucic buried an empty net goal and to seal the win and ensure a series tied at one. It was less reminiscent of 2011, but similar to the comeback the Bruins staged last season in Game 7 of the Eastern Conference Quarterfinals.  The 2013 Boston Bruins, if anything, showed that they wouldn't go down without a fight. That's what Game 2 felt like for these Bruins, too.
"I can just tell you its grown over the years," said Bruins head coach Claude Julien, on the team's resiliency. "You just have to look at our roster and see how many guys have been here this amount of years, and those leader kind of players, and you guys know by talking to a lot of these guys, the maturity of these players. So I think it's about a coach feeling comfortable in saying, listen, these guys, they get it, and if I have to talk, it can be between periods, too. I don't need, like I said, I don't always need a timeout in the middle of a period to get my point across."
Unlike in Game 1, the Bruins were able to finish off their third period rally against the Canadiens in regulation. It was a different result from the previous Game 1, but the Game 2 win did show that the Bruins can change the pace of the game at any given time.
"Not only last year, but last game we were down by a couple goals and we came back," said Brad Marchand who now has four assists in two games. "We just knew that we had to focus on the first one and anything could happen after that. And especially with the crowd on our side, they really got into it after that first one. It just seemed like we got that life, and we knew we were going to come back and win the game."
The Bruins had the highest winning percentage (.304) in the NHL for comeback wins after trailing to start the third period in the 2013-14 NHL season. Their seven wins are tied for fourth. This wasn't the first come from behind victory for Boston and it probably won't be the last either.
"Obviously we've got to find a way to not get into that position, if we can," said Patrice Bergeron. "But, I think we're a resilient group and we've been there before and we have the confidence that we can actually come back in games. Tonight was a perfect example of that. That being said, they outplayed us for more than half the game, so we've got to be better.
The 2013-14 Boston Bruins are obviously a much better team than what they were last season which brings to mind the success they had. If the Bruins can learn to control games from the start and come out with their best foot forward, it becomes less about the comeback kid team and more about just how good Boston can be.