With news coming out that the New York Islanders traded a fourth round pick to the Washington Capitals for the rights to Jaroslav Halak, Islanders country is probably anxious to see the Slovak netminder get locked up to a long-term deal sooner rather than later. While the Islanders will have a window of nearly two months to get a deal done with Halak, mutual interest toward getting a deal done has already been expressed by both sides.
Of course, signing Halak would certainly go a long way toward helping the Islanders solidify their starting goaltending situation, but New York would still have a void to fill in terms of who would be their backup goalie. Although it's more than likely that the Islanders could try to address their number two spot in the crease by exploring the trade or free agent markets for players such as James Reimer or Brian Elliot, there is still a case to be made for retaining the services of Evgeni Nabokov.
Veteran Savvy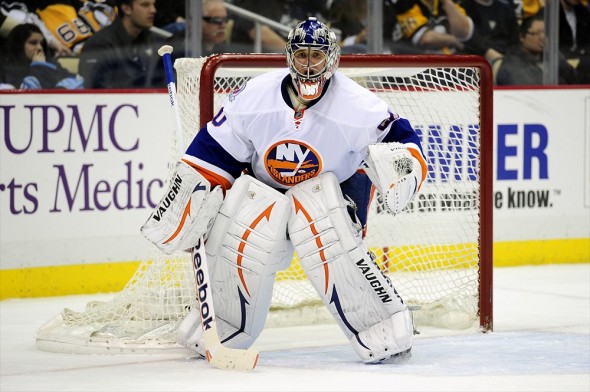 By now, Islanders fans are well aware of the intangible assets that Nabokov possesses as a seasoned NHL netminder. Over the last three seasons, fans have seen the way that Nabokov can be a calming and influencing force on a young team.
Not only has Nabokov's leadership and approachable demeanor provided the budding Islanders with a veteran that can break down the game through sheer experience, he has played the roles that the Islanders have asked him to play over the last three seasons. When the Islanders needed Nabokov to shoulder the workload for a shortened 2012-2013 NHL season, the goalie stood on his head en route to helping the Isles secure a playoff berth for the first time since the 2007-2008 NHL season – and it's hard to imagine that the Russian netminder would reject such a role going forward if the team chose to offer him a contract.
By now, Nabokov has probably figured out his limits as a 38 year old goalie. Sure, Nabokov might not move as well or as crisply as he did when he became a fixture with the San Jose Sharks back in the late 90s/early 2000s, but he is still an individual with enough savvy to know how to play his angles and compensate for movements that his body might not be able to sustain at his current age.
At this point in time, whether Nabokov can play at the NHL level shouldn't be the question that is coursing through the minds of Islanders fans. Nabokov has shown time and again that he has been able to preserve himself and play at a high level if given ample rest. While it would be unfair to expect Nabokov to carry the workload of a starting goalie at this point of his NHL career, there are little to no indicators that signify that the netminder can't succeed as a backup option on Long Island.
Adios Anders!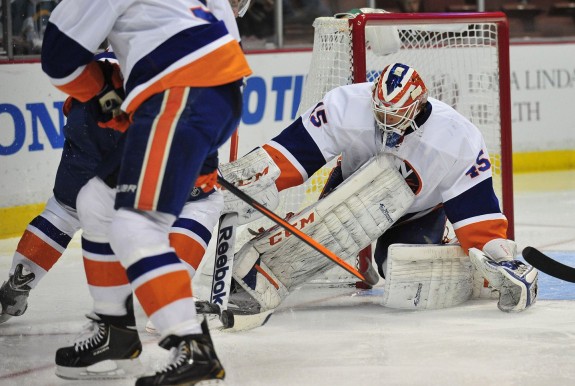 After saying that he wouldn't accept an AHL assignment for the upcoming hockey season, Anders Nilsson basically shot himself in the foot. Even though Nilsson wound up with a winning record (8-7-2) at the end of the '13-'14 regular season, his peripheral statistics (.896 Save Percentage, 3.11 GAA) left much to be desired from the 6'5″ netminder.
An argument could be made on Nilsson's behalf since the goalie was thrust into a less-than-optimal situation for a young goaltender to flourish, but demanding a one-way contract couldn't have been a more ludicrous proposition from an individual that has only played in 23 NHL games in parts of two seasons with the Islanders.
Appears Anders Nilsson won't be back w/ #Isles next season. Looking for one-way deal that he won't get from team. SHL/KHL likely next stop.

— Arthur Staple (@StapeNewsday) April 30, 2014
Nilsson's size and potential certainly made him a valuable asset to the Islanders, but in all fairness the Swedish goalie certainly needed additional time in order to become a complete product that was ready for NHL play. With better backup options on the NHL free agent market or via a trade, it is more than likely that Nilsson has already said his good-byes to a potential NHL gig – at least for the upcoming hockey season.
Poulin On The Outs?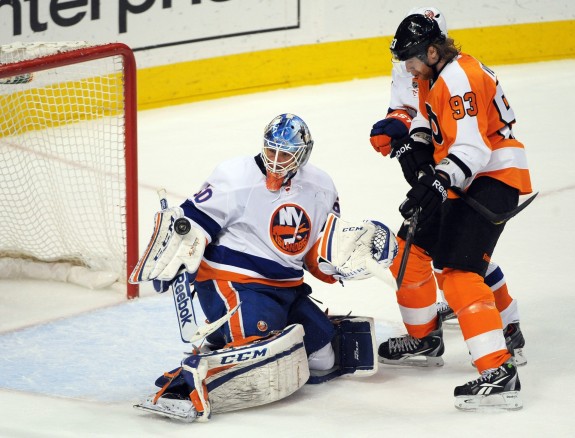 Anders Nilsson might not have had the most attractive statistical line during the '13-'14 NHL season, but Kevin Poulin definitely didn't fare much better. Poulin did have a good stretch of games after Evgeni Nabokov suffered his second injury (leg) of the '13-'14 season, but his overall numbers (3.29 GAA, .892 Save Percentage) were hardly encouraging.
While Poulin finished the season off in the AHL with the Bridgeport Sound Tigers, one has to wonder if the goalie will remain in the Isles' future plans – especially with a logjam of goalies (Stephon Williams, Eamon McAdam, & Parker Milner) in New York's pipeline. 
Much like Nilsson, Poulin isn't fully at fault for his poor statistical showing during the '13-'14 regular season, but his inconsistency as the Islanders' starter last season is definitely more than a bit worrisome going into next season. When a goalie finds him or herself in a backup role, that individual is tasked with being ready at unpredictable times and is most certainly counted upon to battle in each and every one of their given starts.
Now, this is not to say that Poulin was unreliable or unprepared for his starts last season, but with fewer starts in between games one has to wonder if throwing Poulin into the backup role next season is the best option for the goalie's development. Whether or not Poulin would be ready to inherit the backup role in Long Island next season is something that very few, if any, could answer. However, if one were to envision scenarios where the Islanders were forced to rely on their number two netminder to carry them for an extended period of time, then who would one feel more comfortable with in net? Nabokov or Poulin?
Cap Space Not The Issue
While Jaroslav Halak might receive a fair amount of money if he signs a contract with the New York Islanders, there is no reason to think that the Islanders won't be able to sign another free agent goalie as their backup. Having only 21 players under contract ($42,022,810) going into the '14-'15 season, Garth Snow has nearly $30 mil. in funds that he could use before he gets to the cap maximum ($71.1 mil.).
Assuming that a starting goalie of Halak's caliber might take around $4-$5 mil. to sign to a contract, Snow would still have enough financial leeway to sign a backup goalie, address New York's RFA situation, and potentially splurge on another free agent defenseman or forward on the market. Granted, the Islanders haven't had a reputation as big spenders over the last several free agent periods, but if a long-term defensive or goaltending asset is available and interested, then there wouldn't be any reason to think that management wouldn't improve the team.
While players such as Ryan Miller and Jonas Hiller will likely be handsomely rewarded once NHL free agency rolls around, there are a couple of goalies that could come cheaper if the Islanders will be looking for more of a value deal to fill their backup spot. Players such as Thomas Greiss and Al Montoya have proven themselves to be very reliable backups over the last few years that could possibly be obtained at a lower cost, cap hit, and contract commitment. Regardless of which route the Islanders choose when it comes to addressing their backup goalie vacancy, the team will certainly have enough money to maneuver the free agent market for a number two goalie.
Decisions, Decisions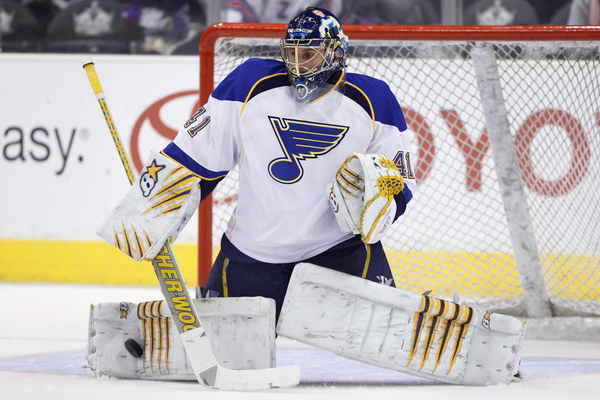 If one takes a look at the crop of impending free agent goalies, then they could likely draw the assumption that the Islanders have a number of netminders that they can entice. Signing Jaroslav Halak will undoubtedly be on Garth Snow's immediate agenda, but providing New York's incoming starting goalie – whoever it may be – with a formidable backup likely won't be too far off the "to-do list."
Despite the fact that Snow has a number of options that he could consider for backup duties, Evgeni Nabokov might just have a bit of an edge against other goalies on the market. Not only could Nabokov be signed to a one-year deal, he would most likely understand his role with the team, thus providing a younger Halak with a knowledgeable and committed mentor.
Nabokov's importance to the New York Islanders over the last three seasons cannot be understated, and one can tell from the goalie's on-ice demeanor and post-game candor that he genuinely cares about the direction of the Islanders.Retaining a goalie that has grown with the Islanders and familiarized himself with the workings of the organization might not seem like such a bold or important move, but it is one that could provide stability in the Islanders' crease.
Whether or not the Islanders pursue Nabokov in any type of role might largely depend on New York's ability to negotiate a contract extension with Jaroslav Halak, but one thing is for certain, and that is the fact that Nabokov has shown himself to be as dedicated an Islander as one as seen over the last several years – one whose impacts have already been felt throughout the organization.