By Mike Miccoli
The 'core' that the Boston Bruins spoke so much about has lost some parts and it's the hope of the team that the new pieces will serve as an upgrade. But the one key element that Boston has going into the season is uncertainty. Nobody really knows how good this team can be. Sure, on paper they may look solid but until the Bruins hit the ice to start the 2013-14 NHL season, it's anyone's guess.
Exactly…anyone's guess.
So to prepare for the 2013-14 NHL season, here's a five-part series laying out some predictions about what this year could look like for the Bruins. Some are logical, some are a stretch and some are…well…you'll see.
Part 1: Everyone Will Love Jarome Iginla
Part 2: Unlike Phil Kessel, Tyler Seguin Will Be Forgotten
Part 3: New-Look Bruins Defense Will Be Fine

Part 4: Goaltending Could Be the Biggest Issue

In recent memory, the Bruins goaltending position has been a strength. The multi-year tandem of Tim Thomas & Tuukka Rask were obviously the most successful, but the pair of Thomas and Manny Fernandez and Rask and Anton Khudobin did pretty well, too. Unlike last season, when it was pretty clear Khudobin would back-up Rask and did showcase some of his play in a Bruins' uniform the season before, it's completely up in the air this year.
Take Malcolm Subban, the Bruins' 2012 1st round draft pick, entirely out of the picture and Boston is left to choose between former Phoenix Coyote Chad Johnson and Niklas Svedberg, the rookie goaltender who picked up a record-tying 37 wins for the Providence Bruins. Logic says Svedberg has the inside edge over Johnson to begin the season in Boston but there's much more to it than that.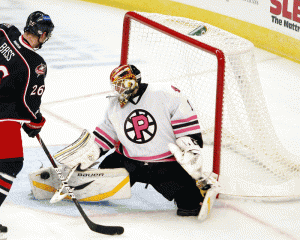 While Svedberg has yet to see  NHL regular season action, Johnson has only appeared in ten games, posting Khudobin-like numbers with a 3-2-3 record, .929 save percentage, and 1.97 goals-against-average. And, unlike Svedberg, he signed with Boston on a one-way contract. This may mean that Johnson has the upper-hand. However, in the Bruins' third preseason game, it's Subban, the goalie who'll start in Providence, that gets to play the whole game even after giving up eight goals on 26 shots. So what does that say about Bruins' coach Claude Julien's trust in Johnson? Not much.
So, okay. The spot for the guy who backs up one of the top-five goaltenders in the NHL is up for grabs. Why is there so much concern there? Because Rask has never started more than 45 games in a season and is now responsible for the bulk of a full, normal campaign. If Rask gets injured or his play begins to slip, who's there to back him up? An unproven goalie who only has AHL experience, albeit excellent, or a career minor-league journeyman who isn't even seeing time in preseason games? It's a little puzzling.
The Bruins have had chances to address their goaltending situation by possibly re-signing Khudobin in the offseason (he signed in Carolina for only $200,000 more than the Bruins paid for Johnson) or invite one of the many veteran, free agent goaltenders to training camp. Still, nothing. The Bruins believe that either Svedberg or Johnson will step up but at this point, it seems as though the back-up role will go to whomever doesn't play worse. For now, it's Svedberg. Who knows who it'll be by the time training camp ends.
Really, it all depends on Rask.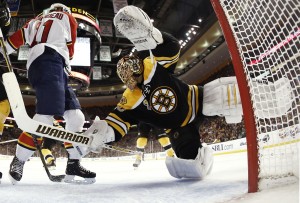 While other teams in the league have adopted the 1a-1b goalie strategy that the Bruins anchored during the Thomas/Rask era, this is first time that the spotlight and pressure will solely be on Rask to succeed on his own. It was different last season because Rask still had the one-year "show us what you can do' contract. Plus, with the 48-game season, it still wasn't an ample enough sample size to showcase Rask's abilities. This season is year one of his eight-year mega deal that he signed in the offseason. This season is "show us you can do it again."
With a question-mark as a backup, Rask's situation starts to look a lot like what Henrik Lundqvist faces in New York almost every season. Lundqvist is expected to be the guy in the Blueshirts, play upwards to 70 games per season, and carry the team on his back. He's one of the most durable, best goalies in the league, but still has yet to take the team past the Eastern Conference Finals. He gets burnt out consistently each season because the Rangers don't have a solid backup behind him so they overplay him. If Svedberg or Johnson don't pan out as options, it could be a reality that the Bruins face this season.
There's a good chance that Rask, already sort of unproven as a long-term starter, gets overplayed, even if the reality is that the last Bruins starter to play more than 60 games in one season was Tim Thomas in 2006-07. It's why the backup goaltender is so crucial at this point for Boston.
What made Rask so good in each of his seasons with the Bruins was the reliance on Thomas to play behind him during his rookie year as a mentor, and the shortened seasons. We have no idea what Rask will do as a slated starter for an 82-game NHL season, but if for whatever reason he's lost even a half of a step, the Bruins better hope Svedberg or Johnson are ready for the task.
Follow Mike on Twitter for more Bruins updates, news, and commentary.