Lindenwood
The Lions will be led up front by junior forward Alison Wickenheiser, who scored 24 points in 36 games last year. She'll be relied on offensively and should be helped by Lyndsay Kirkham, Alyssa West, and Kendra Broad, who all scored double digits in points last season. The problem for the team as a whole: they scored a league-worst 61 goals in 36 games last year, though incoming freshmen Leah Elledge and Anja Kadijevic should also be able to contribute in the top-six.
Senior Chelsea Witwicke, a solid defender, will lead Lindenwood on the blue line. With eight defensemen on the roster, things should be pretty competitive with players battling for spots; it's good that the Lions have some depth here because it's probably the one area that needs the most work. They're not going to have an outstanding defensive corps but they really need to focus on limiting opponents' chances. They've also got a good goaltender in Nicole Hensley, who posted a .922 save percentage last year. That should help the team but as her 3.42 goals against average showed, it won't totally limit the number of goals the team gives up if they don't buckle down defensively.
Key Player: Alison Wickenheiser
She regressed a bit after scoring 19 goals and 36 points in 29 games as a freshman. But she may be the only player on this roster with significant scoring upside and it'll be important for her to step up and help the Lions become a more dynamic offensive team.
Outlook
With limited depth, I'd expect Lindenwood to once again finish fifth at best in the final CHA standings. If they don't improve at consistently executing at both ends of the ice, it wouldn't shock me to see them fall back a spot behind Penn State and finish last.
Mercyhurst
The Lakers should be a very strong offensive team once again, with forwards Christine Bestland, Christie Cicero, Jenna Dingeldein, Emily Janiga, and Shelby Bram all returning. They're losing some depth in the bottom-six to graduation, but incoming freshmen Taylor Accursi, Brianna Kennelly, and Megan Whiddon should all help to fill in holes.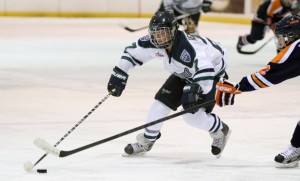 On defense, Mercyhurst will probably have some growing pains with the loss of Vaila Higson, who scored eight goals and 32 points in 37 games, and Stephanie DeSutter, who played big minutes for the Lakers. But they've still got some good size on the blue line, and Caroline Luczak and Lauren Kilroy should be ready to step into bigger roles. Goaltender Amanda Makela was second-string to Stephanie Ciampa by the end of last season, but Makela will have to find a way to put up consistently good performances for Mercyhurst to be secure in net.
Key Player: Molly Byrne
Now entering her junior season, Byrne will be counted on to lead Mercyhurst's defense. She's got size and skill, but will need to take a step forward this year and improve her play in her own zone.
Outlook
Expect the Lakers to finish first in the conference once again. Their offense is just too deep and explosive for any other CHA team to beat them out over the course of an entire season.
Penn State
The Nittany Lions are retaining many of their contributing players from last year, which will be a big plus for them this season. With all 14 of their top point scorers returning, they don't have to worry about replacing much production, but there might still be some issues up front. In sophomore Shannon Yoxheimer, classmate Taylor Gross, and junior Jess Desorcie, Penn State has a couple of proven solid scorers. Hannah Hoenshell, Jill Holdcroft, Emily Laurenzi, and Birdie Shaw all showed potential as rookies last year. The real knock on this forward group, however, is the lack of a true game-changing player, with the exception of possibly Yoxheimer.
Out of eight defensemen on their roster, there are five sophomores and one freshman, so there are likely to be some mistakes and breakdowns just because of inexperience. Sophomores Jordan Pardoski and Paige Jahnke in particular will be looked at to step up this year. They've got the same issues on the back end as they do up front, though; there isn't one true game-changer and two-way force of a player. That's not really a shock for a team that's entering just its second season of Division I competition, but it is a big concern.
If there's one player on the roster who can change a game, it's without a doubt goaltender Nicole Paniccia. She stopped more than a thousand pucks last year, making an average of 38 saves per game, an absolutely ridiculous number. She will give Penn State a chance to win every night, if they can just find a way to compete consistently. Overall, this is a very young team with plenty of room to grow. The question will be whether or not they can make enough strides this year to improve upon a last-place conference finish in 2012-2013.
Key Player: Nicole Paniccia
Nicole Paniccia is going to be relied on heavily to give the Nittany Lions quality starts and cover up defensive miscues and breakdowns. If she can put in another good year, her team will have a shot at winning games.
Outlook
I see Penn State being marginally better than they were last year; but it's enough of a margin for them to have a chance at jumping over Lindenwood in the standings, if they can build on their very first season at the Division I level and progress.
Never too early to look ahead to our opening game at #PegulaIceArena on Oct. 18 vs. Union. #HockeyValley pic.twitter.com/6RAwJVn8UP

— Penn State Women's Hockey (@PennStateWHKY) September 19, 2013
Robert Morris
The Colonials are going to have some big questions to answer in net this year with the graduation of starter Kristen DiCiocco and second-string Delayne Brian. With DiCiocco, Robert Morris had been able to rely on quality goaltending for the past couple of years, so this will be a notable adjustment for the team. Incoming freshman Jessica Dodds, who played for Canada at the 2013 IIHF Under-18 World Championships, will probably be given plenty of opportunities to earn the starting job.
Up front, the Colonials will be led by junior forward Rebecca Vint, a constant threat who should be even more dangerous with two years under her belt. Seniors Thea Imbrogno and Kristen Richards, who both posted 23 points last year, are also nice top-six players. Although there is some potential for the RMU offense as a whole I wouldn't expect them to be spectacular. Of the eight defensemen on the roster, five are either seniors or juniors, and that kind of experience on the back-end will be extremely helpful to the Colonials. They're going to need solid efforts night in and night out with the inexperience in goal.
Key Player: Rebecca Vint
She's a very dynamic player with the ability to completely change a game. Whether or not she has a big year likely has a noticeable effect on where Robert Morris finishes in the standings this year.
Outlook
The Colonials should end up finishing either third or fourth in the CHA. How consistent they play as a team and the kind of goaltending they get will be the deciding factors.
Rochester Institute of Technology

The Tigers are losing key players at both ends of the rink, but they're also adding a lot of depth with a 10-player freshman class. Up front, they're graduating three of their top four scorers in Tenecia Hiller, Kim Schlattman, and Ariane Yokoyama. However, they retain top-six forwards Kourtney Kunichika, Erin Zach, and Celeste Brown, and sophomore Katie Hubert and rookies Dakota Waites and Brittany St. James should all be able to step into scoring roles this year.
If junior netminder Ali Binnington is as good as she was last year (1.93 GAA, .928 save percentage), RIT won't have any worries in goal. They could have some issues on defense, however; with the loss of three seniors, the Tigers plan on having two incoming freshmen switch from forward to defense in order to help fill out the pairings. Their defensive corps isn't a particularly offensive bunch, but they just need to play smart and move the puck well. Binnington's one of the best goaltenders in the conference and will give them a decent chance of winning almost every night.
Key Player: Ali Binnington
Binnington is a very solid goaltender and will help give the team a boost defensively. She adjusted well to the Division I level last season and will without a doubt have an impact on the Tigers' season.
Outlook
While I don't think they've got enough dynamic players to break into the CHA's top two, I also can't see the Tigers finishing past 4th. To me, their goaltending will give them the edge over Robert Morris this year, leaving them third in the standings.
@Buccigross RIT Hockey teams are ready for the last season in the #Ritter @RITWHKY @RITMHKY #cawlidgehockey pic.twitter.com/UZARAdj37T

— RIT Women's Hockey (@RITWHKY) September 19, 2013
Syracuse
Despite the losses of Holly Carrie-Mattimoe and Shiann Darkangelo up front, things are looking pretty good for the Orange heading into the year. Mattimoe and Darkangelo were the team's leading scorers last year, but Nicole Ferrara, Melissa Piacentini, and Margot Scharfe all scored upwards of 20 points. Incoming freshmen Laurence Porlier and Jessica Sibley should also be able to make some contributions on the scoresheet.
Except for the graduation of Jacquie Greco, Syracuse's defense remains largely intact, which is great news for the team. Between 2012-2013 CHA Defensive Player of the Year Akane Hosoyamada, Kallie Goodnough, Nicole Renault, and Brittney Krebs, plus the addition of freshman Larissa Martyniuk, they should be set on the blue line. With Kallie Billadeau's 1.56 GAA and .940 save percentage in 2012-2013, the Orange should be good to go in net as well.
Key Player: Akane Hosoyamada
Syracuse is poised to have a big advantage on defense, and Hosoyamada is sure to be a big part of that. Having one of the best defenses in the conference is the key to the Orange's season.
Outlook
Despite some losses up front, Syracuse should be able to maintain their spot in the standings with a solid defensive corps and very good goaltending.
Predicted Standings
Mercyhurst
Syracuse
RIT
Robert Morris
Penn State
Lindenwood
Preseason All-CHA First Team
Christine Bestland, Senior, Forward, Mercyhurst
Rebecca Vint, Junior, Forward, Robert Morris,
Shannon Yoxheimer, Sophomore, Forward, Penn State
Molly Byrne, Junior, Defense, Mercyhurst
Akane Hosoyamada, Senior, Defense, Syracuse
Kallie Billadeau, Senior, Goaltender, Syracuse
Preseason All-CHA Second Team
Emily Janiga, Sophomore, Forward, Mercyhurst
Alison Wickenheiser, Junior, Forward, Lindenwood
Jenna Dingeldein, Sophomore, Forward, Mercyhurst
Chelsea Witwicke, Senior, Defense, Lindenwood
Jordan Pardoski, Sophomore, Defense, Penn State
Ali Binnington, Junior, Goaltender, RIT
Preseason Awards
Player of the Year: Christine Bestland, Mercyhurst
Best Defenseman: Molly Byrne, Mercyhurst
Goaltender of the Year: Kallie Billadeau, Syracuse
Rookie of the Year: Jessica Dodds, Goaltender, Robert Morris