Even though we may not admit it, some of us fantasy owners go after certain players because they are a household name in hockey. It is especially common with newbies who are new to the fantasy hockey game. There is no denying it as some players just seem too popular to pass up.  Here are some players who will likely be drafted higher than they should be in fantasy drafts.
Ryan Smyth, Edmonton Oilers
If Smyth isn't drafted in your fantasy hockey league, your league is doing something right. There is no reason to draft this aging veteran with a young nucleus forming in Edmonton. Taylor Hall, Jordan Eberle, Ryan-Nugent Hopkins, Sam Gagner, Nail Yakupov, David Perron, Ales Hemsky are just a few of the names ahead of Smyth on the depth chart. Smyth's days of being a key fantasy hockey contributor are long over and nobody should make the mistake of taking him on their team. He used to be valuable on the power-play but the chance of him getting any significant power-play time with this team is about as good of a chance as Taylor Hall being traded tomorrow.
Stephane Robidas, Dallas Stars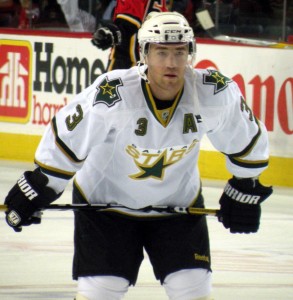 Playing on the top defensive pairing in Dallas, what could go wrong with drafting Robidas? Quite a bit. Robidas is known for his great defensive play and not his offensive contributions. He may be a great defenseman but that doesn't make him a great fantasy hockey defenseman. He provides little value on the scoresheet, scoring one goal and 13 points in 48 games last season. His days of being a solid power-play contributor are over and he averaged a career low of 2:08 with the man advantage last season. So why is he currently owned in 38 percent of ESPN fantasy hockey leagues? It is a puzzling one. With Brenden Dillon emerging and Sergei Gonchar arriving from Ottawa, I would think twice before taking Robidas on my fantasy team.
Dany Heatley, Minnesota Wild
Heatley's days of being a 50-goal scorer are over. His days of being a top 50 fantasy hockey player are over. Heatley is still a decent fantasy hockey option but don't be that guy that takes him too early. You can likely get 50 points out of him but don't expect more than 65. His plus minus hit a career low with Minnesota last season and so did his goal totals. It was a lockout but only 11 goals from a guy who was given the opportunity to play with Mikko Koivu and Zach Parise? That isn't right. Jason Pominville is likely to steal his spot on the top line this season and Heatley's spot on the second line could be in jeopardy with some of the young talent on the rise.
Brian Gionta, Montreal Canadiens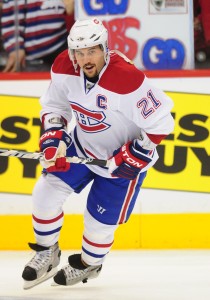 He may be captain but he better not be the captain of your fantasy team. Health always seems to be an issue and don't be fooled by his 14 goals last season. The 34-year-old is declining and doesn't provide much upside. Brendan Gallagher and Alex Galcheynuk are just itching to get more playing time and guess who's time they would likely be stealing? He may be an alright late round pick in a very deep league but why not gamble on someone else who has significant upside? That 90 point season in 2006 is a distant memory and don't be fooled by Gionta's appealing name.
Martin Havlat, San Jose Sharks
It seems like every year, people talk about how a healthy Havlat could pay great dividends to the San Jose Sharks. The last time Havlat played 80 games was in 2009. This guy can't stay healthy and that doesn't do your fantasy team any favors. He still managed to play in 40 games last season but he only notched 18 points. That isn't going to fly for fantasy owners looking for the Havlat from his 70 point days. Unfortunately, those days are no more. A healthy Havlat could assume a role on the second line but who knows how long that would last. Tyler Kennedy is itching to prove that some of his talent was hidden in Pittsburgh behind all the superstars. Brent Burns is now a forward. Draft Havlat all you want but note his production has decreased significantly and his health is always an issue.