By Mike Miccoli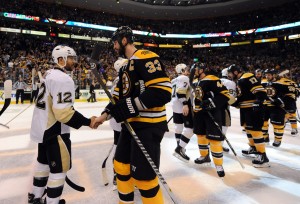 Logistically speaking, it hasn't been a long NHL offseason. In fact, it's been an even shorter one for the Boston Bruins.
Actually, if you factor in the truncated 2013 NHL season, followed by Boston's arduous playoff run that collapsed in about 17 seconds in Game 6 of the Stanley Cup Final, then yes, maybe it does seem like a long offseason.
Because really, that's all it took to change the makeup of the Bruins roster who saw more turnover than usual.
The 'core' that the B's spoke so much about has lost some parts and it's the hope of the team that the new pieces will serve as an upgrade. But the one key element that Boston has going into the season is uncertainty. Nobody really knows how good this team can be. Sure, on paper they may look solid but until the Bruins hit the ice to start the 2013-14 NHL season, it's anyone's guess.
Exactly…anyone's guess.
So to prepare for the 2013-14 NHL season, here's a five-part series laying out some predictions about what this year could look like for the Boston Bruins. Some are logical, some are a stretch and some are…well…you'll see.
#1 Everyone is going to love Jarome Iginla from the moment he takes the ice
Remember that time Bruins fans spurned Iginla for choosing Pittsburgh over Boston? Great! Me neither! Look, any ill-will towards Iginla should have vanished once the Bruins swept the Penguins in the Eastern Conference Finals. With Iginla, the Bruins get an ideal power forward that has more black and gold in his veins than some former players who have walked through the Boston locker room. Iginla Though age may be a concern, Iginla has the potential to reignite his game and once again become a legitimate scoring threat for the Bruins.
The other x-factor? Iginla will likely play with David Krejci who is, in my estimation, the best playmaking center that the right winger has played for…ever. With the exception of last season, Iginla has netted at least 30 goals a season since 2000-01. In the latter years, he was getting fed from centers like Olli Jokinen, Daymond Langkow and Craig Conroy. So yeah, if I'm Jarome Iginla, I'd be pretty happy to line up with Krejci in Boston and would expect a bounce back year too.
Iginla can provide more than just a scoring touch, too. Iginla can be a leader, hit, fight, and be more of a presence on the Bruins power play than any plug-in the team had last year was. Iginla's six power play goals last season, a year that was considered to be a down-year for the right winger, would have led all Bruins. You could say the same for every season since 2008-09.
But more than anything, Iginla will come into Boston motivated. He knows the spotlight will be on him and he'll have to shed the negative reputation that last year's botched trade brought on him. Iginla is getting an opportunity to right the wrong of last season after being humbled in the playoffs, booed every time he touched the puck, and even being blamed for causing Nathan Horton's shoulder injury in the postseason. For a competitor like Iginla, a player who has missed only a handful of games in the last seven seasons, a chance like this is too good to pass up.
Not only will Iginla be a force for the Bruins he'll be an upgrade from Horton on the top line–and that's saying something. As soon as he takes the ice for the home opener, Iginla will forge a new legacy and reputation in Boston.
And it's going to be fun to watch.
Follow Mike on Twitter for more Bruins updates, news, and commentary