When the new CBA was agreed upon, announcing the end of the NHL lockout in January 2013, one of the big changes that would affect the 2013-14 season was a new, lower, salary cap. Everyone concentrated on how that would affect the various teams' rosters at the NHL level, but there is a trickle-down effect that is playing out at the AHL level.
The Providence Bruins currently have a number of two-way, entry-level contracts. Of the 39 players who were listed on the Providence roster at some point during the last season, there have already been 11 players who have not been asked back or who were traded.  Two more, Nolan Julseth-White and Nicolas Tremblay were on professional tryout agreements. Perhaps two of the most surprising exits are that of Chris Bourque, who actually still had a year left on his contract, and Jamie Tardif, who was a UFA at the end of the season.
Bourque was apparently released from his contract with the Bruins, because it was reported that Bourque would be playing the coming season with Ak Bars Kazan, where he is listed on their active roster. Bourque is not a stranger to heading to Europe, having played the 2010-11 season with both the KHL's Atlant Moscow Oblast (for 8 games) as well as 41 games with Switzerland's HC Lugano, a National League A team, and the same team that Bruins' forward Patrice Bergeron signed with during the lockout.
Jamie Tardif is most likely a casualty of the lower cap. His statistics during the 2012-13 season were fourth in total points, but first in goals, with a 30-15-45 total in 62 games. During the Calder Cup playoff run, he was almost a point-per-game player with 7-4-11 in 12 games. Unfortunately it was announced earlier this month that Tardif had signed a one-year, two-way contract with the Buffalo Sabres organization.
There are still three UFAs likely not returning to the Bruins organization this season: Garnet Exelby, Christian Hanson and Trent Whitfield. Whitfield, it was reported in the Providence Journal, July 12, 2013, would not be back as a player, but that perhaps he may have another role within the organization. No word has been received in regard to the other two.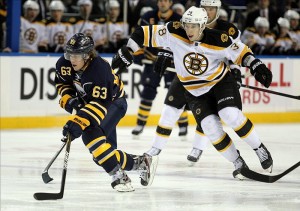 Jordan Caron, who split his time between both the Providence club and the Boston Bruins last season, has a one-way, one-year contract with the Boston Bruins for the coming season. It is unlikely that he will be seen in Providence, but if he does get sent down for some reason, another team would be able to pick him up on waivers.
Who Will Play Between the Pipes
Perhaps the biggest question for the Providence club is just who will be in net. Last season it was assumed that Niklas Svedberg would be the backup to returning goalie Michael Hutchinson. However, Svedberg's outstanding performance quickly overshadowed Hutchinson, who was not given a qualifying offer and as such is now a UFA and will not be returning to Providence.
However, Providence is not lacking for goalies; though who plays in Providence will likely not be determined until after the Boston Bruins have their training camp which is scheduled to take place in about three weeks. Currently it is expected that Chad Johnson will backup Tuukka Rask in Boston, however, both Svedberg and Malcolm Subban will be participating in training camp, and will undoubtedly do their best to prove to Peter Chiarelli, Claude Julien and the rest of the Bruins' management that they deserve that spot. And though not mentioned much, Providence does already have another goalie listed on the roster – Adam Morrison. Signed in March, 2012, to a three-year entry-level contract, the 22-year-old Morrison spent most of last season with the ECHL's South Carolina Stingrays and the Utah Grizzlies.