After being defeated by the Boston Bruins by the narrowest of margins last playoffs, expectations in Leaf-land are understandably high. Well, expectations at the center of the hockey universe are always high, but now fans know that this team is for real so the pressure is on. A lot has changed though since that fateful game 7 in Boston, and while there has been tons of skepticism from Leafs Nation over the moves Nonis has done, it's hard not to believe this team is primed for another top-6 finish in the Eastern Conference (assuming Kadri and Franson return, something I am staying clear of for now, simply because I honestly have no idea how they're both going to fit under the cap, so let's just assume Nonis figures it out).
If the Leafs are going to do this however, they'll need the following five players to prove their worth. They will be under extra pressure to perform for the blue and white for various reasons and their success will very likely be linked with the success of the team. Hopefully, a top-3 divisional finish will be the result, which would guarantee a top-6 finish in the Conference.

The NHL regular season schedule was released on Friday. Check out our partners at TiqIQ for the best deals on Toronto Maple Leafs tickets for all 2013-14 games.
5- Jake Gardiner
Gardiner had an unbelievable rookie campaign in which he compiled 30 points in 75 games; second on the Leafs in D-scoring and first in the entire NHL for rookie defencemen.
Last year however, he only played in 12 games, due to the lockout and then a concussion. When he was back and healthy, many felt he was mis-used, which even led to this:
— Ben Hankinson (@BenHankinson) March 13, 2013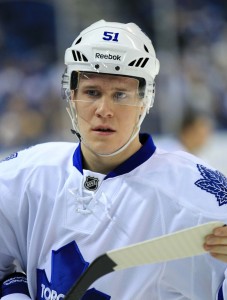 That tweet from Gardiner's agent, implying he was kept in the AHL for too long appeared true because the Jake Gardiner of old (or young?) returned in the six playoff games that he suited up for and posted five points. Now without a doubt a Maple Leaf and not a Marlie, all eyes will be on the Minnesota native this season. They will expect him to deliver and 30 points won't be good enough. He is that puck-moving defenseman, that powerplay quarterback, that end-to-end rusher that can bring people out of their seats. And if he can't, then it won't look very good, for him or the team.
4- Tyler Bozak
I'll admit right away I'm not the biggest Bozak fan. I have written about his contract extension and how I felt $4.2 million cap hit per year for the next five years is far from ideal.
I stand by what I said. People get paid that kind of money to score and Bozak (134 points in 238 career games) is not a scorer. Bozak is not a first-line player. Bozak is not offensively gifted. Bozak is not worthy of a 5-year, $21 million contract extension. Why? He's played with Phil friggin Kessel the past three seasons and put up 0.53 points-per-game. There is little doubt that Bozak's two play is strong and his ability in the faceoff circle is vital, but if he is centering Kessel this year for a full 82 games, he better the hell get 50 points.
There is also added pressure because everyone knows he asked for a ludicrous eight-year deal. Now it's time for him to show he's worth a five-year investment.
3- David Clarkson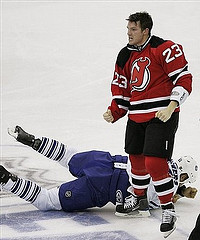 Bozak's request for an eight-year extension was laughed off by Leafs management, but they were more than happy to dole out a seven-year, $36.75 million contract to Clarkson. It's funny because, just like Bozak, points are not his strong suit, yet millions of dollars were thrown his way. It's likely a lot of that is to do with his 0.35 goals-per-game over the last two seasons, which would amount to 29 over a full 82 games.
Everyone knows Clarkson can hit and fight with the best of them, but you just don't give $36 million to a player that one-dimensional. Clarkson was brought in to score goals, not just for grit, and so people will expect that. With his homecoming came a hefty price tag, and with that price tag come certain expectations, even if they aren't fair. Because let's face it, the reality is he won't score 30 goals this season. That happening was an anomaly. Which is why again and again I feel this contract is a head-scratcher. Well, in all fairness to Nonis, Clarkson would have walked away if offered less, so if he wanted him that bad, I guess he had no choice but to overpay. But still, some comparable cap hits to Clarkson's? Jamie Benn, David Krejci and Evander Kane. Hmmm…
2- Nazem Kadri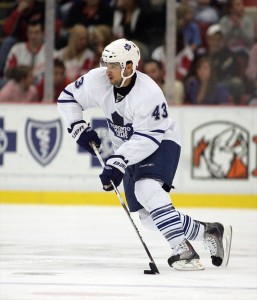 As of this writing, Kadri still does not have a contract. That automatically puts more heat on him heading into the season. People are wondering why a deal isn't done yet and with that come questions about whether Kadri is asking for too much money.
But the real reason he makes the list is because of his vast potential, which Leaf fans finally got a glimpse of last year. 44 points in 48 games was more than most expected and it's quite possible that many expect those same numbers over a full 82 games, now that they've seen what he can do. Pressure also comes from the fact that he's a former top-10 pick who has FINALLY showed up. Three years is a long time to wait for production from that big a talent, and now that it's here, fans will surely expect it night in and night out. If Kadri falters at all this season, Leafs Nation will be on his case in an instant.
1- Jonathan Bernier
Most players on this list will be under the microscope because of contracts they signed (or are holding out of) and although Bernier does have a new contract as well, it's actually very reasonable and doesn't explain his presence.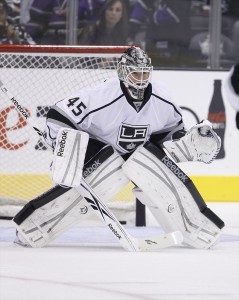 Bernier tops this list instead because Toronto had a young goalie last year (much like Bernier, his name was James Reimer, maybe you've heard of him?) who played extremely well not only in the regular season but also the playoffs, and despite this, Leafs brass brought in Bernier (again a goalie very similar to Reimer).
The problem isn't that Toronto acquired a goalie. The problem is that we acquired a goalie who has openly stated that he wants to be a number one (which is why he requested a trade out of L.A. in the first place) despite Reimer proving he can be a number one. Again, I won't go back on my word, which is that I actually have always liked this deal. But it doesn't mean I don't fully expect Bernier to have a very good season. And most people should. Again a former 1st round pick, FINALLY having a chance to prove himself. All the signs point towards Bernier eventually usurping Reimer for the number one job, but that won't be easy. This town has just come to love James Reimer, and if at any time Bernier struggles in the crease, fans will be able to point to what we gave up in the trade (which wasn't much) and use it as an excuse to lay blame somewhere. It's been a while since Toronto has had good goaltending, and with the possibility of that drought finally coming to an end, Bernier will constantly be on the hot seat.