After a season in which Jimmy Howard was pushed to carry the Detroit Red Wings to the second round of the playoffs, Ken Holland and Mike Babcock may want to think about finding a suitable back-up goaltender that can take the pressure off of their franchise tender.
Jonas Gustavsson's first season as back-up in the Motor City was about as bad as their city's financial situation is right now. A 2-2-1 record, with a GAA just below 3, and SV% way south of .900, is more than enough reason to not use Jonas this season.
[See Also: Red Wings Looking For A Back-up Goaltender ]
With no apparent motivation to sign a veteran, free-agent goaltender, Ken Holland and Mike Babcock may have his eye on another goaltender. However, this one is already property of the Red Wings franchise.
Petr Mrazek, A Star Thus Far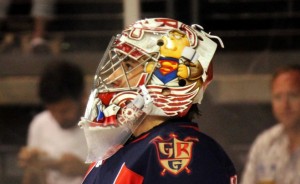 The Detroit Red Wings are great at finding late-round gems in the NHL Draft.
Back in 2010, in the 5th round, a young goaltender from the Czech Republic was drafted 141st overall by the Red Wings.
Since being drafted, Petr Mrazek has gone on to post some outstanding numbers. His record was 63-28-9 combined, in his last two seasons in the OHL with the Ottawa 67's. In his first pro-year with the Grand Rapids Griffins, the Red Wing's AHL affiliate, he was 23-16-3 with a 2.33 GAA and .916 SV%.
Mrazek's play was a big reason for the Griffins eventual Calder Cup run.
His coming out party as a prospect was easily at the IIHF World Junior Hockey Championships in Calgary and Edmonton, Alberta, in 2011-2012. He was named top goaltender of the tournament, and made 52 saves in their upset of the United States. His play nearly brought the Czech Republic to the medal rounds.
The Red Wings' Goaltending Situation, Howard's #1

Jimmy Howard is coming off of a fantastic year in which he also signed a six-year contract extension. Most goalies reach peak form by 30, and with Howard set to hit this milestone  in the first year of the contract extension, management seems confident he can continue his strong play into his 30s (like we've seen with Martin Brodeur and Dwayne Roloson).
Jonas Gustavsson's inconsistent play is reason enough to not use him. With only one year left on his contract, the Red Wings may be more inclined to stash him in the minors and call up Mrazek.
The Red Wings are committed to Howard, and because of Gustavsson's expiring contract, we may also see the franchise run out the year with these two goalies.
The Dangers Of Calling Up Mrazek Too Early
As hockey fans, we're no strangers to seeing promising prospects burn out early in their careers.
Don't look any further than Philadelphia's Steve Mason. After a sensational Calder Trophy winning year in 2009 (with a 33-20-7 record) with the Columbus Blue Jackets, he never posted a winning season again, forcing the franchise to trade him this year to the Flyers.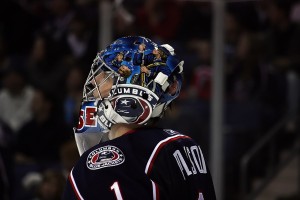 The same applies to Mrazek. His numbers have been sensational, don't get me wrong, but never under-estimate the power and value that comes with multiple years in the minors. Call him up to early, and we may see Steve Mason 2.0.
Then again, Mrazek may have a fine season as a back-up. Let's remember, he also has 2 years left on his entry-level contract. So the Red Wings will eventually call him up sometime in the next two years.
His potential play raises many intriguing questions! If he performs well, what kind of money will he be seeking when he signs an extension? Can we expect a short-term extension where he's making around $1 million per season, or a long-term extension with Howard-like money? Do the Red Wings have enough money, especially with large contracts like Datsyuk and Howard, to pay arguably the best, young goalie out of Europe? Perhaps, Mrazek might plateau?
I wouldn't be surprised if Mrazek starts the year in the AHL, and by the All-Star Break, is in the Red Wings' line-up behind Howard.
At this point, all we can do is speculate and play "Being Ken Holland."
The NHL regular season schedule was released on Friday. Check out our partners at TiqIQ for the best deals on Detroit Red Wings tickets for all 2013-14 games.