Jimmy Howard showed this season why he is one of the elite goaltenders in the NHL. In 42 games started this past season, he went 21-13-7, with a .923 SV% and 2.13 GAA. These sparkling numbers weren't enough to put him in contention for the Vezina Trophy, but were more than enough to get the Detroit Red Wings into the playoffs.
There's just one problem though. He played 42 of 48 games. That's a lot of playing time for Howard. I understand that he is an amazing goaltender and he stole many games for the Red Wings. However, with the NHL returning back to the standard 82-game season next year, he will need his rest. This is true especially if the Red Wings want to make the playoffs. That is why the Detroit Red Wings need to look for an established backup goaltender in the off-season!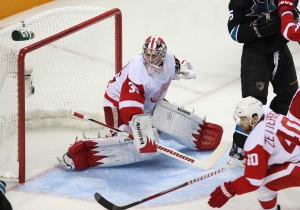 Jonas Gustavsson Should Not Be Their Backup Goaltender
Jonas Gustavsson was signed as a free-agent July 1st, 2012, becoming the under-study to Howard. After the Winnipeg Jets failed to sign him after acquiring his rights from Toronto in June, he became a free-agent and eventually wound up in the Motor City.
The Gustavsson experiment has gone totally wrong, even since he first entered the league with Toronto. He was one of the most sought-after goaltenders in Europe because of his size (standing at 6'3″) and his mobility. Toronto, Detroit, and Dallas were the front runners vying for his services during the summer of 2009; he eventually signed in Toronto.
The towering Swede finished his first season in Toronto 16-15-9, with .902 SV% and 2.87 GAA. Not too bad for the then 25 year old's first year in the NHL. It all went down hill from there. He finished 6-13-2 with a SV% under .900 and a GAA over 3 in his second season, which equaled demotion to the Toronto Marlies of the AHL. He finished his third season 17-17 and brought his SV% north of .900 and his GAA under 3, but he still never developed into the starting goaltender the Leafs thought he would be.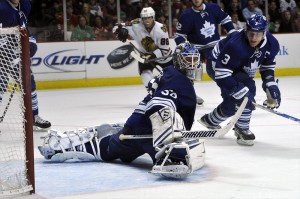 In 7 games this year for Detroit, he was 2-2-1. His GAA was average, at 2.92, and his SV% wasn't very good at .879. He only had 2 games this year where he had a SV% over .900. The man they call 'The Monster' is as inconsistent as they come. His up and down numbers are extremely alarming, alarming enough to say that he should not be the Red Wings' back-up goaltender next season.
Ken Holland Should Follow The Ray Shero-Model
Marc-Andre Fleury is the #1 guy in Pittsburgh. However, he is known for his once-in-a-while meltdowns (cue the first round playoff match-up against the New York Islanders).
Penguins general manager, Ray Shero, went out in the off-season and signed Tomas Vokoun for this reason. After Fleury's meltdown against the Isles in round 1 of this year's playoffs, Vokoun started the next 8 games (winning 6 of those 8). He is a veteran goaltender, who is extremely consistent, and has a lot of experience. Vokoun also posted an astonishing regular season record of 13-4 with a .919 SV% and 2.45 GAA.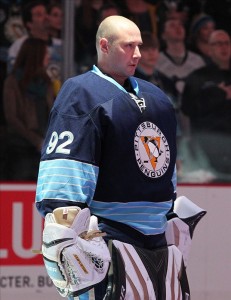 Ken Holland needs to find his own version of Tomas Vokoun. If Howard were to stumble or go down injured, he needs a capable back-up ready to go, who can shoulder the load for a period of time, and who can give the Red Wings a chance to win every game he plays in.
It worked in Pittsburgh, and there's no reason it shouldn't work in Detroit. Signing a suitable back-up goaltender means coach Mike Babcock can first, have a back-up plan in case Howard hits a rough patch or gets injured, and second, can afford to give Howard more nights off. More rest for Howard equals a better chance for the Red Wings to win.
Who Should The Red Wings Target In The Off-Season?
Gustavsson still has one year left on his contract at $1.5 million, while the Red Wings also have some $11 million to work with in cap room as well (but keep in mind they will be heavily pursuing contract extensions with a number of players like Datsyuk, Kindl, and Filppula just to name a few). Detroit management will need to pull a few strings if they plan on getting a more capable back-up to Howard.
Let's take a look at 2 veteran goaltenders that are set to become UFAs, who I feel would look good in red and white next season.
Chris Mason: The 37 year-old didn't have a good year, but he's not all to blame. He was 1-7-1 with a SV% of .873 and a GAA of 3.73. It is important to consider that the Predators had their worst season ever since joining the NHL, finishing last in the Central Division. Mason would be joining a better defensive side, with more scoring power than the Predators. The upside on the Red Deer, Alberta-native is that he comes at a reasonable price (somewhere in the $1-2 million range per season), and is more than capable of winning 10-20 games. Let's not forget, he was a 30-game winner only 4 years ago as a starter. Since then, this above-average goalie has played for below-average teams. He's not at the end of his rope yet.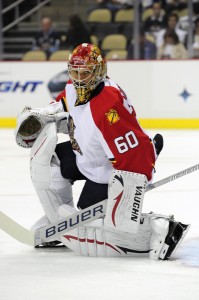 Jose Theodore: With the emergence of Jacob Markstrom as the starting goaltender in Florida, and with Scott Clemmensen having one more year on his contract, Theodore's days in south Florida are numbered. He was having an average season, with a record of 4-6-3, before being sidelined the rest of the season with a nagging groin injury. The Laval, Quebec native will be turning 37 this year and is no stranger to injury problems. However, Mike Babcock could get 15-20 games out of him if he remains healthy. He may not be the Theodore of old anymore, but he has the experience and knowledge to remain a high-end backup goaltender in the NHL. Look out for Theodore's name come July 5th, he will be an under-the-radar pick-up, and will come fairly cheap as well ($1-1.5 million most likely).
The Detroit Red Wings have their own young stud in the AHL, as Petr Mrazek had a tremendous season for the Grand Rapids Griffins. He is still young and should not be pressured into taking the back-up role in a city with high-expectations. His development needs time, so I would shy away from naming him Howard's back-up. Detroit needs a veteran goaltender who knows what the pressures are of playing in a hockey town. Getting the right back-up may be the difference between the Red Wings winning 40 games and not making the playoffs, and winning 41 games and making the playoffs. Never under-estimate the power of a solid backup goaltender.