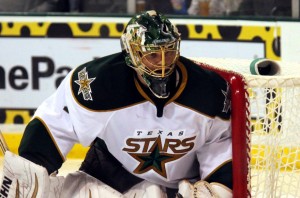 Hopefully Kari Lehtonen likes the Dallas Stars new jerseys that were unveiled Tuesday, because the goaltender will be wearing the new digs for the foreseeable future.
The Finnish goaltender is signed through the 2017-18 season and has posted impressive numbers the past three seasons, even though Dallas hasn't made the playoffs since 2008.
During the lock-out shortened 2012-13 season Lehtonen played 36 games, stopping .916 of the shots he faced and limiting opponents to a 2.66 goals per game.
While Lehtonen will likely start 60 to 70 games next season, barring an injury, the back-up goalie role with Dallas is a bit of a mystery.
Jack Campbell, the 11th pick in 2010 draft, isn't ready for a full-time NHL job and will probably benefit from playing 50 to 60 games in the AHL with the Texas Stars next season.
Campbell split time with Cristopher Nilstorp during the 2012-13 season, with each goalie starting 35 regular season games. Campbell played well and posted a .905 save percentage in his first full AHL season, particularly later in the season when Nilstorp was battling an injury.
Since Campbell's growth is important to the franchise, it is unlikely Nilstorp would sign a deal with Dallas if it meant another year in the AHL.
The Swedish netminder had a .907 save percentage and 2.38 goals against average in 39 regular season games, earning the nod as starting goalie during the AHL playoffs. During the AHL playoffs Nilstorp was arguably the Texas Stars best player in a five-game series loss to the Oklahoma City Barons.
Nilstorp was a championship-winning goalie in Sweden before signing a one-year deal with Texas and made five NHL starts this season, including an impressive 31-save debut against the Minnesota Wild in a 1-0 loss.
The possible knock on Nilstorp is the injury concern. His first stint with Dallas ended due to injury and he missed time late in the AHL season after getting run over against the Abbotsford Heat in mid-March.
Richard Bachman could be back with Dallas next season, but the restricted free agent had a sub-par .885 save percentage and 3.25 goals against average in 13 games.
Bachman could get the benefit of the doubt since it was a lock-out shortened season and he didn't play anywhere during the work stoppage. Or new general manager Jim Nill could decide to sign Nilstorp or another free agent goalie.
With Campbell potentially a season or two away from backing up Lehtonen, Dallas would likely try and sign a veteran goalie to a one or two-year deal.
Unrestricted free agents Dan Ellis (Carolina), Mathieu Garon (Tampa Bay) and Jason Labarbera (Phoenix) are all between 32 and 35 years old and played at least 15 games last season. While Garon's save percentage was below .900 — .897 — all three goalies are viable options for a back-up – if they don't re-sign with their current teams.
If the Stars wanted to sign a slightly younger goalie, they could try and go after the 27-year-old Al Montoya (Winnipeg) or the 28-year-old Thomas Greiss (San Jose), who are both unrestricted free agents.