The Eastern Conference Final heads to Boston for a pivotal Game 3. The Penguins' entire season effectively hinges on how this game is played – and possibly how it's called by tonight's officiating crew of Marc Joannette and Dan O'Rourke. Should either of these officials be unable to perform their duties, the capable Wes McCauley will be waiting in the wings. Brian Murphy and Steve Barton will be dropping the pucks*, calling offsides, and breaking up fights.
* NHL Rulebook Note: Referees only drop the puck for faceoffs at the start of each period and those following a goals. The rest are handled by the linesmen. (NHL Rulebook, Rule 31.3)
Marc Joannette #25
Joannette has been averaging 9.4 minor penalties per game in the playoffs, up from 7.2 per game in the regular season. His last appearance came in Game 2 of the Western Conference Finals, a 4-2 home victory for the Chicago Blackhawks. Penalty calls were nearly even in that game, with a handful of matching minors handed out in the third to maintain order when the game was out of reach for the Kings.
Joannette refereed just one playoff game for the Penguins, their Semi-Finals series opener against the Ottawa Senators – an otherwise clean game that got ugly late, with 34 minutes of penalties handed out in the final minute of play. In the regular season, the Pens went 3-1 with Joannette in the stripes.
Boston has seen very little of the Quebec-born official. He's not worked a single Bruins playoff game and only appeared in one regular season match, the Bruins 3-0 home victory over the Panthers on April 21.
Alan May is not a fan:
Dan O'Rourke #9
O'Rourke's averaged 7.8 minor penalties per game this postseason, down slightly from 8.2 in the regular season. A veteran official, he's likely to keep the whistle in his pocket, especially late in close games.
He's officiated five games for the Penguins this season – all victories – including playoff wins against the Islanders and Senators. With 13 minor penalties in those two games, they were the busiest games of the postseason for O'Rourke. All his other games have seen far fewer calls. (Before you go check the boxscores, both those games were called evenly, with no great advantage for either team.)
That doesn't mean that O'Rourke doesn't have his critics:
Sidney Crosby just got two minutes for having a stick and briefly placing it somewhere near Eric Condra.

— Bruce Arthur (@bruce_arthur) May 25, 2013
That is just a terrible penalty call on Sidney Crosby.

— Chris Johnston (@reporterchris) May 25, 2013
O'Rourke's seen a bit more of the Bruins, covering six games that include three playoff matches (1-2) and three regular season games (1-2).
What Does It Mean?
So far in this series, not that much. Neither team has scored a power play goal. The Pens are 0-for-6 and the Bruins 0-for-5 in the Conference Finals. The only advantage of a power play has come for the team with the lead – the Bruins, who've led for 111:09 of the 120 minutes these two teams have played. If they're not scoring – which they're obviously not – they can at least tick two minutes off the clock while on the man advantage.
The Bruins struggled on the power play in the regular season (14.8%), but have improved on that number in the postseason, converting 18.7% of opportunities. Unfortunately for them, they're actually better on the road. Their percentage drops to 16.7% on home ice. It's a good thing they're not counting on their power play. They really don't need to.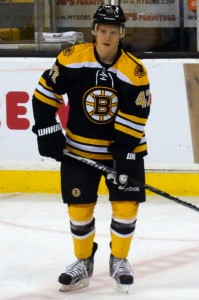 The Penguins are the best remaining playoff team on the power play, but you wouldn't know it based on their two games against the Bruins in which they've gone 0-for-6. Overall, they're at 25.0%, but are an even better 26.2% on the road. Coming into the series, the Bruins' penalty kill was solid though not impressive. They've allowed a league high seven power play goals – most among the remaining teams. That includes four power play goals given up at home, as many as the Kings, Blackhawks, and Penguins combined in their respective home games. Overall, the Bruins' penalty killers have stopped 83.7% of opportunities but have been perfect against Pittsburgh. They'll need to keep that up and keep the Penguins off the board if they hope to close things out in Boston.
Scoring with the man advantage, though, requires actually having a power play to score on. The Penguins have a hard time getting those chances when they're the most penalized team remaining in the playoffs. Pittsburgh's averaged 15.2 penalty minutes per game in the postseason, nearly three whole power plays more than Boston's 9.8.
Five-on-Five
Boston doesn't have to worry so much about their power play because they're far and away the best team in the postseason playing 5-on 5. They've posted a league-best ratio of 1.71. (Basically, for every goal their opponents score 5-on-5, the Bruins score 1.71. Impressive.) The Penguins are the worst remaining team when it comes to 5-on-5 play, posting a nearly-flat ratio of 1.03. Simply put, the Penguins are winning games because of their power play. At least, until this series.
Where Is Crosby?
It doesn't help Pittsburgh's cause when their biggest weapon has come up short. In the first two games of the series, Sidney Crosby was held without a point for just the second time all year. Converting a power play might be the catalyst to kickstart his game. The Pens are 17-4 this season when Crosby registers a point on the power play.
Tonight's Outlook
Don't count on much tonight. Each team will get a handful of chances with the man advantage. Pittsburgh will need to dominate Boston's special teams just to saty in the game – especially since they're outmatched 5-on-5. At this point in the playoffs, you're dealing with veteran officials who'll call a consistent game and try not to factor in to the decision. They'll also – right or wrong – avoid calling a lopsided game, even if it's possibly deserved.
Expect that in Game 3. Unless (or until) things get out of hand, O'Rourke and Joannette will call it close. If there is such a thing as a make up call (Kerry Fraser admits they exist), you'll probably see the referees keep things 'balanced'. That won't be enough for the Pens to figure out their power play, and it probably won't be enough for them to try to battle back in this series.
The power play has carried the Penguins this far, but their failures to convert in this series – along with their reliance on generating goals with the man advantage – likely mean the Pens' road to the cup ends in Boston.