As spring turns to summer pro hockey players go back to their hometowns or off-season residences. That's also the case for 20-year-old Ducks player Devante Smith-Pelly who is back home in Toronto.
When the Season Ends It Doesn't Mean You Stop Working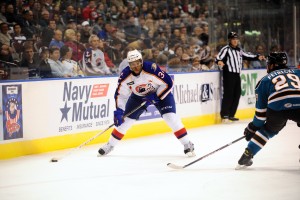 When the season ends it does not mean that hockey players just kick it poolside every day. Many of the professional athletes fall into a routine that keeps them physically fit, mentally sharp, and keeps their hockey-hunger alive.  Smith-Pelly is no different as he talks about his rigorous workout routine,  "I'm back into the routine of Monday through Friday working out and I'm looking into improving over the summer here." Everyone wants to improve on something, right? The right-handed shooter is just like any other player. When asked what area he wanted to improve he said, "On everything and trying to get bigger, stronger, faster, and get into better shape.
               Smith-Pelly is in Good Company during the Summer
There is no better way to up your skill set than training with the cream of the crop. The big rig is under the watchful eye of Matt Nichol and his staff who are operate Paragenix Systems in Toronto. Devante ran through a list of the NHL's elite that train at Paragenix including, "The Stewart brothers, Semin, Cammalleri, and Wolski." He also mentioned that Tyler Seguin works out there. The 2010 draft pick went on to say, "There is about twenty plus NHL'ers in there for sure."
Black Ace Isn't Just a Card, It's a Position
When a hockey team has secured a play-off berth some of the top prospects head up to their NHL Club and don the title of "black ace." Smith-Pelly was joined by Peter Holland, Patrick Maroon, Harry Zolnierczyk, Nate Guenin, Hampus Lindholm, Frederik Andersen, and John Gibson. All eight saw ice time with Norfolk during the 2012-2013 campaign.
The big-bodied winger shared how the black aces spent their time,  "We skated before the team.  We worked out when they skated. All the guys pretty much hung out all day–went to the beach and that kind of stuff and it was a pretty good time."
Exit Day in Anaheim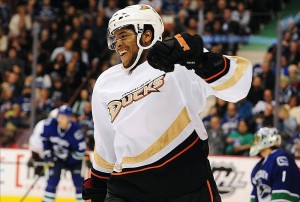 The Mississauga St. Major alumnus gave a lowdown on what went on during his exit interview before he left Anaheim. He relayed the message, "We didn't really talk much about this year. We talked about just looking forward to next year and their expectations on what they would like to see when I come back."
Looking Forward
What does the future hold for Smith-Pelly? Well according to Devo he wants to be an everyday guy in Anaheim, but on the flipside he stated, "I don't want to be just their everyday guy. I want to be a guy who has an impact on the game."
Work Hard, Play Hard
If you follow Smith-Pelly on Twitter you will see that he is a fan of Toronto-born rapper Drake. Well Drake is coming to Toronto to perform in the Ovo fest which is a two-day event held at the Rodgers Centre where he headlines along with feature artists Frank Ocean and James Blake. "You work hard during the summer. There is sometimes where you just need to relax and it's something I look forward to."  In addition, Smith-Pelly added that his hockey roommate and close friend Emerson Etem, "May actually come down for that," referring to Ovo fest.
Let Me Tell You About My Best Friend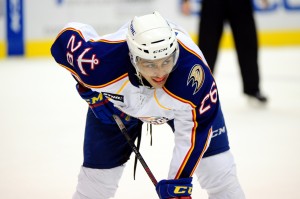 Devante and Emerson go back to when they were in their teens. Along with knowing each other since minor hockey, the two are represented by the same agent and Company O2K Worldwide Management Group. The last couple of years the duo became closer as they were both selected by the Ducks in the 2010 NHL Entry Draft. Bragging rights could be claimed by Etem because he was selected in the first round and Smith-Pelly was chosen in the second round. However, Devante may get the last laugh because he is two days older than Etem.  With their birthdays quickly approaching, the two may celebrate together.
To lighten the mood Devante was asked to describe Emerson in one word and to explain why he made his choice. The rugged Duck responded," Out-there. He's got a personality on him. He is very outgoing. He loves to have fun and is one of the hardest workers I've ever seen."
Giving Back During The Summer
Hockey players are known to pour their wisdom and advice into the community during the off-season. Devante has plans to spend time with the community, "I usually do some charity ball hockey. Play On has ball hockey tournaments all throughout Canada and I usually do that during the summer. I know Alex Semin has a charity road hockey game. I'm going to be doing that as well and I hope to do more this summer."
Lending A Helping Hand
Devante has a younger brother named Jaylen who also plays youth hockey in Toronto. When asked about giving advice to help him compete at the next level Smith Pelly replied," He's a big strong guy, but if he comes in and says I want to take it to the next level for sure I'll help him. As of right now I'm letting him do his own thing and if he wants to commit for sure I'll be there and try to help him out."
So it's safe to say if Smith-Pelly does not forget that a big part of hockey is mental preparation and conditioning and continues working on that this summer, he could once again rejoin the Ducks full-time repeating his rookie year in Anaheim where he made the team out of camp.
A special thanks to Smith-Pelly's management group O2K Worldwide Management  for making this happen.
Follow Ted on Twitter @bauerhockeydude
Ted grew up in Virginia. Warren has a passion for the AHL and dishes out articles about the Norfolk Admirals and the AHL. Follow him on Twitter @bauerhockeydude