By Mike Miccoli
The 'core' that the Boston Bruins spoke so much about has lost some parts and it's the hope of the team that the new pieces will serve as an upgrade. But the one key element that Boston has going into the season is uncertainty. Nobody really knows how good this team can be. Sure, on paper they may look solid but until the Bruins hit the ice to start the 2013-14 NHL season, it's anyone's guess.
Exactly…anyone's guess.
So to prepare for the 2013-14 NHL season, here's a five-part series laying out some predictions about what this year could look like for the Bruins. Some are logical, some are a stretch and some are…well…you'll see.
Part 1: Everyone Will Love Jarome Iginla
#2: Unlike Phil Kessel, Tyler Seguin Will Be Forgotten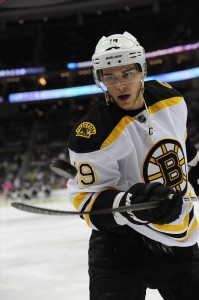 No more "Thank You Kessel" chants–at least, that's what you hope for now that the centerpiece of the famous Toronto/Boston trade has been shipped to the Dallas Stars. There was something that made that trade so controversial and so special at the same time. Brian Burke acquired Phil Kessel, whom in all actuality, is a top-25 player in the NHL, for what was then unknown draft picks. With the luck of the draw, it just so happened that one of those first round draft picks ended up being the #2 overall in the 2010 NHL Entry Draft. Thus began the Tyler Seguin era, the period of time where everyone felt they had to prove that Boston got the better of the deal, solely based on Seguin's performance. And you could argue that they did, especially when mentioning Dougie Hamilton and Jared Knight, the other two draft picks that the Bruins acquired in the deal, namely because of what happened on June 15, 2011.
But Seguin wasn't working out and that became incredibly clear when Peter Chiarelli traded him and Rich Peverley to Dallas for Loui Eriksson and a slew of prospects. So that's it, right? Outta site, outta mind?
Pretty much.
One could argue that trades aren't won or lost by players' personal statistics but rather how those individuals impact a team. Was Seguin responsible for the Bruins' 2011 Stanley Cup victory and a slew of other wins? Yes. Was Kessel the better player since the trade? Definitely. Were the Bruins the more successful team during this period? You bet.
There was (and probably always will be) this competition to to see who won that trade. It was why you heard "Thank you, Kessel" every time Seguin scored in Boston and it's why every single fan and media member, whether they will admit it or not, kept a close eye on Kessel's production as if he was still with the team. It helps when Kessel plays against Boston six times a year and when the return for the trade was a mystery. The Bruins will play against Seguin twice this season, only once in Boston. Outta site, outta mind.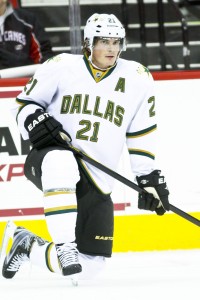 With the Seguin trade, there's little mystery. There's no "wait and see" period to determine who the potential picks could be and where they'd fall in the draft. Rather, the Bruins get an immediate solution to their top-six forwards in Eriksson, two forward prospects in Reilly Smith and Matt Fraser that could steal the winger spot on the third line and a hard-nosed defenseman, Joe Morrow, who could potentially compete to be a depth d-man in Boston.
Eriksson will immediately make an impact with the Bruins with his consistent two-way play and goal scoring abilities and will likely take the spot that once was Seguin's on Patrice Bergeron's and Brad Marchand's line. Seguin will be forgotten more easily than Kessel ever was because the Bruins have concrete replacements in tow. In what's becoming an almost patented Bruins trade of a budding superstar, this time seems different, especially when there's a sure thing involved. Even without Seguin, the Bruins are still a Stanley Cup contender. You couldn't say that when they didn't replace Kessel right away.
There's no doubt that Tyler Seguin may light it up in Dallas and become one of the NHL's elite players, all because of where he's playing. Along with Jamie Benn, Seguin is the go-to guy in Dallas, playing in an entirely different conference and system. But Eriksson is a special player and could be a point-per-game guy in Boston, especially when looking at his linemates. In this case, consistency and sure-things are an upgrade to waiting.
And when you think about it, even since before we knew the identity of one of the 2010 1st round pick, it seems everyone was always waiting on Tyler Seguin.
Follow Mike on Twitter for more Bruins updates, news, and commentary.