In today's Rumor Rundown we cover a lot of ground and a number of teams. Speculation is really starting to swirl now that certain teams have gotten off to a rocky start. Other rumored moves that went dormant are starting to resurface and there are some pretty big stars that may be looking at new destinations.
Red Wings and Athanasiou Talking
Bob McKenzie reported recently on an episode of TSN Insider Trading that contract talks between the Detroit Red Wings and the agent for Andreas Athanasiou, Darren Ferris, "have really intensified and picked up over the last couple days." Athanasiou is in Switzerland and ready to make a decision, but the reality is, he's losing NHL money by the day. He's also potentially hurting his growth as a player by not being a part of everyday NHL action.
#RedWings and Athanasiou have yet to come to a deal. https://t.co/0ES4iapdL4

— CBS Local Sports (@CBSLocalSports) October 18, 2017
This development is interesting considering not long ago there was virtually no movement on a deal between the two teams and both sides were firm in their stance and not willing to budge on their asking price. McKenzie believes there may be a change in the approach by both sides as early as this week and others think as the season wears on the player may choose to rethink his position and try to make a deal happen.
Kings May Trade a Solid Defenseman
The Los Angeles Kings are off to a good start. But, TSN Insider Pierre LeBrun reports that the team may determine they need more scoring and have depth on defense. That means the Kings could make either defensemen Jake Muzzin or Alec Martinez available to bolster their lineup up front. If that's the case, expect a feeding frenzy over two blueliners who are considered top-four and have terms that work for NHL clubs.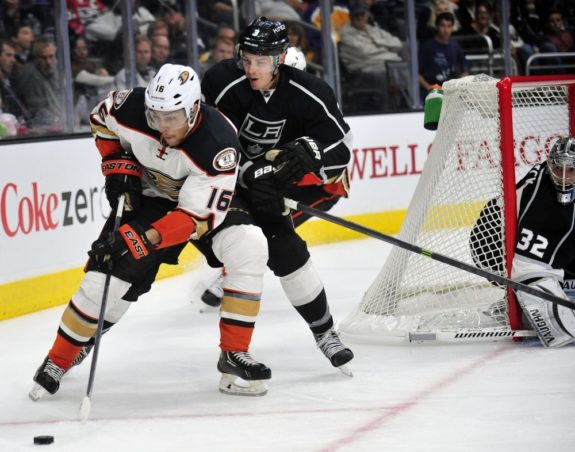 LeBrun said:
"It's not every day that a top-four defenseman in-season is made available, and one that is not a rental player. Both these guys have term past this year. So yes, this is something I believe the Kings have discussed internally, the possibility of doing this. Again, later in the season. And just to see all these defensemen craved teams what they'd be willing to offer for one or the other."
Evander Kane Staying Put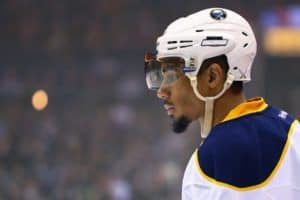 Despite there always being rumors that Evander Kane may be a trade piece out of Buffalo, TSN's Darren Dreger is reporting the Buffalo Sabres aren't interested in trading the forward since he's off to such a good start personally. While the Sabres aren't shy about listening to offers, any trade would come down the road as the Sabres are either deemed a team inside or outside the playoff picture.
If Kane receives a lot of attention, the Sabres may move him by the deadline considering the return would be at an all-time high.
Related: Sabres: Love Them, Hate Them or Both
Chara Going, Not Going
The Boston Bruins have gone on record saying they would like to keep Zdeno Chara in Boston. Chara has also stated his desire to stay. But, the Bruins not-so-great start has people talking anyways.
In his 31 Thoughts article of this week, Sportnet's Elliotte Friedman explains Chara always garners a lot of attention from NHL teams. The Maple Leafs, San Jose Sharks and others have inquired about the veteran defenseman's availability.
Don't expect Chara to be traded unless the Bruins are clearly out of the playoffs and he becomes a short-term rental for a team at the trade deadline.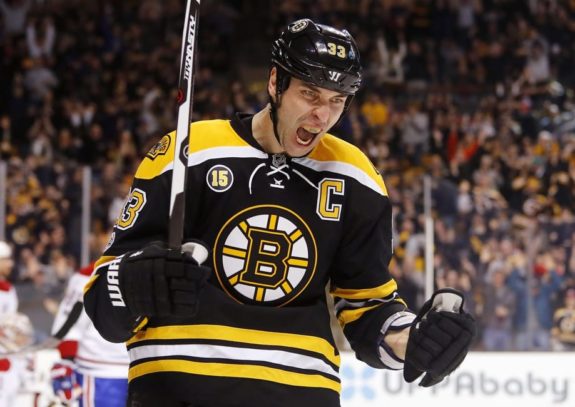 Sharks Working The Phones
There are a number of insiders talking that the team to watch over the next couple weeks is the San Jose Sharks. The team is growing tired of not having the scoring punch they need and because their most notable move this summer was losing Patrick Marleau, they may be looking to make a splash.
Sharks Insider, Kevin Kurz of the Athletic stated rather emphatically on Twitter:
I don't think they can wait much longer before they have to address the lack of depth up front. Just not enough talent there. https://t.co/SjXrERt5jf

— Kevin Kurz (@KKurzNHL) October 17, 2017
Would the Sharks consider something classified as a smaller move? Or, could we see a big trade including a player like John Tavares or Matt Duchene? If the team continues to struggle, expect there to be a lot of chatter when it comes to that franchise.
Related: Canadiens Poised to Miss Playoffs in October?
Canadiens Need to Do Something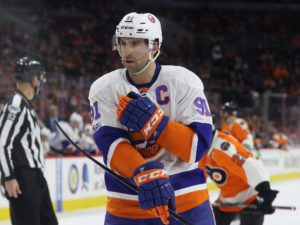 Finally, the Montreal Canadiens are expected to do something. Elliotte Friedman speculated that there is only so long the Habs can go before a shake-up is needed. They have all sorts of cap space, are struggling mightily and it has to be a matter of time before something gives.
GM Marc Bergevin's lack of action could be his eventual downfall. That said, it could be that he's saving that money for a huge move and planning to make a splash the second a player like John Tavares becomes available. Friedman said:
"And look – we heard the owner's comments about Tavares. If it ever becomes a situation where he goes on the market or becomes available, they're going to be all-in. And I wouldn't be surprised if they hold their cap space until something potentially like that becomes available, no matter how many wolves are baying at the moon."