This season, the Boston Bruins continue to rewrite the record books with the campaign they are putting together. While allowing a league-low 127 goals against in 61 games, the tandem of Linus Ullmark and Jeremy Swayman has been the best in the league, providing elite goaltending night in and night out. Ullmark has been setting new franchise records this season and is the heavy favourite for the Vezina Trophy. His journey to becoming an NHL All-Star wasn't an easy one. Here's a look at his career path and how his remarkable campaign compares to other historically great goaltending seasons.
Ullmark's Path To The NHL
Born on July 31, 1993, in Lugnvik, a Swedish village with an approximate population of 350, Ullmark is the first and only player to make it to the NHL. As a child, he would often head to the community rink, walking distance from his home, to play hockey with his friends. The doors were never locked at the rink, allowing the youngster to spend countless hours honing his skills and instilling a deep passion for the game at a young age.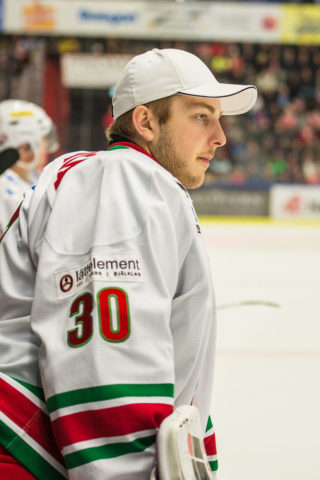 His lightheartedness and fun-filled personality were at the forefront as Ullmark began playing for MoDo. His junior coach, Henrik Gradin, told Kevin Dupont of the Boston Globe, "He was a game goalie — really good in games, but lazy, playing hockey for fun. You want guys to have fun, sure, but you want them to take it seriously. We could lose, and Linus would be like, 'Hey, OK, it's still a great day!' A little immature, I guess you'd say." Gradin said about a then 16-year old Ullmark joining the MoDo Junior ranks (from 'He began playing hockey for fun in a Swedish village. Now, Linus Ullmark is seriously thinking about a Stanley Cup', Boston Globe, Sept. 21, 2021).
"MoDo was my dream. My goal was to be in MoDo with the big boys."
While growing up, Ullmark said he never really envisioned playing in the NHL but dreamed of playing with the "big boys" for MoDo. Known as the Swedish Hockey Factory, MoDo has been the starting point for many future NHLers, including Peter Forsberg, Marcus Naslund, Daniel and Henrik Sedin, Victor Hedman and Victor Olofsson. Finally, in 2009-10, Ullmark's dream became a reality getting a chance to play for the premier Swedish hockey program.
He began his junior career in the 2008-09 season, playing for Kramfors-Alliansen in the J18 Elit League. However, after one of the MoDo J18 goaltenders became homesick and left the team, Ullmark was given the chance to fulfill his childhood dream of playing for the club. His first experience with MoDo was in the J18 Elit and J18 Allsvenskan leagues before progressing to the MoDo J20 SuperElit club ranks.
Buffalo Sabres Draft A Late-Round Gem
Ullmark continued to develop on and off the ice and showed greater maturity through the guidance of his MoDo goaltending coaches, Maciej Szwoch and Magnus Helin. However, despite gaining traction with the J20 MoDo club and consistently improving his individual stats, he was not selected in his first year of eligibility at the 2011 NHL Entry Draft.
The following season, he played 25 games with MoDO Hockey J20, posting a 2.76 goals-against average (GAA) and a .918 save percentage (SV%). His play gained attention from the Buffalo Sabres' scouting staff as they selected Ullmark in the sixth round, 163rd overall at the 2012 NHL Entry Draft. He received a phone call from Sabres scout Fredrik Andersson who gave the goaltender the news that Buffalo had drafted him. Although he was selected in 2012, he continued his development by playing in his homeland, playing the 2012-13 season with the J20 MODO hockey club, where his numbers improved to a 2.04 GAA and a .924 SV% in 23 games.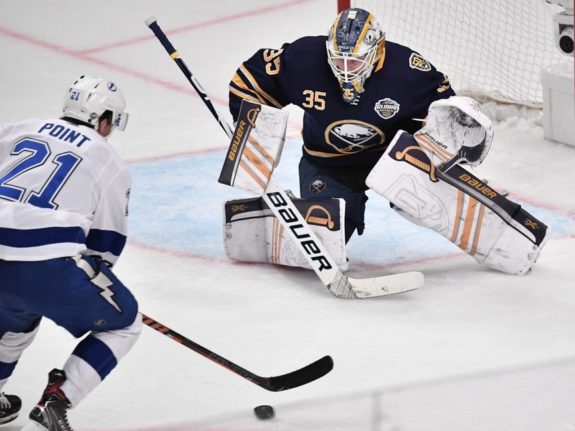 Ullmark also got his first taste of playing in the professional ranks during the 2012-13 season, appearing in six games with MoDo while putting up a 2.07 GAA and a .934 SV%. In 2013-14, he elevated his game while playing 35 games in the Swedish Hockey League (SHL) with MoDo. During the season, he had a 2.08 GAA and a .931 SV% while winning the Honken Trophy as the Swedish Goaltender of the Year – Henrik Lundqvist won the prestigious award three times before embarking on his NHL career.
Following his award-winning season in the SHL, the Sabres signed Ullmark to a three-year entry-level contract. However, his NHL debut was delayed as they loaned him to MODO to continue his development. In addition, the season was difficult as he dealt with off-ice issues surrounding his father's problems with alcoholism, which he opened up about in an article by Amalie Benjamin in Dec. 2022.
Ullmark Nearly Quit
While dealing with his life off of the ice, Ullmark felt he had a ton of weight on his shoulders. "I have no idea what to do. I was thinking about quitting. I was very close to quitting and just moving home. But I got in touch with a psychiatrist that really helped me work through it, work through all of my feelings." Ullmark said in Benjamin's article.
Szwoch helped guide the young man through these troubled waters. Helin was also there to help him. He refers to the two as father figures and gives them credit for being instrumental in his development on and off the ice.
Ullmark Heads To North America
Ullmark's NHL career began in 2015-16 when he split time with the Sabres and their American Hockey League (AHL) affiliate, Rochester Americans. In 20 games with the big club, he posted a respectable 2.60 GAA and a .913 SV%. The 6-foot-4, 212-pound netminder picked up his first career win against the Philadelphia Flyers on Oct. 30, 2015.
Related: Bruins' Jake Debrusk Nearing Return Amidst Career Year
---
Latest News & Highlights
---
Ullmark continued to split time between Buffalo and Rochester for the rest of his entry-level contract before becoming a mainstay in the NHL during the 2018-19 season. He played 117 games with the Sabres through six seasons and showed glimpses of a promising career. He posted a 2.78 GAA during his time in Buffalo, but his .912 SV% while playing on one of the NHL's worst teams spoke volumes about his skill set.
Although Ullmark couldn't reach the playoffs with the Sabres, he was extremely grateful to the organization that gave him his start. "They were the ones who drafted me and groomed me into the player I am today and person I am today, so I have a lot of gratitude toward the organization, and the way they've handled things and how they helped me, support me, especially last season with everything that went through my life," said Ullmark whose father had passed away during his final year with the Sabres.
Shipping Up to Boston
Ullmark's play in Buffalo was solid enough for Boston Bruins general manager Don Sweeney to give the unrestricted free agent a four-year, $20 million contract ($5 million average annual value (AAV)) ahead of the 2021-22 season. With longtime starter Tuukka Rask on the mend from off-season hip surgery and a promising yet unproven Swayman climbing the ranks, Sweeney signed Ullmark to become the Bruins' new number-one goalie. While some argued that the price was too steep, Ullmark has proven any doubters wrong with his stellar play this season.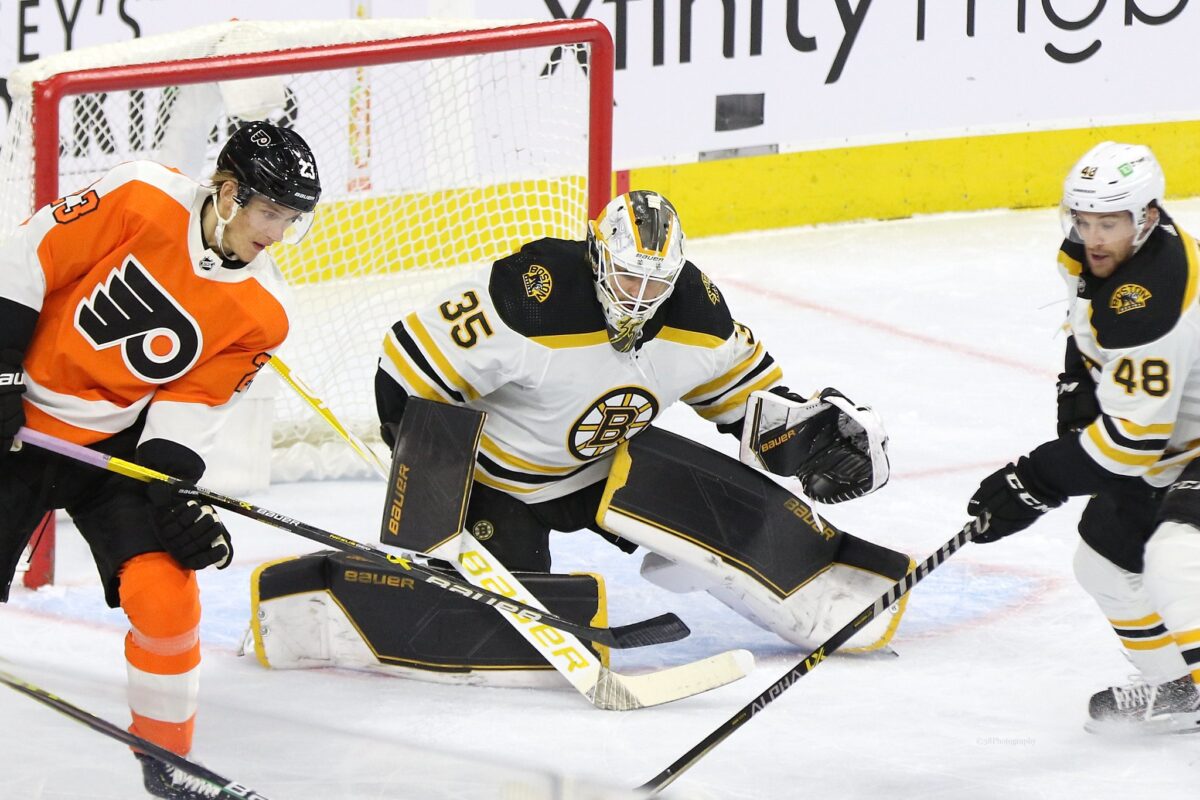 In his first season in Boston, Ullmark set new career highs, playing 41 games and picking up 26 wins. After Rask had a failed comeback attempt midway through the season, it became clear that Ullmark and Swayman were the future in the net. The two netminders' post-win celebration hug has become a fixture for Bruins fans.
Ullmark is a great mentor to his young partner; he sent Swayman a text saying he was looking forward to becoming teammates when he signed with the Bruins, which is a testament to his character. The two have formed one of the best goaltending tandems in recent years.
While the Bruins finished in a wild-card position and met the Carolina Hurricanes in the first round of last year's playoffs, Ullmark struggled, losing his two starts and posting a 4.16 GAA and a .860 SV%. Perhaps he took it personally, as his game has reached a new level this season.
Becoming An All-Star and Vezina Trophy Front-Runner
Ullmark's 2022-23 season got off to an excellent start, tying a franchise record for most wins through his first ten starts (9), and he is on his way to having one of the greatest goaltending seasons in NHL history.
On Jan. 22, with a 4-0 shutout victory against the San Jose Sharks, he broke an NHL record that had stood for an incredible 93 years, becoming the fastest goaltender to reach 25 wins in a season (28 games). Ullmark continues to set benchmarks while splitting duties with Swayman. He now has a remarkable 32-4-1 record this season.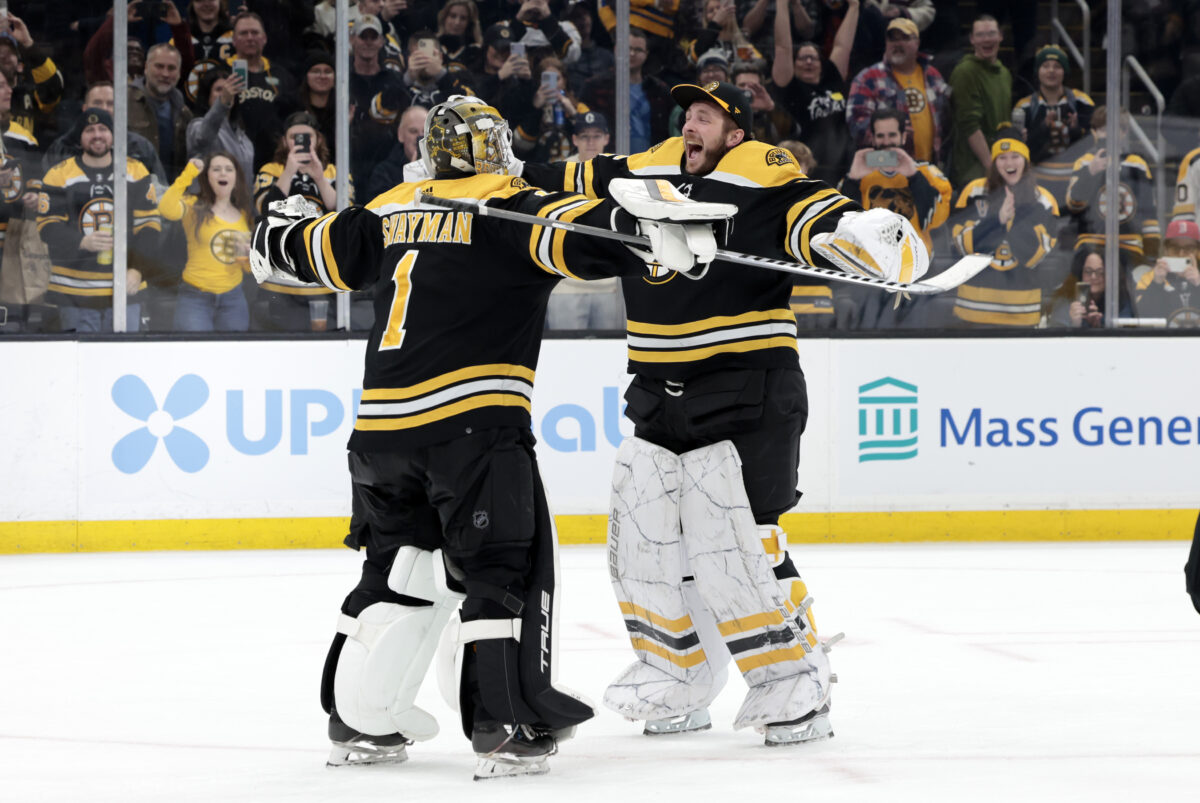 This season also marked another first as he was selected to represent the Bruins at the NHL All-Star Game alongside head coach Jim Montgomery and star forward David Pastrnak. The weekend was special for Ullmark and Montgomery as they each participated in All-Star festivities for the first time in their careers. "It was great fun. Guys were trying very hard. … They had sticks in the right lanes, all the right stuff," Ullmark told reporters following the Atlantic Division win.
While analysts and fans might expect a drop in production at some point this season, February continued to bring new highs and consistent elite performances from Ullmark. He was named the NHL's third star of the month, putting up a perfect 6-0 record with a 1.79 GAA and a .947 SV%. With the Bruins leading the Vancouver Canucks 2-1, the Canucks pulled their goalie in the late moments of the game. The Bruins' goalie then set the hockey world on fire by sealing the win sending the puck 200′ to the back of the Canucks' empty net. It marked the first goalie goal since Pekka Rinne accomplished the feat three years ago.
"It's one of the dreams that I've always had. I wanted to score a goal, and now I had an opportunity," Ullmark told reporters. "I tried it in the Winter Classic. Didn't really make it. Now, everything came together." The goal perfectly encapsulated this season, where anything seems possible for him.
Shortly after, he set another franchise record against the Calgary Flames, making an incredible 54 saves en route to a 4-3 overtime victory – Ullmark broke Tim Thomas' record of 51 saves set in 2011.
While he is the front-runner to win the Vezina Trophy as the NHL's best goaltender, Bruins fans also hope Ullmark can replicate Thomas' 2011 magic as the team is a favourite to win the Stanley Cup this season.
Comparing Ullmark's Season to Other Historically Great Goaltending Seasons
With his league-leading 1.89 GAA and .938 SV%, Ullmark is having a season most goaltenders only dream about. But where will his season land compared to other great goaltending performances? Starting 38 of the Bruins' 62 games, he is on pace to earn 50 starts this season. In addition, he has an absurd .842 winning percentage in games he has started, putting him on pace for 42 wins. However, it's unlikely he will top Brayden Holtby and Martin Brodeur's shared record of 48 wins due to splitting time with Swayman.
Should he maintain his current GAA, he will sit alongside goaltending greats like Dominik Hasek, who had a 1.87 GAA in 1998-99, Brodeur (1.88 GAA in 1996-97), Ed Belfour (1.88 GAA in 1997-98) and Terry Sawchuk (1.89 GAA in 1952-53). That is some good company for the 29-year-old.
His single-season save percentage also ranks among some of the best to strap on the pads, including a shot at breaking the all-time NHL record set by Jacques Plante in 1970-71 (.944). His .938 SV% has him tied with Thomas for fourth all-time. Hasek's highest was .937, while Igor Shesterkin was named a Hart Memorial Trophy finalist last season, posting a .935.
Witnessing Something Special
Over the past decade, Bruins fans have been blessed with spectacular goaltending, with Thomas, Rask and now Ullmark taking the reins. With 20 games remaining, fans should enjoy the ride as their netminder continues to write history. Although a Vezina Trophy may be in Ullmark's near future, he has his eyes set on capturing the ultimate hardware with high hopes of delivering the Bruins a Stanley Cup Championship this season.
Will Montgomery continue splitting starts between his two netminders or ride the hot hand in Ullmark? Either way, Ullmark is providing the type of play required to win a championship, and fans should be excited about what's to come. The path has been long, but we are witnessing something special this season.
---
---