It's not the time to panic, but the new hockey season has begun and the Boston Bruins have lost two of their first three games. And those losses have been pretty ugly. Already, in the month of October, the frightful thoughts are there. The Bruins were hoping to take four points in a home-and-home series from what was considered by many to be an inferior team, the Colorado Avalanche.
But, a funny thing happened on the way to the TD Garden and the Pepsi Center – the Bruins were outscored 10-3 during the home-and-home, including a lackluster 4-0 Columbus Day shutout on Monday in Boston. The Bruins are scratching their collective heads trying to figure out what went wrong.
"It wasn't good enough," said Bruins coach Bruce Cassidy. "They were better than us, again, for the second time in three days. We've got some work to do."
Bruins Forwards Are Work in Progress
Yes, they do. During the offseason, the Bruins did not add any high-power scoring, or, for that matter, a solid backliner. Instead, the organization went with youth. But, with youth comes inexperience and turnovers which were partly to blame for the disarray that occurred in the two losses. Having young defensemen in Brandon Carlo and Charlie McAvoy playing top-four minutes was bound to catch up to the club sooner or later. Wednesday's game found McAvoy paired with Zdeno Chara by game's end, not Kevan Miller.
Baby-faced forwards Anders Bjork and Jake DeBrusk look a bit lost as they have no points in the last two games. Bjork has zero shots on net in the last two contests and DeBrusk has had no spark after scoring in the opener and making his proud father tear up. Only two Bruins, Chara and Danton Heinen, are on the plus side of the ledger and Heinen has played just one game.
Bergeron May Be Back
The coach is still missing Patrice Bergeron who is nursing that ever-present lower-body injury. The next time he suits up for a game, it will be his 900th. Right now, the Bruins could use that stabilizing force that all that experience could bring to that reckless youth.
When will his return to the lineup be?
"I don't know," said Bergeron. "We were shooting for the weekend, but we'll see. I'm day-to-day."
Also missing is veteran David Backes, who will be out for three to four weeks after being diagnosed with diverticulitis.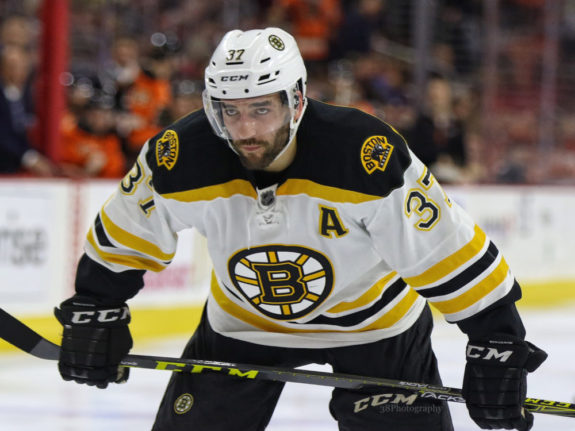 Since the absence of Bergeron, linemate Brad Marchand has two goals, one into an empty net, and just five shots on goal. He's also sporting a healthy minus-two in plus/minus (hashtag sarcasm). That's a far cry from last season's average of three shots on goal per game which netted him 39 goals for the year.
David Pastrnak, fresh off signing his new six-year contract extension, has one point. It was the first Bruins goal of the year, and he also ranks low with a minus-five rating. That's something for which his previous coach, Claude Julien, would have kept him on the bench.
Not everyone having on-ice issues is a rookie. Defenseman Torey Krug had a few turnovers and the 40-year old Chara was having his issues with the speedy Avalanche forwards.
Netminding Has Been Suspect
Solid goaltending can sometimes bail out defensive woes. However, Tuukka Rask has not done that. He has started all three games and carries a putrid .870 save percentage. Along the way, he has let in some questionable, read, soft goals. Anton Khudobin relieved Rask after two periods in Denver. He should get a start over the weekend in either Arizona or Las Vegas. Bruins fans have been losing faith in Rask since "17 seconds" in Game 6 of the Stanley Cup Final in 2013.
Watching that video of a nonchalant Rask giving up those goals in the Final makes anyone in Boston bristle and break into a cold sweat. Those type of goals are more the norm nowadays for Rask. The big game-saving stop that can steal your team a victory is just not there. As number one goalie, making $7 million dollars, you should stop the shots you are supposed to, and stop some that you shouldn't. Rask is not doing that.
There is still plenty of time, but bad starts can often snowball into futility if the necessary corrections aren't made. The Bruins are pinching when they shouldn't be and are stepping up on pucks that they don't get. That causes turnovers which leads to goals and frustration.
In the meantime, Cassidy will continue with mixing and matching to try and find a formula that works.  With the youth that Boston is employing, there will be highs and lows. The Bruins hope the lows are few and far between.