Every person's journey through life is different and the same can be said for every hockey player's journey to become a professional player as well. Such is the case with New Jersey Devils' forward Stefan Noesen, a kid from Plano, Texas that was drafted by the Ottawa Senators six and a half years ago at the NHL Draft. Two years after being drafted Ottawa traded him to the Anaheim Ducks as part of a blockbuster deal that saw Noesen join Jakob Silfverberg in California and Bobby Ryan headed to the Sens.
After only seeing action in 12 NHL games from 2014-16 and 116 games in the AHL, Noesen found himself on waivers and last January 25 the Devils claimed him, and for the 24-year-old winger things couldn't have worked out better. Not only has he already played in 36 games with his new team that welcomed him with open arms, but he gets to play alongside a player and friend he grew up playing hockey with in Texas — Blake Coleman.
The #NJDevils have claimed F Stefan Noesen off waivers from Anaheim. pic.twitter.com/9niZmjXyrw

— New Jersey Devils (@NJDevils) January 25, 2017
Think about that for a second. The state of Texas isn't exactly a hotbed of hockey prospects, and how unique is it that two players from such a non-traditional market play for the same NHL team, and on the same line, and each was on an opening night roster for the first time in their careers?
It is stories like this that show just how deep the impact is of an NHL team being relocated to Dallas and then becoming a successful team — Stanley Cup Champions in 1999, Western Conference Champions in 2000 — is. If the Minnesota North Stars never became the Dallas Stars would Coleman and Noesen have chosen the path to become hockey players with dreams of playing in the pros?
Following New Jersey's opening day 4-1 triumph over the Colorado Avalanche, The Hockey Writers caught up with the 24-year-old winger to get some insight into what's different about this edition of the Devils, how a kid from Texas found his way in the NHL, and why he may be on the perfect team for him among other topics.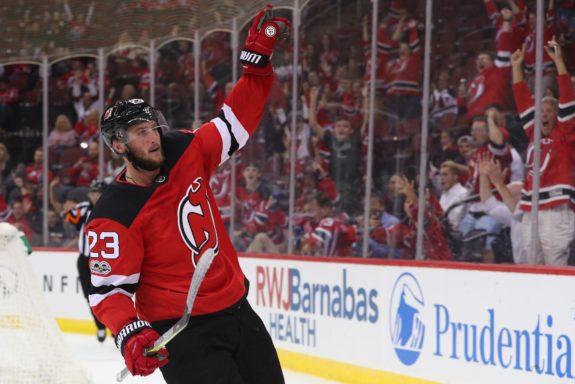 The Hockey Writers: There was a lot of energy in the building today, wasn't there?
Stefan Noesen: I don't think I've ever seen it like this, except for maybe games against the Rangers, and usually there are more Rangers' fans. It (today) was really cool, I've never been a part of anything quite like that. It shows what kind of a hockey community this really is and the belief that now we're doing the right things to turn this thing around.
THW: What's the vibe been like around the team since camp started?
SN: I think you have guys that have been here, guys that we have signed and you can feel the energy and the excitement that we have building here right now. Today's game really showed what we've been really preaching and we're starting to play the right way; now we just have to continue to do that, night-in and night-out.
THW: Is this your first time on an opening day roster?
SN: Yeah I wasn't used to all of that, it was pretty cool.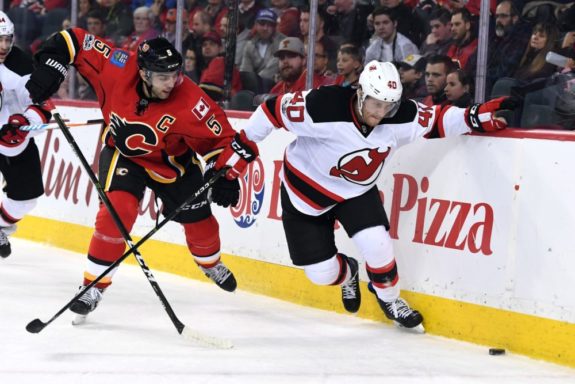 THW: Okay, how awesome and unique is it with two Texas-natives on the NJD roster, and on the same line too?
SN: We grew up together back home, Blake's two years older than me but I always played up when I was younger. So we played on the same team growing up as little kids, and now making this dream come true…you don't expect it. I don't know if there are two other guys from non-hockey states on the same team, let alone making the opening night roster, let alone playing on the same line, let alone a lot of other things (laughs).
THW: You were traded, and claimed off waivers already in your career, what's your mindset through that? Do you feel wanted or unwanted?
SN: I think it just depends on your situation. I was going up and down (to the minors) in Anaheim, I didn't feel like they didn't want me because I was playing – I had 12 games with them last year. After I got picked up on waivers (by New Jersey) I had a good talk with the GM there (Anaheim's Bob Murray). Coming into a new locker room is obviously really different and something you don't expect, but I've been fortunate slash unfortunate (laughs) I don't know, however you want to take that. To do it twice now and both times I've come in and been welcomed with open arms, and the excitement is always getting bigger and bigger. The more you play a pivotal role in a team's lineup, the more exciting it is.
THW: Who were some of the players here with the Devils that really made you feel at home when they claimed you from the Ducks?
SN: Actually on the flight over to New Jersey, Lovey (Ben Lovejoy) sent me a 'welcome' and 'excited you're here' text. I played with him in Anaheim and guys like (Devante) Smith-Pelly, Kyle Palmieri were familiar faces. It definitely really helps to have those connections. The two guys who also really helped me were my linemates when I first got here — Jacob Josefson and Pavel Zacha; Pav and I instantly became friends and we had our dad, we used to call Josefson 'dad' – right in between us playing center. He really helped us both out, but both of them were very pivotal in my transition from Ducks to Devils.
THW: So when you got drafted by Ottawa as a kid from Texas, how much did you know about it there?
SN: Well you have a feeling about where you are going to go (in the draft) and the teams that are really interested in you. I had met with Ottawa a few times that year, once before the draft, twice at the combine, and then once again at the draft. Even though I met with the Senators a few times I was also expecting to maybe go to Anaheim and they were the next pick.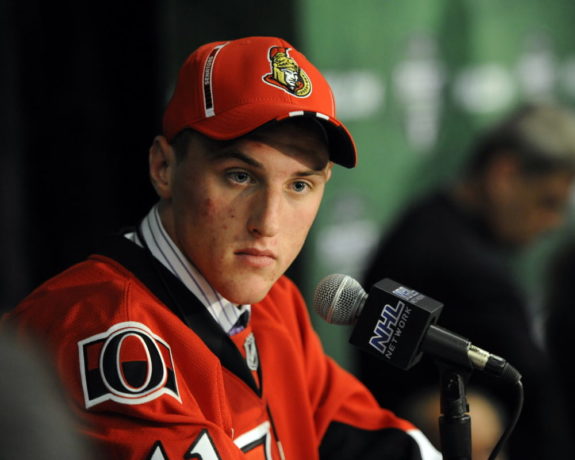 Just because we grew up in Texas, we always had only one really good team and we were good enough to win nationals one year, so that year and years previous we would travel to Canada to go play in tournaments that we would… (chuckles)… do okay in. We'd win a couple of games and lose quite a few. But we had traveled to Ottawa a couple of times, Toronto, Detroit a lot; so you get to know some of the north. It wasn't too much of a culture shock when I was drafted by Ottawa, but it's definitely different than Texas, that's for sure.
THW: Growing up in Texas your favorite player growing up had to be Mike Modano right?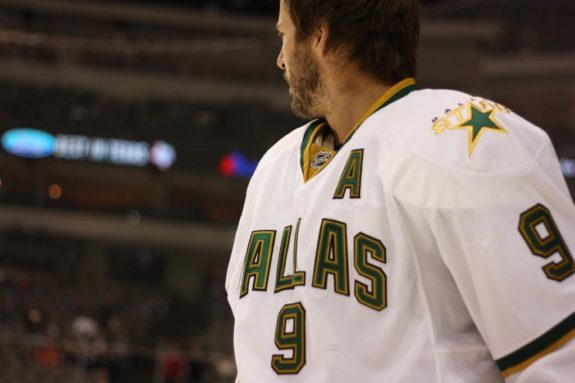 SN: You're not wrong (smiles), Modano was definitely a guy that everyone looked up to. Brett Hull was another huge one, he scored that game/Cup-winning goal for us…I say us…the Texas fan base. My mom actually was a big fan of Jamie Langenbrunner, and I think if I remember right we play sort of similar styles, and obviously, he was a part of teams here in New Jersey too, so that's kind of cool.
THW: A lot of positives today for the Devils, and since preseason began; how does this team keep it going?
SN: I'm a big believer in day by day. I think you can only control what you do today. I don't think you can control what happens tomorrow, the next day, or even a week after that. I think if collectively we can think that way, and work on getting better that day it will carry over into games. So if we stick with our structure, stick with the things that we've been doing all preseason, then good things will happen. You can see the excitement in here for sure.
Noesen nose goals. 👃🏒👍 #NJDvsBUF https://t.co/h6FSUyPbcG

— New Jersey Devils (@NJDevils) October 9, 2017
THW: This seems like a really good fit for you here in New Jersey, is that accurate?
SN: My style of play is exactly to a tee of what Coach John Hynes wants us to play. I pride myself on my play down low and my defensive game, and he's a big believer in 'get the puck in, be tenacious, get after it' — and that's right up my alley. So things have worked out perfectly.
Dan Rice is in his 9th year of reporting for THW & has covered NJ Devils home games for 15+ years at various websites. He began his journey working for legendary broadcaster/writer Stan Fischler from 2002-04 & completed an internship at the ECHL; he also has been writing features for the NWHL (nwhl.zone) website since 2016.