Over the past six years, Boston Bruins general manager Don Sweeney has selected many promising young players in the NHL Entry Draft. Top prospects Jack Studnicka, Jakub Zboril, Trent Frederic, and Jeremy Lauzon have made the jump to become key pieces of the 2020-21 Bruins roster.
Boston has several other prospects who are playing in the American Hockey League, college, or in the United States Hockey League. Some of them are having impressive seasons, while others are hoping to make more strides in their development with an eye towards the future. Here is an update on how 10 Bruins prospects are faring this season.
Jeremy Swayman
After signing his entry-level contract in March of 2020 following his junior season at the University of Maine, Swayman has had an impressive start to his pro career in the AHL with the Providence Bruins. Drafted in the fourth round, 111th overall in 2017, he has won his first four starts with the P-Bruins and has a 2.00 goals-against average (GAA) with a .928 save percentage (SV%). The Anchorage, Alaska native has stopped 104 of the 112 shots he has faced.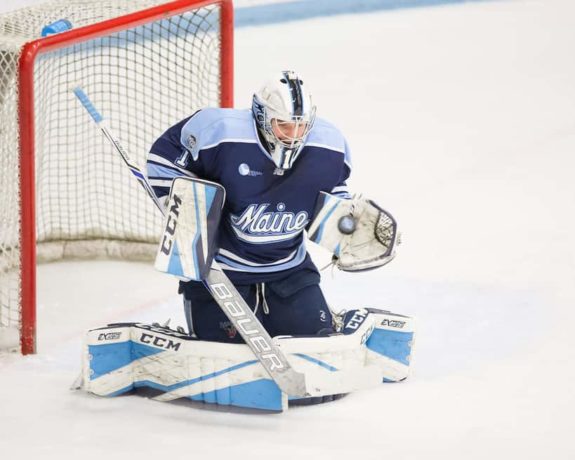 He finished his junior season at Maine as a Hobey Baker Award finalist with an 18-11-5 record, three shutouts, and had a 1.79 GAA with a .939 SV%. In his career with the Black Bears, he went 47-39-13 in 99 games with a 2.46 GAA and a .928 SV%. He has the makeup to be a future No. 1 goalie in the NHL.
Dan Vladar
Vladar was on the Bruins' taxi squad to start the season, but he was recently sent down to Providence and is now splitting time with Swayman. The 23-year-old has a 2-2 record with a 1.78 GAA and has a .934 SV% with 99 saves. He made 28 saves on Tuesday in a 4-2 win over the Hartford Wolf Pack.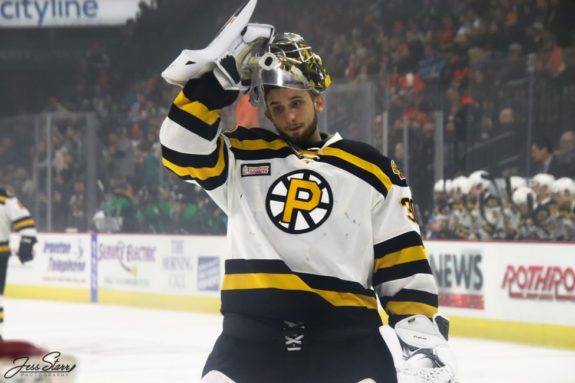 Drafted 75th overall in the third round in 2015, Vladar made his NHL debut over the summer in the Toronto playoff bubble in relief of Jaroslav Halak against the Tampa Bay Lightning in Game 3 of the Eastern Conference semifinals. He stopped 12 of the 15 shots he faced in a 7-1 loss. Last August, the Bruins signed him to a three-year contract extension with a $750,000 cap hit through 2022-23, which gives him three years to make his case to be the goalie of the future in Boston, following in the footsteps of Tuukka Rask.
Jakub Lauko
Drafted 77th overall in the third round in 2018, Lauko is off to another good start with Providence this season. Last year, he had five goals and four assists in 22 games for the P-Bruins. This season, he has two goals and five assists in seven games while splitting time between the top two lines.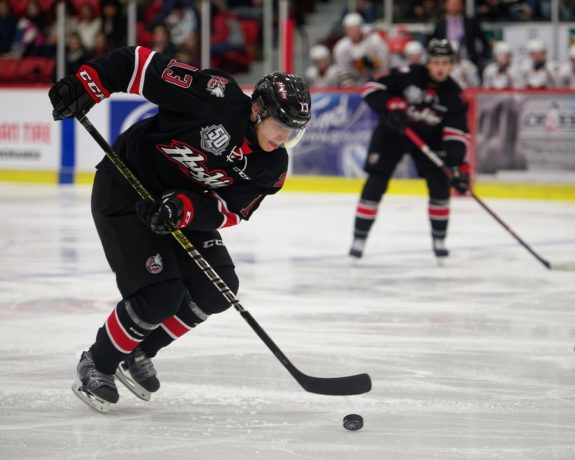 The Bruins are hoping Lauko, who plays both left-wing and center, can continue to develop his offensive game in Providence. He was loaned by Boston to HC Energie Karlovy Vary in the Czech Extraliga last fall and had five goals and five assists in 25 games.
Oskar Steen
Selected 195th overall in the sixth round in 2016, Steen has one goal and four assists in seven games in his second season with Providence. Last season, he had seven goals and 16 assists in 60 games. He spent the fall with IF Bjorkliven in the Swedish second-tier league HockeyAllsvenskan where he had 12 goals and three assists in 16 games.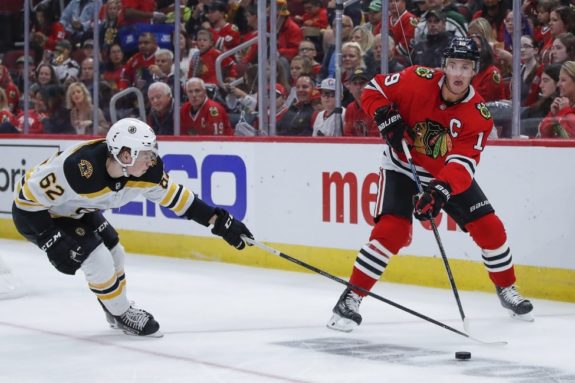 The 22-year-old right-handed shot will get more time to develop with the P-Bruins as a regular this season. It's not going to be easy to crack Boston's lineup in the near future at center, but Steen adds good depth to the organization.
Mason Lohrei
Drafted in the second round, 58th overall, in October, Lohrei is quickly making a name for himself with the Green Bay Gamblers in the USHL. The 6-foot-4, 200-pound, left-shot defenseman has 13 goals and 27 assists in 31 games this season with a plus-15 rating.
Lohrei, who was undrafted in 2019, had eight goals and 29 assists in 48 games for the Gamblers in 2019-20. Committed to Ohio State University for the 2021-22 season, the physical blueliner has strong puck skills and is quickly turning into a good two-way defenseman with a powerful shot.
Jake Schmaltz
Lohrei's teammate on the Gamblers, Schmaltz, has already tied his goal total from last season with 13, including nine on the power play, in just 31 games. Drafted 192nd in the seventh round in 2019, the left-winger has 26 assists, which is already seven more than he had in 47 games last season. Even more impressive is his plus-20 rating.
Schmaltz, who is committed to playing at the University of North Dakota in 2021-22, spent his first season in USHL with the Chicago Steel and had five goals and 13 assists in 60 games in 2018-19. Like Lohrei, Schmaltz's development is worth keeping an eye on. The Bruins are hoping they selected a diamond in the rough in the seventh round.
Curtis Hall
After his junior season at Yale University was lost in November when the Ivy League canceled their winter sports season because of the coronavirus, Hall signed an AHL contract with Providence in January for their 26-game season. On Monday, Sweeney and the Bruins announced that Hall signed his three-year, entry-level contract that begins in the 2021-22 season.
Selected 119th overall in the fourth round in 2018, he has played in just one game this season for the P-Bruins because of injuries. The 20-year-old, right-shot who led Yale with 17 goals in 2019-20, is one of the Bruins' top forward prospects.
Trevor Kuntar
Kuntar is having a solid freshman season at Boston College for the second-ranked Eagles. In 19 games, the 89th pick in the third round of the 2020 Draft, has five goals and four assists with a plus-5 rating. At 6-feet and 195 pounds, Kuntar is a physical left-winger on BC's third line and has 43 shots on net this season.
Scoring is nothing new to Kuntar, who scored 49 goals and 47 assists in three seasons for the Youngstown Phantoms in the USHL. After going undrafted in 2019, he committed to Harvard University, but he de-committed after the Ivy League canceled their season and moved down the street to join legendary coach Jerry York at Boston College.
John Beecher
One of Bruins' top collegiate prospects, Beecher had four goals and four assists in 16 games for the University of Michigan, but his sophomore season ended when he recently suffered a shoulder surgery. Last season, the first-round pick, 30th overall in 2019, had nine goals and seven assists for the Wolverines.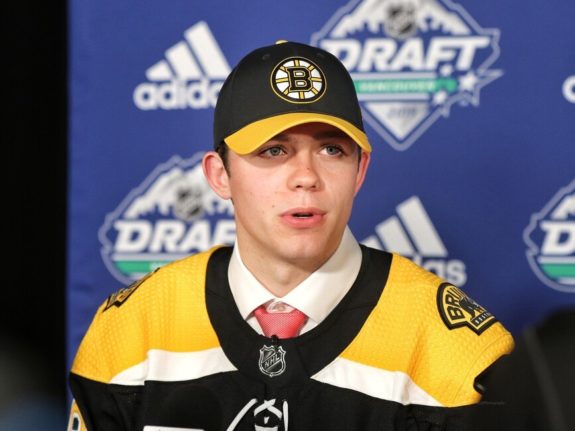 Beecher is a physical center with good size at 6-foot-3 and 210 pounds. He has been effective on face-offs this season, winning 59 percent of his draws after winning 52 percent as a freshman. He missed some games for Michigan in December when he attended Team USA's World Junior Championship training camp but was cut from the team (after making it in 2020) after he tested positive for COVID-19 before the roster was finalized.
Jack Becker
Becker has three goals and four assists in 19 games for Michigan this season. The 6-foot-4, 205-pound forward, who was drafted in the seventh round in 2015, 195th overall, has 25 goals and 24 assists in his career for the Wolverines. Following his senior season in a few weeks, expect Becker to sign his entry-level contract with the Bruins. Boston has seen Becker's game evolve as he has attended the Bruins' development camp from 2015-19.
As we move into March, we are getting closer to the college tournaments, while the AHL is just getting going with two months left in their season. The Bruins have to be happy with the development of some of their prospects this season and will hope it continues over the next couple of months.
---
---