At the beginning of the 2022-23 season, there were questions as to whether or not the Boston Bruins would be able to stay within striking distance of a playoff berth. Along with a first-year coach in Jim Montgomery, they were also missing defensemen Matt Grzelcyk and Charlie McAvoy, along with left wing Brad Marchand who were all recovering from offseason surgeries. There were a lot of questions surrounding an again roster and where they would be, come the NHLs checkpoint in any season, American Thanksgiving.
It's safe to say that not many people outside of the Boston locker room saw what transpired through the first 62 games. The Bruins are 49-8-5 with 103 points and are running away with the Presidents Trophy, given to the team with the most points at the end of the regular season. They are also on pace to break the NHL record for wins and points in a season, but in the big picture, is that something this team should be shooting for over the last six weeks or prioritize things to get ready for a run in the Stanley Cup Playoffs?
Bruins Chasing 1976-77 Montreal Canadiens for Single-Season Points Record
The Bruins' biggest all-time rivals, the Montreal Canadiens hold the NHL record for points in a single season. In 1976-77, the Habs collected 132 points with 60 wins. While the points are an all-time NHL high, the 1995-96 Detroit Red Wings and 2018-19 Tampa Bay Lightning each won 62 games in the regular season, which are single-season highs.
Related: Bruins Weekly: Lauko, 2023 Trade Deadline Acquisitions & More
---
Latest News & Highlights
---
Currently, the 2022-23 Boston Bruins are on pace to break both records, but in the big picture, is that what is left to play for the rest of the season? They need 29 out of a possible 40 points to break the Canadiens' record, while they need 14 wins to break the record of the Red Wings and Lightning.
Bruins Need to Prioritize Health & Rest in Final 20 Games
With an 11-point lead over the Carolina Hurricanes in the race for home-ice advantage throughout the playoffs, there is wiggle room for Montgomery to give some of his veteran players and top players some rest in the final six weeks. There is no need to look further than the upcoming schedule in March and early April.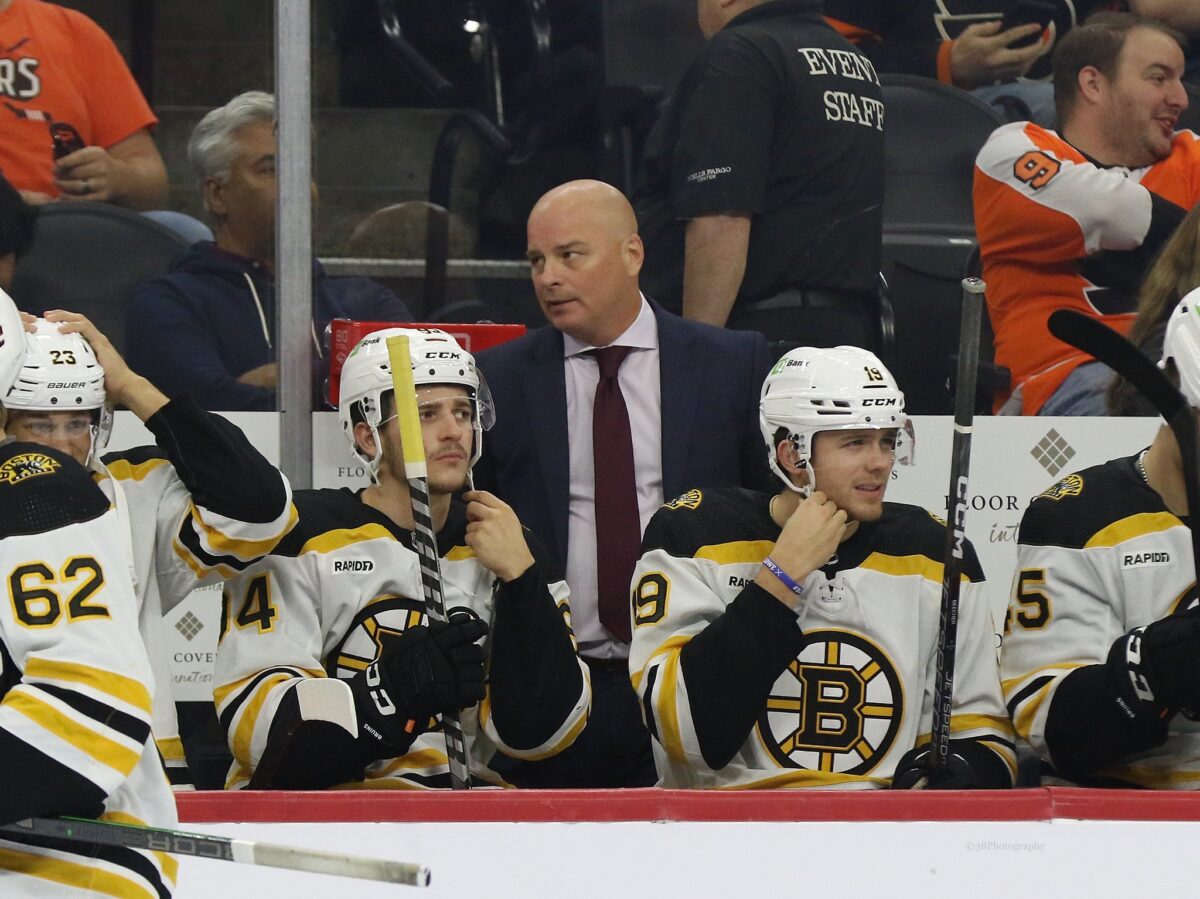 Beginning March 11 and 12, Boston plays five sets of back-to-backs on Saturdays and Sundays. That's a lot of weekend work that includes travel each weekend. It begins with a home-and-home against the Red Wings on March 11, with the latter game kicking off a five-game road trip in eight days. They have stops against the Chicago Blackhawks (March 14), the Winnipeg Jets (March 16), the Minnesota Wild (March 18), and the Buffalo Sabres (March 19). That's not going to be an easy stretch as there are teams during that trip that are going to be in desperate need of wins and points. Overall, there are five back-to-back weekends to close out the season where there are two games in 24 hours with travel involved each weekend. Not easy, especially for a veteran team that relies on some of those players.
Despite all the travel, there are spots in the schedule where Montgomery can give some guys a night off. Patrice Bergeron, David Krejci, Hampus Lindholm, Marchand, and even McAvoy could use some time off. I'm not saying to sit them all at once, but stagger time off to have fresher bodies for when it's time for the grind of the playoffs. Giving those guys some time off will be easier for two reasons. One, their lead in the standings, and two, the work done by general manager (GM) Don Sweeney at the trade deadline. He acquired Dmitry Orlov and Garnet Hathaway from the Washington Capitals, along with Tyler Bertuzzi from Detroit. Those additions alone should give the Bruins coaching staff the ability to give guys nights off without much of a drop-off. Add in Jakub Zboril and Jakub Lauko and there a many options available to the Black and Gold.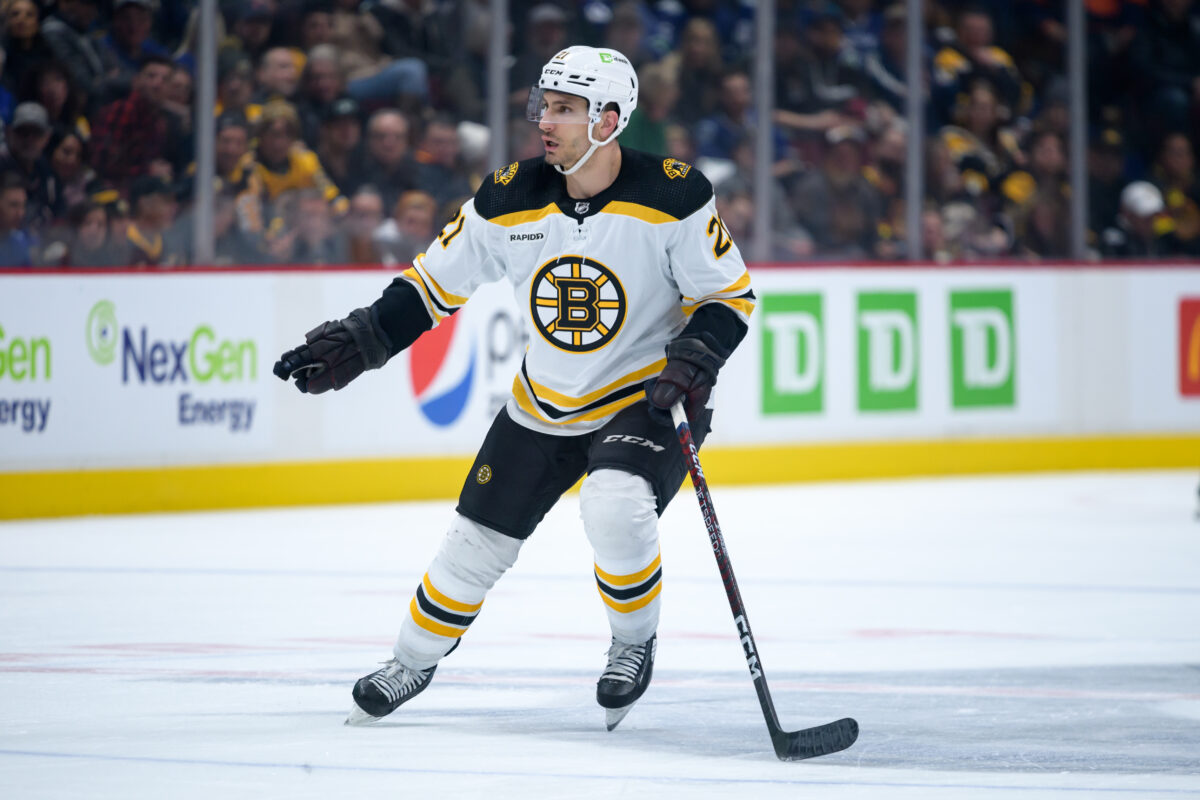 The 2023 trade deadline was one like we haven't seen before. There were a lot of players that changed teams and changed conferences. Now getting through the Eastern Conference is a major gauntlet. Whoever survives three rounds and comes out of the East is certainly going to earn it. Every series, even against one of the two wild card teams is not going to be easy as it would not surprise anyone if a wild card team eliminated one of the two division winners.
Over the final 20 games, this is why Montgomery should give some key players and veterans some rest. Players are not going to volunteer to sit a game, that's not what hockey players do. They want to play. Getting some time off will not only benefit the player, but also the team in the long run. It started on Monday (March 6) when Bergeron and Krejci sat out of practice for maintenance reasons.
"The senior citizen discount," the Bruins coach joked. "We've had a fairly comfortable lead for a while. [Assistant coach] Joe Sacco said it the other day … 'It's amazing how hard these guys play,' knowing what we're talking about right now. We continually talk about areas we need to get better at. We don't ever really talk about what you guys are asking me about. We don't look at, 'We can go 5-15 and probably finish first.' We don't analyze the mathematics of it. We look at where we're heading and how we have to get there."

Jim Montgomery (from 'Super savers Linus Ullmark and Jeremy Swayman could put Bruins in record book,' Boston Globe, March 7, 2023)
Beginning with the Oilers, the Black and Gold will close out the season with 20 games in 36 days.
Bruins Should Prioritize Health & Rest Instead of History
There is a very good chance that the Bruins can break the 1976-77 Canadiens record and if it comes down to the final regular season, it will be at the Bell Centre against the Canadiens. What a night that has the potential to be. All of that sounds all well and good, however, the goal of the 2022-23 Boston Bruins should be winning the Stanley Cup, not breaking NHL records.
The Bruins this season want to be and will be remembered for what they do in the postseason, not the regular season. Winning the Presidents' Trophy and breaking the record for wins and points does nothing in terms of winning anything, it's all about trying to win 16 games in the playoffs and win the Stanley Cup. In order for that to happen, a veteran Bruins roster that gets rest and is healthy, and is ready to go in mid-April is what they should prioritize in the final 20 games of the regular season.
---
---