Bruins GM Don Sweeney announced on July 15 that the Bruins inked their 13th overall draft pick Jakub Zboril to an entry-level contract.
The 18-year-old out of Brno, Czech Republic, played his first season in the Quebec Major Junior Hockey League with the Saint John Sea Dogs. In his rookie season, Zboril finished third among all rookie defenseman in the Q in scoring, with 13 goals and 20 assists. His 13 goals shattered a club record for goals by a rookie defenseman (the previous record was five). He also racked up 73 penalty minutes in 44 games for the Sea Dogs, and was named to the QMJHL All-Rookie Team following the season's close.
Before coming to North America, Zboril played with his hometown junior team, HC Kometa Brno. In the 2013-2014 season, he tallied 5 goals and 16 assists in 36 games, racking in 57 penalty minutes. He has also represented the Czech Republic twice, winning silver medals at both the 2014 Ivan Hlinka Memorial Tournament (in which he scored 4 goals and 2 assists in 5 games) and the 2014 U-18 World Junior Championship (3 assists in seven games).
Boston's European scout PJ Axlesson watched Zboril at both tournaments, and spoke highly of the young defenseman.
"I really like his mobility. He can move. And he's got a great first pass. That's what you like in a defenseman I guess, a mobile defenseman who can pass the puck," said Axelsson, per The Boston Herald. "He has a pretty good shot, too. And he can be mean at times."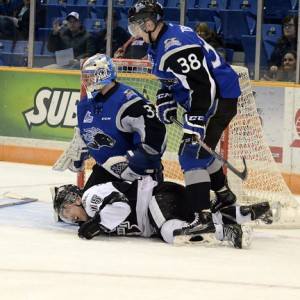 Zboril was a smart pick for the Bruins. He has a couple small problems in his game, but they're vastly overshadowed by his strong all-around game. EliteProspect.com's Curtis Joe summed up his game very nicely:
Jakub Zboril is a smart, fleet-footed two-way defenseman that plays to his strengths in all three areas of the ice. While he doesn't aim to impress, he does all of the little things right and plays with an edge. The neutral zone is his launching pad: he is able to take off into the offensive end, or backcheck quickly into his own end. Very sound positionally. Smooth skater with lots of energy to burn. Not afraid to lay the body, or take a hit to make the play; can and will stand up for teammates. Possesses good hands and awareness on the ice, as well as a hard shot that is quite accurate. All-in-all, a complete defenseman that is relied upon to offset any oncoming attacks, as well as create chances in the opposing end. (Curtis Joe, EP 2015) – 
Signing Zboril is definitely a good move by the Bruins. By locking up one of their first-round picks, Boston has ensured that they can develop Zboril into an NHL-caliber defenseman. His two-way style is something that every coach looks for in his players, with the ability to threaten the other team offensively while locking down the defensive zone. While it may take some time for Zboril to develop, however, he has the potential to become a very strong left-handed shot for the Bruins in the future.