The dawn of analytics in baseball far preceded its introduction to hockey. The NHL is catching up now, but other hockey leagues are still far behind.
Although it wasn't the start of analytics in baseball, you can say the 2003 release of Michael Lewis' Moneyball brought to light the behind-the-scenes use of sabermetrics by the Oakland Athletics and their GM Billy Beane. Lewis told the story of how the cash-strapped ball club used data other teams weren't using to find value in bargain-bin players, since they couldn't dole out contracts like the New York Yankees or Boston Red Sox.
Fast-forward over a decade, and you're finally seeing advanced stats entering the mainstream discourse around the NHL. Hockey can't be quantified to the extent of baseball. But over the past few years NHL teams have really started trying to gather whatever data they can to help them make decisions.
Chris Snow is now the director of video and statistical analysis for the Calgary Flames. But the native of Melrose, Mass., which is just outside of Boston, started his journey into the analytics realm with the Red Sox.
On Snow's first day working for The Globe, he saw how some of the Red Sox's younger baseball-ops guys were using statistics and discovered he would rather be using numbers to help a team than writing about the guys who were doing it.
"It was my first day at the job, so (my story) was pretty bad," Snow said, "but the first time that I felt it might be more interesting to do this (work with analytics), than to write about people doing it."
The younger guys Snow was profiling that day back in 2005 included Jed Hoyer, now executive-vice president and general manager of the Cubs (where Epstein is now the president of baseball operations); Peter Woodfork, who spent time as assistant GM of the Arizona Diamondbacks and later became the senior vice president of baseball operations for the MLB; Galen Carr, now the Los Angeles Dodgers' director or player personnel; and Brian O'Halloran, now the senior vice president and assistant GM for the Red Sox. Boston's current GM,Ben Cherington, was another of the younger guys (director of player personnel at the time) Snow was covering in Boston at the time.
Snow says he's always been passionate about hockey, but attributes the connection he had to those guys in the Red Sox organization and his knowledge of the gap between technology for combining video and data in the MLB and the NHL as leading to his current role.
"One of the first stops reporting that story was to come in and sit with [Carr] and observe Bats and how video and data were married together," Snow said. "Baseball's always been a stop I made… but hockey is where I wanted to be. And I was aware of this gap in hockey where there wasn't this type of analysis being done, and I guess that's where the wheels started to turn. And I thought that maybe someday I could do this type of work in the NHL."
Bats is a product from a software company, TVTI, that combines data with video for analysis. Later on from TVTI came Pucks, which did the same kind of thing, but for hockey. Snow eventually wound up using Pucks with the Flames (you can see a video of him explaining the software below), but not before a stint in Minnesota.
After Snow left his job on the Red Sox beat, he covered the Minnesota Wild for the Minneapolis Star Tribune, where the Wild's GM at the time, Doug Risebrough, gave Snow ample access to what went on behind the scenes in the analytics domain. Snow went on to spend four seasons with the Wild as director of hockey operations before joining the Flames.
Recently a lot of young, analytics-driven hockey minds have landed high-ranking positions with NHL clubs. Perhaps the most documented is Kyle Dubas. Twenty-eight years old, and now the assistant GM of the Toronto Maple Leafs, Dubas rose through the ranks with the Ontario Hockey League's Sault Ste. Marie Greyhounds to his current job because of his work with statistics.
The eye test will never die, but teams are striving more and more for all the information they can get when it comes time to make decisions. Snow says Flames GM Brad Treliving uses a very comprehensive approach for his decisions. He spends a lot of time scouting players in person, and reads plenty of the literature out there that addresses advanced statistics.
"With the salary cap, you only get to make so many decisions on where to spend money and what to do with a roster spot," Snow said. "[Treliving]'s probably like most GMs now where the more information the better… But I think there's an appetite for all the information because maybe it gives you a bit more conviction about the decision you want to make, or maybe it leads to more dialogue that kind of enhances everything you talk about before you make that decision."
One such decision was the signing of right winger Michael Frolik to a five-year, $21.5 million deal. Frolik has not only shown his talent and size to observers, but has solid possession numbers in the stats department.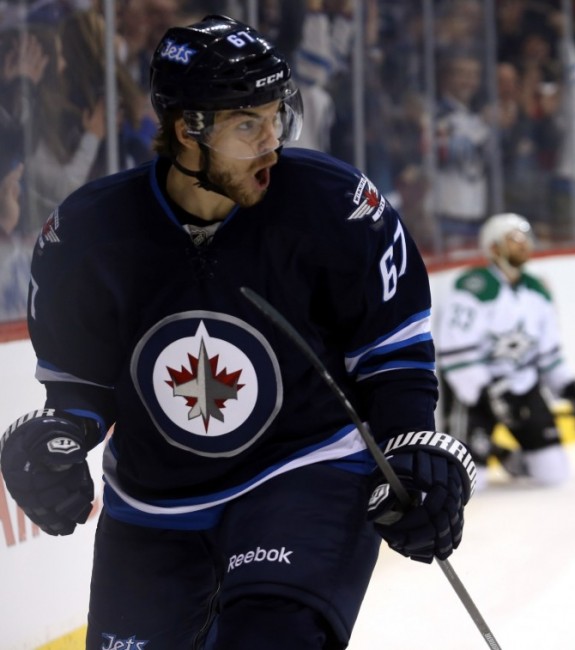 While the NHL may be making strides toward where the MLB is at in terms of data analysis, other hockey leagues lag behind. If NHL clubs can find a way to gather data from amateur leagues, they would have a big advantage. But Snow believes it would take a league-wide move from the Canadian Hockey League, for example, to start gathering more data which would in turn give the NHL teams more information on prospects.
"The next big step in database analysis in hockey is someone finding a way to collect a lot of data off CHL games or European-league games," Snow said. "And I think the ideal would be that there's a league-wide tracking system of some sort."
Currently the CHL doesn't even record each individual's shots, so there is work to be done before hockey minds can look at data in major junior the way they can in the NHL. But when someone comes in with a way to gather all that data for amateur leagues, their technology will be in great demand.