The sports world can be both incredibly competitive and incredibly insular, run by the twin mentalities of "What have you done for me lately?" and "Keeping up with the Joneses." It seems that both of these mentalities have driven a series of hires into many teams' hockey operations departments that have pushed the study of advanced statistics to the forefront of National Hockey League front-office discussions.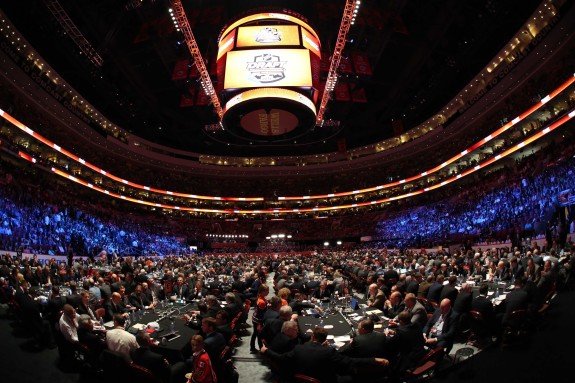 On Tuesday, the Edmonton Oilers officially announced the hiring of Tyler Dellow, likely better known online as the man behind the incredibly creative, combative, and illuminating mc79hockey Twitter account and website. While Dellow has occasionally been criticized on Twitter for his boisterous nature, his site stands as one of the fore-runners for advancing the discussion of the use of advanced analytics in hockey. The hiring continues a quiet "Summer of Stats" in hockey operations departments: former pro poker player (and stats blogger) Sunny Mehta was hired by the New Jersey Devils earlier this summer, while last month saw the Toronto Maple Leafs add Kyle Dubas – a 28-year-old wunderkind who fused stats and scouting with the OHL's Sault Ste. Marie Greyhounds – as their new assistant general manager.
More importantly, the hirings this summer have continued a recent trend regarding NHL clubs quietly hiring on individuals whose primary focus is statistical analysis, or adding that role onto someone's existing duties.
Teams with in-house stats personnel, based upon each club's team directory, include:
Arizona: Bob Teofilo (promoted this year)
Boston: Ryan Nadeau (promoted this year)
Buffalo: Graham Beamish
Calgary: Chris Snow
Chicago: Adam Gill
Edmonton: Tyler Dellow (hired this year)
Florida: Brian MacDonald (hired this year)
New Jersey: Sunny Mehta (hired this year)
NY Rangers: Jim Sullivan (promoted this year)
Tampa Bay: Michael Pederson
Peterson appears to have been the first person hired by a team explicitly for statistical work – he joined the Lightning in 2008 as an unpaid intern and parlayed that into a full-time paid gig. Adam Gill has been in hockey operations with Chicago since 2011. Beamish joined the Sabres in 2010. Chris Snow joined the Flames in 2011, though his role has primarily skewed towards video analysis. The other six individuals were either hired or promoted into these positions this year, and that doesn't include Dubas' new gig in Toronto, as it's not quite clear if his role as the second-in-command to Paul Nonis will explicitly involve advanced analytics. (Reportedly highly acclaimed stats guru Eric Tulsky has also been retained by an NHL club, though we've been unable to obtain confirmation on which club did so.)
Hockey clubs once pooh-poohed the idea of the importance of nutrition. Or conditioning. Or having massage therapists to help fight nagging injuries. Heck, a lot of teams didn't have specific video coaches until a decade or so ago. But especially in a salary cap environment, once one team finds an approach that they feel gives them an advantage, pretty soon the rest of the league is scrambling to keep up. Nowadays, just about every team has the same general set of scouting, coaching and development resources on tap, though obviously each team has a different focus and set of beliefs regarding the importance of each resource.
And given the trend in analytics seen in baseball – where the other teams adjusted to negate the Oakland Athletics' competitive advantage once they realized what tools they were using – and the "catch-up" scrambling we've seen in hockey in past cases (European scouting may be the best recent example), the hiring of Tyler Dellow in Edmonton isn't the last shoe to drop. Expect roughly 20 more hirings in the near-future.