Going into the 2014-15 NHL season, the New York Islanders seem to be a team on the rise. With a deep prospect system in place and recent additions to the front end and goaltending positions, GM Garth Snow may have very well assembled a team that is ready to make a push back into the playoffs after a one-year absence.
The only lingering question mark that remains a potential problem for an Islanders post season berth this upcoming season is their defense (or lack thereof). Although the unstable back end was very much a factor in their disappointing season last year, much of that can be blamed on the rash of injuries faced throughout the campaign. With their inability to stay healthy, the Isles turned to several youngsters to shore up the defense and dressed a total of 12 different defensemen – good for third most in the league. While it provided valuable experience to several highly talented rookies, it also caused the Isles to slink out of contention and miss the playoffs for the 6th time in the past 7 years.
While the Islanders didn't sign or trade for a defenseman – which many fans and skeptics figured they would do – they didn't necessarily take a step in the wrong direction. The Islanders have surprisingly good depth at the defensive position, with several of those young D-men looking to make the jump to the professional ranks for good sooner rather than later.
With that in mind, the Isles will now be relying on many of those same rookies and younger players to make a substantial contribution to the team this year. The success of such young talent like Travis Hamonic, Calvin De Haan, Thomas Hickey, and others on the cusp will be vital to the Islanders post-season chances.
 Locks On Defense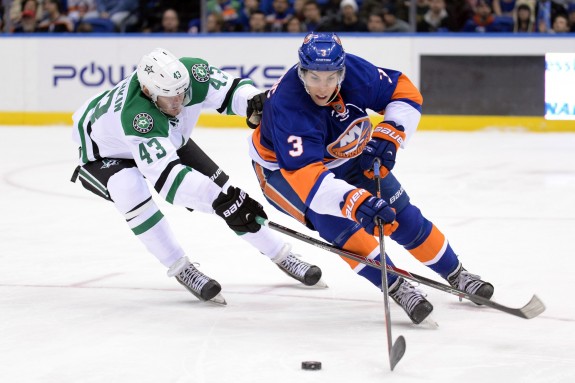 Looking at last season, there seems to be a growing consensus among fans and media alike that Hamonic, Visnovsky, de Haan, and Hickey are all viable locks to make the team. The apparent #1 pairing heading into the season in my estimation would be the combination of Lubomir Visnovsky and Travis Hamonic, but Coach Jack Capuano has also stressed that he's going to give de Haan a long look as Hamonic's partner, so realistically any pairing could be possible.
With Andrew MacDonald shipped and signed to the Flyers on an expensive $30 million deal, the Islanders will look to Travis Hamonic to assume a top-2 role on their back end. As a young defenseman who's already played top-line minutes last season, Hamonic presents an interesting case.
While he progressed strongly over his first three years with the team, he took a small step back in this last campaign, posting the lowest offensive numbers of his short career. Although he didn't have the season many thought he would, Hamonic is still only 23 years old and has a lot of potential yet to be realized. The Islanders will very much look to Hamonic to steady the top-pairing and it is up to him to assume a larger role if the team has any real shot at making the playoffs this upcoming year.
Unfortunately, one of the biggest factors in the Islanders demise last season was the loss of Lubomir Visnovsky to a season-ending concussion. While he is not the defensive stud all teams envy, Visnovsky proved to be a very capable power play quarterback and had some of the best possession statistics in the game last year (albeit, a shortened sample size). Travis Yost via The Sporting News actually pointed out an interesting fact about Visnovsky's game in regards to Corsi statistics that helps define his true impact on the team's possession game.
Since 2011-12, there have been only 14 players identified as having a Relative Corsi percentage that has improved each year and one of those skaters is Visnovsky. While he hasn't experienced the same type of inflated stat lines like he had in Edmonton or Anaheim, Visnovsky is still a dangerous offensive-minded defenseman who could work wonders in the transition game or on the power play. Although he'll be 38 years old to start the season, having the slick, puck-moving defenseman healthy this year will make a huge difference.
Looking towards our next D-man, the Isles have Thomas Hickey. A former 4th overall pick of the LA Kings, Hickey bounced around the AHL for a few years before finally settling in with the Islanders over the past two seasons.
Coming out of WHL from the Seattle Thunderbirds, Hickey was a highly-touted prospect who dealt with a series of injuries earlier on in his career. While he showed a great deal of offensive potential in the "Dub" with two seasons of 50 points or more, he has yet to show that same offensive flair as a professional. That's not to say he isn't reliable in his own end or capable of making an impact.
In his first full season as a pro, the blueliner put up decent numbers with four goals and 22 points, good for first on the Islanders in defensive scoring. Also looking on the bright side, he was the only player to play in all 82 games last season. That being said, fans and media are certainly expecting bigger and better things from the 25-year old defenseman this upcoming season.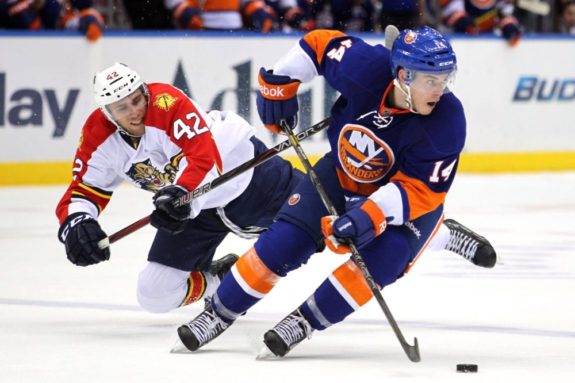 One of the better surprises to the Islanders 2013-14 season was the emergence of defensive prospect Calvin De Haan. While de Haan had been highly touted since being drafted with the #12 pick in the same draft year as John Tavares, he was sidelined with a stream of injuries that seemed to hamper his development. After a season-ending shoulder injury in 2012-13, de Haan finally squashed the injury bug and was able to remain healthy for the entirety of last season. He started in Bridgeport but as the injuries mounted on the Island, de Haan was called up to provide a lift and never looked back. With his smooth skating ability and overall hockey sense, de Haan put up a respectable 16 points in 51 games with the pro club. An even more promising statistic was that his Corsi relative was a +5.2, leading many to believe he could continue to develop into a future top-2 defenseman for the Islanders in the near future.
 The Last Two Spots
With those top-4 defensemen on the Islanders looking like a lock to start opening night against the Hurricanes, it leaves two spots left on the back end for a number of different guys to possibly make the team. First off, we all expect the Islanders and Coach Jack Capuano to give top defensive prospect Griffin Reinhart every possible opportunity to crack the lineup this season. After a great final season in the WHL with the Edmonton Oil Kings in which he captained them to a Memorial Cup Championship, he now has every expectation of pushing hard for one of the last two defensive spots on the Pro team. A staunch defender who is listed at 6'4", 217 pounds, Reinhart has both the size and hockey sense to make it at the next level.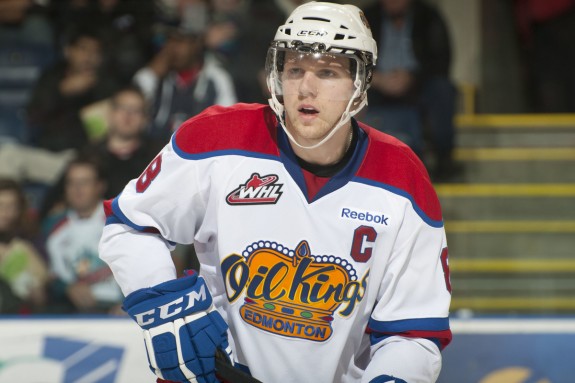 Next on the list is Matt Donovan. While he made the team unexpectedly out of training camp last season, Donovan fell slightly short of expectations as the season wore on. Touted as a small but quick, puck-moving defensemen from the University of Denver, Donovan was expected to produce more than the 16 points he contributed in his first NHL season.
He's certainly capable of playing at the NHL level but Donovan will have to improve his defensive play in order to stay in the lineup on a consistent basis. However, a positive sign to his development is his +4.6% Corsi relative, one of the higher ratings on the Isles team last season.
One of the more intriguing defensemen coming into camp will be former Buffalo Sabres draft pick, TJ Brennan. Signed by the Islanders this off-season to a one year deal worth $600,000, Brennan comes into the fold after a highly successful AHL campaign last season where he lead all defenseman in Goals and Points en route to the Eddie Shore Trophy as the league's Top Defenseman.
While he was often cited earlier in his career for his shaky play in his own zone, Brennan has quietly improved on that end while becoming a dynamic offensive D-Man (at least at the AHL level). While it remains to be seen if he can consistently produce at the next stage, he remains a unique property that could definitely have a crack at the lineup come October, if not a mid-season call up.
Next up are three defensemen who each played for the club last season but will still have to earn their spots in order to start on opening night. First up is Brian Strait, a serviceable D-man with no wow-factor but is surely capable of playing a steady, top-6 role when given the chance. He had a tough campaign last year with two injuries, including a broken hand, which hampered his ability to produce. If he does make the team, Strait will have to improve his -14 plus/minus rating as well as his -6.3% Corsi relative.
Aaron Ness, who just accepted a qualifying offer in early July, is another name worth noting. In the same draft class as Hamonic and Donavan, Ness is a small but fast defender who spent time last year at both the NHL and AHL levels. Though he has a shot at cracking the final roster, Ness must really show that he is capable of playing at an NHL level on a consistent, game-by-game basis. With all the potential talent coming up on the back end, Ness's future with the Islanders remains unclear.
The other blueliner we have is college product Kevin Czuczman. After signing at the end of his College campaign with Lake Superior State, Czuczman played a small sample size with the Islanders and gave us all a brief look at his future potential. While he was shaky at times, Czuczman also showed flashes of what made him a sought after college free agent. He definitely will get the chance to make the team but look for him to begin the season gaining more playing time in the AHL.
Looking Towards The Future
Heading down the depth chart, the Islanders appear to have some very promising young defenseman on the rise. While these players will most likely begin the season in the AHL, they will absolutely get every opportunity to showcase what they can bring to the team.
Hailing from Finland, we have Villa Pokka. The 34th overall pick in the 2012 draft, Pokka has continued to gain attention among outsiders with a strong showing at the most recent World Junior Championships, where he went a +7 plus/minus and won Gold with Team Finland . In addition, he's been playing against men in the top Finish league where he put up a highly respectable 27 pts in 54 games while going +32. Considering he's only 20, he is certainly someone the Islanders will want to keep a look on.
Next up is Ryan Pulock, another gifted prospect hailing from the "Dub". A strong defenseman with noted offensive skills (he's put up 60+ points twice in juniors), Pulock is most known for his devastating and heavy slap shot, which has been clocked in at over 100mph. While his all-round game might not be ready for the jump to the NHL just yet, he does have serious potential and a year or two of refining his skills in the AHL can certainly help his development.
Another name to keep on your radar is Adam Pelech out of the Erie Otters in the OHL. Although he's been overshadowed by Reinhart, Pokka, and Pulock as well as others on the prospect lists, Pelech's development has been just as promising. Heralded for his defensive coverage, Pelech has continued to produce offensively, improving his put out each year he's played in juniors. With 54 points in 60 games this past season, Pelech could be the real deal and will hopefully stand out while playing in a deep defensive core in Bridgeport.
Taking a look at depth the Islanders have developed at the defensive position, it appears the future is as promising as ever in recent history. If they can continue to develop these talents and bring them along without tossing them into the fire too quickly, it looks as though the Islanders will be more than prepared for their future in Brooklyn.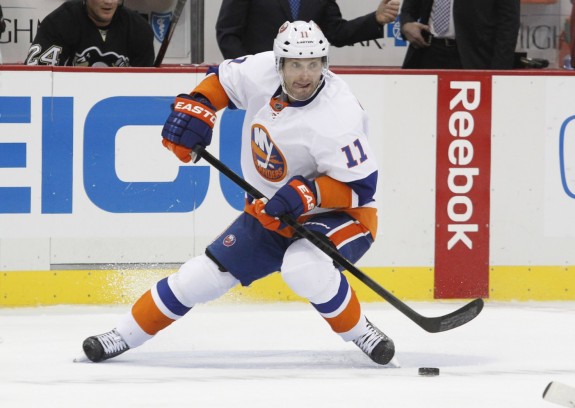 The Islanders might not resemble the most fearsome back end in the league nor do they have a marquee blue-liner but they are certainly a group capable of anchoring the team as they push for a playoff spot in the Eastern Conference. While they might lack the physicality on the back end that many other teams possess, they can make up for it if they utilize the several puck-moving defensemen they do have to continue to push the pace.
Ideally, the Islanders would also love to have Griffin Reinhart fill a top-6 role, especially with his ability to defend and his imposing frame. Barring any significant injuries, this group of (mostly) young, puck-moving defenseman can get the job done. While the fans would've like to have seen GM Garth Snow pick up another top-4 defenseman just to be sure you don't have any of the same injury headaches the team experienced the year before, its undoubtedly not an excuse if they find themselves on the outside looking in come late April. This is their last season playing in front of their fans in the memorable Nassau Coliseum, and they will look to make the most of it.