Jack Studnicka is arguably the most exciting prospect in the Boston Bruins' pipeline and one of the closest to earning a roster spot. Even if it didn't show up on the stat sheet, he was one of the few bright spots during the 2020 Playoffs, and despite coming in with only two games of experience, he used the opportunity to show he belongs in the NHL.
Heading into the 2020-21 season, fans are going to want to keep their eye on Studnicka.
Studnicka's Early Career
Studnicka was born in Tecumseh, Ontario on Feb. 18, 1999. He was selected in the first round of the 2015 Ontario Hockey League Entry Draft by the Oshawa Generals. In the 2016-17 season, he recorded 18 goals and 52 points in 64 games and scouting reports noted his excellent skating skills and high hockey IQ.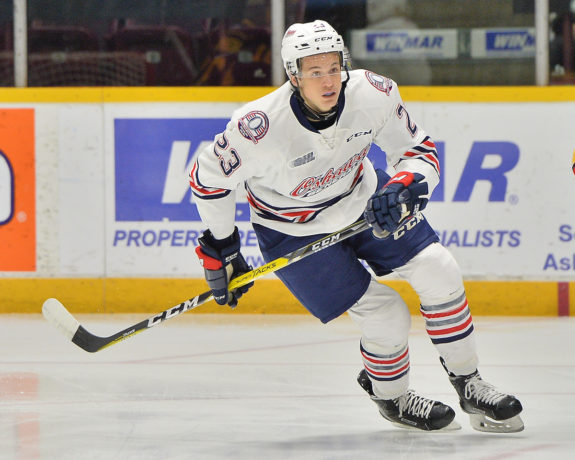 What set Studnicka apart from his peers coming into the draft was his excellent two-way game. He brought a solid defensive skill set, which young players often need to improve on before making the NHL. Bruins fans are no stranger to good two-way centers as Patrice Bergeron has set the gold standard over the past decade.
In the System
The Bruins selected Studnicka in the second round with the 53rd pick in the 2017 NHL Entry Level Draft. He returned to the OHL for the 2017-18 season, scoring 22 goals and 72 points in 66 games as team captain. He also played five games in Providence that season, scoring one goal and four assists.
Related: Boston Bruins' 'Untouchable' Prospects
In 2018-19, Studnicka started in Oshawa, scoring 34 points in 30 games before being traded to the Niagara IceDogs. In 30 regular-season games, he racked up another 49 points, including 24 goals and in 11 playoff games, he had five goals and 11 points.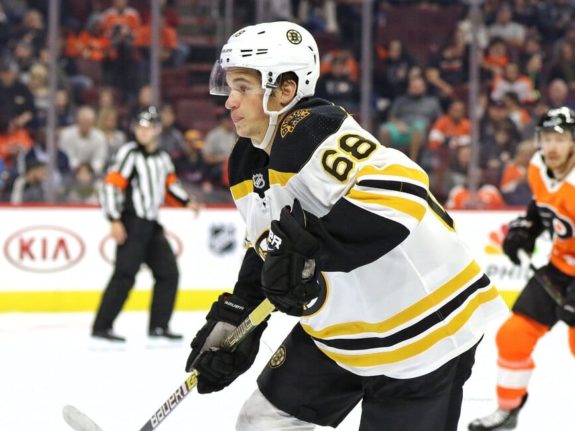 That season, he was part of Team Canada at the World Junior Championships where he scored four points in five tournament games.
The two main areas of his game that needed improvement were his consistency and size. Since he was drafted, he has grown into his 6-foot-2 frame, though he is still the lightest forward on the team. He has also become a reliable leader and more consistent player, and it shows in his stats.
Related: Bruins' Jack Studnicka Making Waves in the AHL
The 21-year-old's transition to professional hockey was smooth. Studnicka spent most of the 2019-20 season in the AHL with the Providence Bruins. In 60 games, he had 23 goals and 49 points with a plus-9 rating. He led the team in goal-scoring and was named to the 2019-20 AHL All-Rookie Team, as voted on by the league's coaches, players, and media. He also led the league in shorthanded goals with seven and tied the league's rookie record.
Studnicka has not gone unnoticed by Bruins veterans and coaches. Bergeron told reporters, "I think he's a very good player, very talented." Head coach Bruce Cassidy further noted, "He does have a good shot and release, so we're going to encourage it. We want him to play his game."
Looking Ahead
Expect to see Studnicka on the Bruins' roster next season. If not to start, he should be called up for a serious look if injuries hit or if the lineup doesn't click. Plenty of Bruins have had a chance to prove themselves, but haven't lived up to expectations, and Studnicka outplayed several of them in the 2020 Playoffs. At the end of the day, the Bruins need consistent scoring depth which they haven't found with the players they have. It's time to give some new players a shot.
Related: Bruins Poised for Breakout Seasons in 2021
While there are some things that still need to be worked out in his NHL game, mainly shooting versus passing especially since he has a terrific shot, there is a lot to be excited about when it comes to Studnicka. He's mainly played as a center, but he proved in the playoffs that he can be effective on the wing as well. Maybe he will be the piece that finally clicks with David Krejci and Jake DeBrusk.
---
---