Is there anything that surprises you anymore with the 2022-23 Boston Bruins? There shouldn't be. Playing their sixth game in nine days, minus two forwards in Taylor Hall and Nick Foligno who went on Long Term Injury Reserve (LTIR) on March 2, it wasn't always pretty for 60 minutes, but as they have done 49 times this season, they found a way to win a hockey game.
Boston's three trade deadline additions helped to ease the loss of Hall and Foligno for the time being and the Bruins got their toughest test since the All-Star Break on Saturday (March 4) against the New York Rangers at the TD Garden, who had several big impactful additions at the deadline by general manager (GM) Chris Drury in Vladimir Tarasenko, Niko Mikkola and Patrick Kane. It was the Bruins' new additions who had the better afternoon and helped them to their 10th consecutive win, 4-2. Here are three takeaways from Boston's 26th win on home ice this season.
Tyler Bertuzzi Makes Immediate Impact
It seems like everything that Bruins' GM Don Sweeney does has gone right this season from trading for Pavel Zacha last summer, to hiring Jim Montgomery and bringing back Patrice Bergeron and David Krejci has turned out successful. After acquiring Dmitry Orlov and Garnet Hathaway from the Washington Capitals on Feb. 23, he made one last move on March 2, acquiring Tyler Bertuzzi from the Detroit Red Wings. It didn't take him long to fit right in with Boston.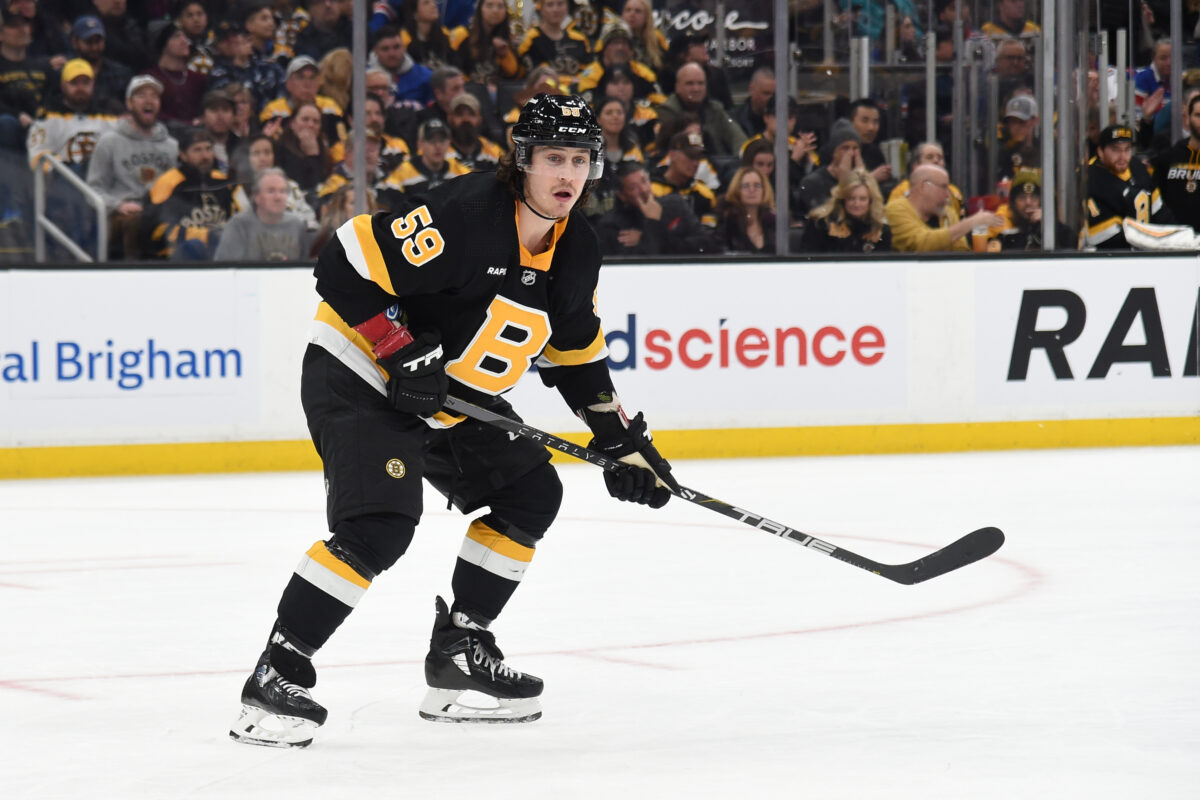 Placed on the third line with Charlie Coyle and Trent Frederic, Bertuzzi collected his first point as a Bruin late in the first period. He made a cross-ice dump into the Rangers zone where Frederic retrieved the puck and cycled it back behind the New York net to Bertuzzi, who made a touch-pass to Coyle who beat Rangers goalie Igor Shesterkin between the pads for a 1-0 lead. Bertuzzi finished with a very work-manlike 16:31 in time on the ice with an assist and a shot on the net. He also was on the second power play unit. If he can stay healthy, this could be a very big pickup by Sweeney.
Bruins Dominate Third Period
The Rangers only dressed five defensemen in the game and by the third period, that took its toll, and of course, the Bruins took full advantage. It was a less-than-stellar first 40 minutes for Boston, but as they have done many times this season, no matter how tough things get, they still took a 2-1 lead into the final period. They then did what they have done all season long, they won the period.
Related: Grading Bruins' 2023 Trade Deadline
---
Latest News & Highlights
---
Boston had two power plays, and didn't score, but forcing the Rangers to kill two penalties wore them down. With 7:04 remaining in the game, Bergeron one-timed a pass from Brad Marchand off the post and by Shesterkin. Then just under four minutes later, the Bruins took advantage of a Rangers line change and David Pastrnak one-timed a pass from Charlie McAvoy for his 44th goal of the season and a three-goal lead, before Alexis Lafreniere added his second goal of the game.
The Black and Gold outshot New York, 9-3, in the final period, wore them down, and sealed the win with two late goals. In 62 games this season, the Bruins have a goal differential of plus-50 in the third period alone. For the game, Linus Ullmark made 24 saves, but the number of high-danger chances was not that high, but when called upon, Ullmark was up to the challenge.
Bruins Need to Keep McAvoy/Orlov Pairing Together
In Orlov's first five games with the Bruins, Montgomery has moved him around the lineup with different partners. It's clearly evident after the five games that the best partner for Orlov and the one that makes Boston a better team on the backend than they already are is with McAvoy.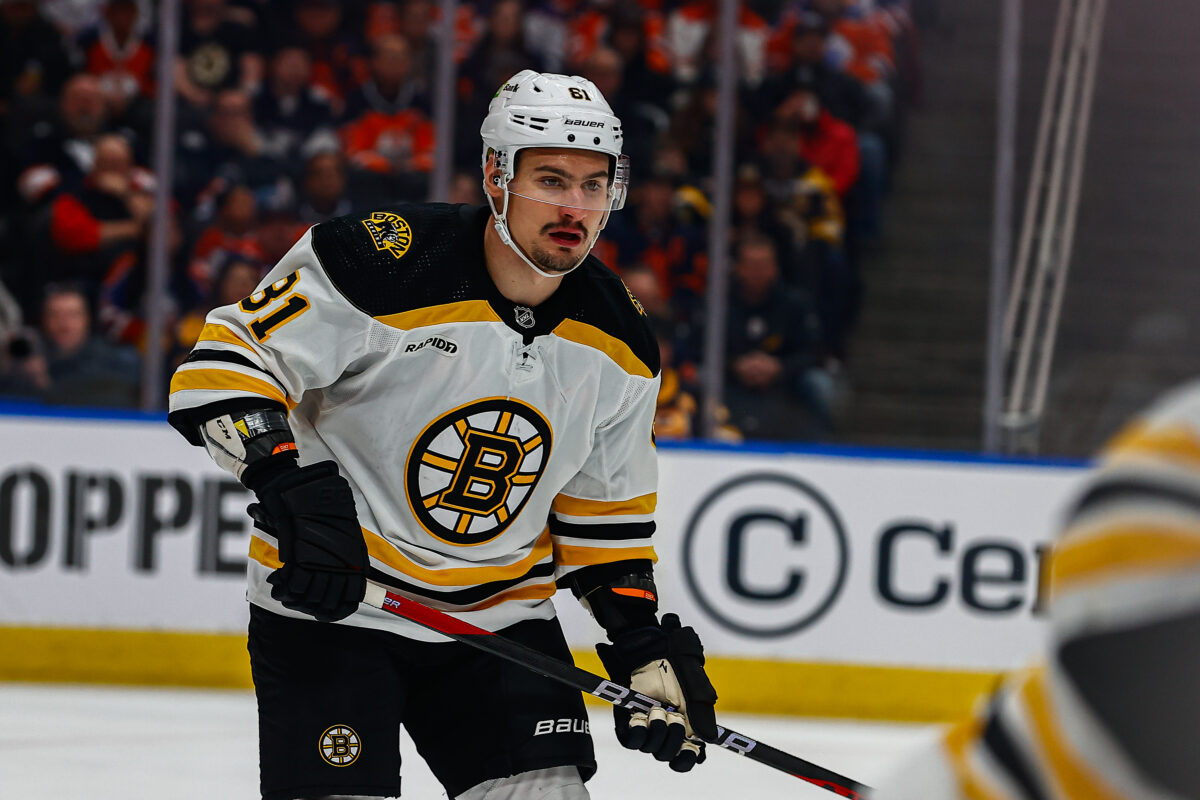 They each picked up an assist in the game, Orlov on Bergeron's goal and McAvoy on Pastrnak's goal, while McAvoy played 23:36 in the game and Orlov 19:03. McAvoy's numbers were high because of the penalty kill, but 5-on-5, they both complement each other offensively and defensively. Orlov's two best games have been with McAvoy and they are forming a connection quickly, like Connor Clifton and Derek Forbort did earlier this year when they were arguably the best pairing through the first month of the season.
Quick Bruins' Takeaways
The Bruins' power play went scoreless again in the three chances and are now five for their last 50. They created some better chances against the Rangers than they have in previous games, but the first-unit struggles are noticeable. Is it time to give Orlov a shot on the first unit?
Boston's penalty killing successfully killed two of the three penalties, including one in the third period without allowing a shot on the net, with Lafreniere's first goal in the second period coming on a nice net-front tip. Earlier in the period, Tomas Nosek scored a shorthanded goal just 30 seconds into the period on a nice deek and backhander on Shesterkin. That's two shorthanded goals in two games for the Black and Gold.
Coyle had a goal, his first since Jan. 28, and an assist centering the third line in 14:54 in time on ice and won 54% of his faceoffs, second to Krejci's 81%. The Massachusetts native has been very big this season for Montgomery anchoring the bottom six up the middle.
The Bruins now get a well-deserved break with their next game not until March 9 when they host Connor McDavid and the Edmonton Oilers. After that, the schedule gets compacted until the end of the regular season, however, banking points nearly every time they take the ice will allow them to give some of their veterans some games off down the stretch, which will be big if they want their bodies to hold up for a long playoff run.
---
---