Assuming the Boston Bruins retain the 9th overall pick, here are the five young men who are the most likely players available and desirable to B's GM, Peter Chiarelli and Bruins' management.
In all probability, the Bruins won't get the opportunity to select Ryan Nugent-Hopkins, Adam Larsson, Jonathan Huberdeau, Sean Couturier, and Gabriel Landeskog. However, if any of those names manages to find his way down to 9th, assume the B's will draft him.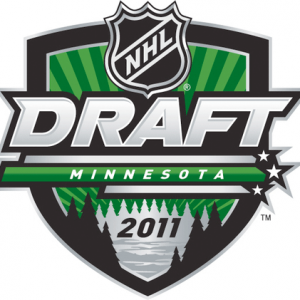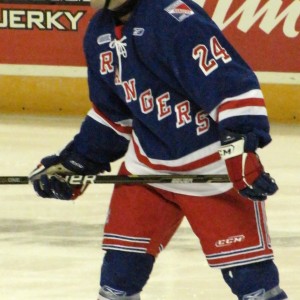 Ryan Murphy, D [5'10, 176] Kitchener Rangers (OHL) – Despite putting up a lackluster performance at this year's Draft Combine, Murphy is one of the most highly-sought young men in the upcoming NHL Draft.
On talent alone, Murphy is a top-5 pick. He's certainly a risk, with his concussion history and diminutive stature. If he had a spotless injury history and two or three more inches in height, you're probably looking at a top-three or even number one overall pick. Scoring more than a point per game with Kitchener this season (24-55-79), Murphy is scorer whose explosive potential from the blueline is so valuable in today's NHL.
That being said, there are certainly several players of his height and weight playing defense at a high level in the NHL. Look at Erik Karlsson, Tobias Enstrom, Brian Rafalski and Lubomir Visnovsky; all offensive defensemen with size issues who've performed excellently in the NHL. Sure, Murphy needs to put on some pounds and strength to hold up to the rigors of League play. That being said, while his defense is a work in progress he's made significant strides over the past year.
Murphy has elite skating ability both laterally and north-south. He possesses a plus-plus shot with excellent power and release. His puck skills are top notch as is his ability to create offense for himself and others. Murphy is a dynamic player whose floor is a potent powerplay specialist and whose ceiling is a dynamic and dominant offensive defenseman.
Murphy fits with the Bruins, not only because of his ability to instantaneously take over as top defensive prospect and down the line become the type of potent blueline talent the B's haven't had since Raymond Bourque wore the captain's "C".
Why the Bruins Take Him: Because his upside is ridiculous; Because they think his risk factors are overstated; Because he fills an organizational need and is the best player available; Because he's dynamic with a unique skillset.
Why the Bruins Pass: Because they worry about hid concussion history; Because they find his Draft Combine performance worrying; Because a faller is just too good to pass up.
Chance of him falling to the Bruins: 40%; Chance of the Bruins taking him if available: 80%
Ryan Strome, C [6'1, 183] Niagara Ice Dogs (OHL) – The talented forward from Niagara was one of the major climbers this season, rocketing up draft boards to be a borderline top-5 pick by the start of the Ontario Hockey League postseason. However, a mediocre performance in those playoffs has allowed some doubts to creep into the minds of scouts, and his value has taken a bit of a hit.
Still, Strome looks like a surefire top-10 pick, with most boards predicting he will go somewhere between 7 and 9. He's a young man with a stupendous skillset. He possesses excellent skating ability (he's got plus agility, top speed, and acceleration), can make room for himself with his pacing and plus-plus puckhandling. His slapper and wrister are both strong and display excellent accuracy. His 33-73-106 line evinces his top-tier playmaking skills and vision.
His size, strength and two-way play are certainly considerable questions, but the young Strome has shown a willingness to improve and dedication to his craft. He needs to get to the dirty areas of the ice better and become less of a perimeter player.
When NHL draft and prospect-guru Kirk Leudeke of Bruins 2011 Draft Watch compared the young man to Tyler Seguin, this analyst had to double-take. The excellent talent is surely present, as well as the intelligence and awareness. I'm not sure the equivalent ceiling is there, but it's surely something to think about.
The Bruins will certainly consider him if he's available since his talent level is so high, even if, as a center, he's not an ideal fit per se. The Bruins have had success with the center-heavy mentality (they carried six during their Cup run) and don't see a problem with converting some to wings. Strome would be a guy they'd see as a long-term linemate for young Tyler Seguin, and what a dynamic duo that would be.
Why the Bruins Take Him: Because of his excellent skillset; Because he's the B.P.A.; Because he is the only player left of the group I have dubbed the Nasty Nine. Because he'll be an ideal partner for Tyler Seguin.
Why the Bruins Pass: Because his size and strength might make the transition to the NHL difficult; Because they believe he's been overrated; Because their center depth is just too much at this point.
Chance of him falling to the Bruins: 35%; Chance of the Bruins taking him if available: 75%
Dougie Hamilton, D [6'6, 190] Niagara Ice Dogs (OHL) – I was never a huge fan of Dougie, the big young defenseman from Niagara. I felt his offense is a bit overrated, his defense is strong but unspectacular and he didn't use his considerable frame to physically dominate opponents like he could and should. However, a few things have recently caught my attention.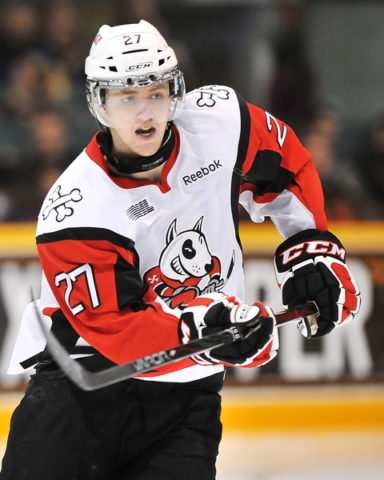 At the draft combine Hamilton was apparently clocked in at over 6'6", which would make him about the same height as gargantuan Northeastern U. defenseman Jamie Oleksiak. The accuracy of this number is debatable, but if it is in fact, true, Hamilton becomes a player who might earn a top-four selection at the 2011 draft. Size is notoriously unteachable, and at over six and a half feet, Hamilton is downright enormous even for a shutdown defender.
Along with his outstanding size, Hamilton brings excellent hockey I.Q. to the table, and is perceptive at making reads and seeing plays develop. His outstanding 12-46-58 statline speaks to his top-tier offensive capabilities. He is a capable puck-mover and makes very crisp first passes out of the zone. He possesses a dynamite shot and will eventually be a stalwart blueline gunner on the powerplay.
He makes perfect sense for the Bruins given their obvious aforementioned organizational needs, and the fact that he's virtually can't miss. Six-and-a-half footers rarely fail to make it to the NHL when they have the mobility and offensive upside that Hamilton possesses.
Why the Bruins Take Him: Because he's a giant with mobility and skill; Because the thought of him and Chara patrolling the same blueline should send shivers down the spine of opposing forwards; Because he's a smart kid with oodles of potential; Because the chances of him washing out and failing to become an impact player are slim and none.
Why the Bruins Pass: Because they like the tremendous offensive upside of Murphy better; Because they think his skillset is overrated; because they see him as more of a second-pairing guy; Because one of the supposed top-5 draft-eligibles falls into their laps.
Chance of him falling to the Bruins: 15%; Chance of the Bruins taking him if available: 90%
Mika Zibanejad, C [6'2, 195] Djurgarden (SEL) – The darling of the 2011 NHL draft has seen his stock rocket from a borderline first rounder to a top-ten certainty to now knocking on the door of the top five (and in some circles, he's seen as having an outside chance of going top-three). Zibanejad possesses the skill, power and drive that's fawned over by scouts everywhere.
Zibanejad's performance has certainly opened eyes. He's got solid puck skills, excellent situational awareness and very good vision. He also owns a plus shot, decent playmaking skills and a great nose for the net and big play. The video below evinces just how shifty he can be, as he jumps past fellow 2011 draft eligible, Adam Larsson.
His physical play has also opened eyes. While not a dominating presence, he is capable of using his size and strength to leverage his way past defenders (when he's not skipping by them with skill) and he has the eye and desire to deliver top-notch hits.
While there's some concern that he may not be a top-tier offensive talent, there's no questioning the heart and ethic of this young man, whose all-around game will surely win him a spot on a NHL team down the line.
The Bruins are certainly interested in the Finnish-Iranian who speaks English and plays in Sweden, and they invited him back to Boston for an interview following the combine. Like Strome, despite the Bruins' positional depth at center, don't anticipate the B's would pass on Zibanejad if he were available. He's a guy any team would love to have.
Why the Bruins Take Him: Because his talent, size and passion for the game are exemplary; Because they believe his skills are top-notch; Because he's low risk and plays a hard, North American, dare I say Bruins style of hockey.
Why the Bruins Pass: Because they worry that his ceiling is only as a second-line center or 1B. Because they think his minor flaws are more significant than we perceive; Because they'd rather go with a defenseman.
Chance of him falling to the Bruins: 20%; Chance of the Bruins taking him if available: 85%
Nathan Beaulieu, D [6'1, 180] Saint John Sea Dogs (QMJHL) – The talented defender from the Memorial Cup – winning Sea Dogs will in all likelihood be available at the number nine slot. While some draft boards and scouts think he might sneak into the top-8, it's not exactly a particularly probable scenario.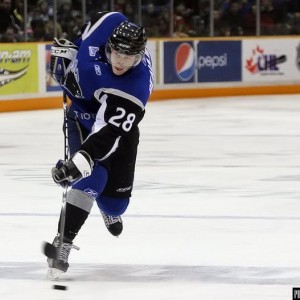 Beaulieu is a young man who will be an excellent defender in the NHL someday. He's got good size (even if he needs to put on some more muscle), and will be a solid two-way blueliner (or at least an eminently physical PMD) with powerplay-quarterbacking potential.
Beaulieu has a cannon from the point, though his release needs work. He possesses a top-notch passing touch and uses his excellent vision to make long zone-exit passes. He'll play a sound defensive game at the next level, but is prone to jumping out of position to make a big hit and commits other significant gaffes due to his mediocre (at this point) defensive awareness.
If the B's love this guy there's an outside chance that they take him over whichever member of the Nasty Nine falls into their laps, due to organizational need. He makes a lot of sense if they aren't overwhelmed with glee at the player who falls into their laps. If you see the Bruins trade down a few spots (however improbable this is) to picks 12-14, it's probably with the hope of snagging Beaulieu.
Why the Bruins Take Him: Because he's the next best defender available; Because he has a well-rounded game; Because they aren't in love with the top-9 forward who fell into their laps.
Why the Bruins Pass: Because better players are available; Because his awareness and hockey I.Q. are uninspiring; Because any of the three defenders frequently ranked ahead of him (Larsson, Hamilton, Murphy) are available.
Chance of him falling to the Bruins: 95%; Chance of the Bruins taking him if available: 10%
Bob is a Boston Bruins Correspondent for The Hockey Writers. He lives in the Boston Metro Area with his wife, Amanda and their five-year-old son, Cormac.