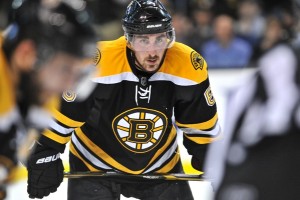 As the Boston Bruins franchise revels in its first Stanley Cup victory in nearly forty years, it's time to look ahead to the offseason decisions the organization faces: First up, a look inward at the major players approaching immediate free agency:
Brad Marchand – Brad Marchand's outstanding postseason is a mixed blessing. Well, scratch that, I'll take a cap conundrum for a Stanley Cup any day. The 2006 third-rounder burst onto the scene in his rookie year after several uninspiring stints with the Bruins in '09-'10. With a 21-20-41 statline combined with excellent two-way play, aggressive agitating and strong work on the penalty kill, Marchand was easily one of the most improved and important Bruins.
His postseason numbers were remarkable; he tied the second-best goal total for a rookie in the Cup Playoffs with eleven and added eight assists for a strong nineteen points. If the Calder Cup (rookie of the year) voting was held after the playoffs instead of before, I guarantee Marchand would have been a finalist.
As the Bruins lone restricted free agent on the NHL team, expect him to get qualified quickly and expect the B's to try to get him signed well before the beginning of free agency on July 1. While the offer sheet is a rarely-utilized tool in most GM's toolbox, Marchand is the type of guy everyone wants on their team. Hopefully, Chiarelli will dole out the needed dough and bring "Marshmont" back. The fact that he's only played a single year at a high level is the only thing keeping him from really cashing in, but don't doubt that his value (and bargaining power) is at an all-time high. End-of-season hopes that he might sign for under 2 million average annual value (AAV) should be put completely to rest. Look for something between 2.5 and 3.5 million AAV and probably between three and five years.
Projected Contract: $3.15m x 4y
Likelihood of Re-signing: 95%
Michael Ryder – Before the 2011 Stanley Cup Playoffs I would have considered the thought of extending a contract offer to Mike "The Newfie" Ryder a laughable proposition. However, his strong postseason performance coupled with what appears to be significant chemistry with young Tyler Seguin, makes me more reticent to definitively declare Ryder "outbound".
Sure, Ryder has in no way had an excellent tenure in Boston. His 63-64-127 statline in three seasons has been underwhelming to say the least. Two consecutive years of sub-20 goal scoring and sub-45 point totals do not seem to validate his three year, $12 million contract.
His postseason performances have been as surprising as his latter two regular seasons were disappointing. With 17 goals and 35 points in 49 playoff games with the Bruins, he's been a strong, and at times, clutch playoff producer. One only need look at his "save" on Thomas Plekanec in game five of the B's first round series vs. Montreal to grasp the all-out effort of no. 73.
A brief look at the UFA options to replace Ryder leaves me a bit queasy, (and simultaneously dreading a Ryder-like contract extended to any of these guys) so I feel the Bruins should definitely consider re-upping Mike with two caveats: 1., That the contract is 1 or 2 years and under 3 million AAV and, 2., That we find a neurosurgeon or hypnotist capable of making him believe that it's the playoffs 100% of the time… But seriously, anticipate Chiarelli extending him a decent offer around $2.5-3 million AAV for two years – probably less than what he could get on the open market, but only from non-contenders.
Projected Contract: $2.65m x 2y
Likelihood of Re-signing: 65%
Tomas Kaberle – The steep price paid by Chiarelli for the Czech puck-moving defenseman was not vindicated. Kaberle seemed to crumble under the pressure of playing with a new, contending team. He did not endear himself to Bruins fans by scoring only one goal and twenty points in the regular season and playoffs combined while wearing the Spoked-B.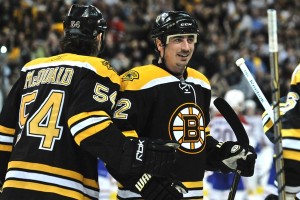 His "soft" play along the boards and unfortunate penchant for unforced errors caused many in Boston to wonder if he should be replaced in the lineup. The Bruins horrendous playoff powerplay only increased cries for him to be pulled, especially considering one of the prime factors in the acquisition of Kabs was to aid the B's mediocre powerplay.
Despite his lack of production and some glaring gaffes that lead to goals, Kaberle performed decently with the B's, particularly in the second half of the postseason, where he accumulated the majority of his eleven postseason assists and helped the B's powerplay climb out of the gutter.
It's certainly a credible supposition that the 33-year-old Kaberle is starting to lose some of his edge. However, it's equally sound to suggest that he might have some gas in the tank. Dumping what may be a more than a serviceable PMD because of three months of substandard performance after what the B's paid for him is imprudent.
Tomas Kaberle has been one of the premier puck-moving defensemen in the entire NHL for a good while. His talents are extremely valuable in the post-lockout NHL world. Acquiring a similarly-talented PMD will likely cost more than any in Boston would like to commit (Christian Ehrhoff, for instance, could command a salary worth more than $6 million AAV in the upcoming free agent market) either in dollars or assets. A decent three-to-four-year deal worth a bit under $4 million AAV is an excellent deal for the Bruins and would allow Kaberle to remain with a Cup Contender.
Projected Contract: $3.75m x 3y
Likelihood of Re-signing: 40%
Bob is a Boston Bruins Correspondent for The Hockey Writers. He lives in the Boston Metro Area with his wife, Amanda and their five-year-old son, Cormac.