Every year NHL general managers go into the Entry Draft with the hopes of finding that one special player that can backstop them between the pipes.  The old saying goes, "You build from the net out."  More and more goalies have been selected higher and higher each year with GM's preciously awaiting the time where they will bloom into the number one goalie they have pined for.  Guys like Brodeur, Fleury, Lehtonen, Bryzgalov, Luongo, Ward, and Price have all gone in the first round and have led successful campaigns up to this point.  However, having looked over all the teams tandems in net, I can't help but think that taking a goalie in the first round is not only the biggest risk a GM can make, but also the most redundant decision he can make as well.
To those who want to just blurt out accusations that I may be wrong in this regard, please hold your concerns and voice them at a later time.  In the next few paragraphs I will do my best to explain why a goalie like the ones I mentioned above, is not worth a first round pick.
For starters, becoming a goalie is the hardest position to achieve success in the NHL.  Ask some of the NHL goalies, young and old, who have played the game and they will tell you that all the weight is on your shoulders.  You aren't solely looked upon to win the game each night, but you are expected to play flawlessly.  Letting in a bad goal will get fans chirping and when the fans turn against you, will power is the only thing that will give you the ability to not flip out or play even worse.  Believe me, I am a Flyers fan.  If there is anyone that knows a fan's effect on a goalie that plays poorly, it's me.
It is strenuous both physically and mentally.  Playing a whole 60 minutes, always alert, constantly moving from standing to butterfly to the occasional "flopping like a fish," hockey takes a toll on the best of them.  And when you aren't getting beaten physically, you must stay strong in the mental aspects of the game, as well.  The opposition will be coming straight for you with little thought of knocking you down, screening your vision, and trash talking after the play.
Goalies also take the longest to develop.  There may be some who are rushed into the spotlight and seem to thrive, but the general consensus is a goalie must develop in juniors/college/Europe, then stay in the minors for a few seasons to condition before finally making the appearance in The Big's.  All in all, it can take upwards of 5 or more years before they are called up.
Also, to be realistic for a second, job openings don't come and go very often in the NHL.  Assuming all 30 teams play a night, there is a total of 600 roster spots that need to be filled a night.  Sixty of those are strictly for goalies.  More often than not, teams have their starter and backup combo for a few years before other rising goalies start to make a push for NHL stardom.
So you might be asking yourselves, "Alright, Shawn.  We get that playing goalie is, not only hard to do, but also is hard to establish yourself as a legit goaltender.  But why should GM's not go for that risk and select a goalie in the first two rounds of the draft?"
I've demonstrated many opinionated reasons to show why draft picks shouldn't be wasted, but now is the time we take statistical evidence.  For the sake of argument, let's take a sample size of 9 years.  From 1997-2005 a total of 47 goalies have been taken in the first two rounds and only 10 have actually gone on to start consistently on any team, those being Luongo, Bryzgalov, Leclaire (barring injuries), Lehtonen, Ward, Fleury, Crawford, Howard, Price, Rask, and Pavelec.  Now let's take a look at some of the other goalies around the league and the rounds they were drafted in, shall we?
King Henrik of the Big Apple was drafted in the 7th round in 2000.  Pekka Rinne was drafted in the 8th round in 2004.  Ryan Miller was drafted in the 5th round in 1999.  Jaroslav Halak was drafted in the 9th round of 2003.  The fact of the matter is, just because a goalie is ranked high doesn't mean he will be the future in net.  This is not to discredit any of the past top round goalies like Jack Campbell, or Jonathan Bernier, or Jacob Markstrom, etc.  Their accolades speak for themselves, but they just might be a flash-in-the-pan type players while a 5th, 6th, or 7th round hopeful will turn out to be the next Vezina winner.
Too much emphasis has been put on drafting goalies with high picks, but drafting a forward or defenseman will go much further for building a team's core.  Team's wish to get that "stalwart" in net, but frankly, it has more so to do with development and luck, as it does having potential.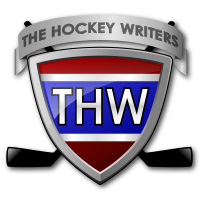 The archives of THW contain over 40,000 posts on all things hockey. We aim to share with you some of the gems we've published over the years.