Prior to the team's game against the Edmonton Oilers on Thursday night, general manager Bryan Murray visited the players in the dressing room to deliver a message. He tried to appeal to their sense of pride, as he determined that the players have not been giving their full effort and concentration into their performances enough this season. More importantly, Ottawa's defensive play has been the key reason as to why they do not currently sit in a playoff position.
This was following a game against the Pittsburgh Penguins where the Senators allowed six goals on 44 shots against in another instance where the opposition dominated shots and possession. Goaltender Craig Anderson did all he could, but was left all alone to try and fend off the Penguins offense.
Then came the game against the Oilers. Another slow start doomed the Senators to trail 3-0 barely past half of the first period and although they worked to come back in the game, they were unable to keep the Edmonton offence at bay, the game ending with a score of 7-2. Although Ottawa outshot their opponent 38-28, the quality of Edmonton's scoring chances were generally greater than those of Ottawa's.
Bryan Murray Needs to Make Acquisition on Defense
If your team cannot defend properly, you will not win. That's something every coach preaches to his team. However, this seems to be a situation in which the team's defense corps as it is now is not good enough. Head coach Dave Cameron will be the first to admit it, saying that he is "starting to think it might be too hard for guys to be able to play in the National Hockey League at a high level," prior to the All-Star break.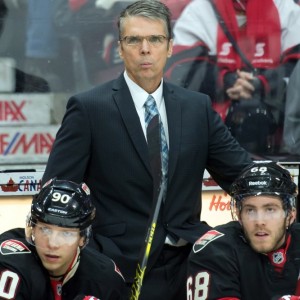 Apart from Erik Karlsson and perhaps Marc Methot, the team does not have a current legitimate top-four defenseman. Youngsters such as Cody Ceci and Chris Wideman have bright NHL careers ahead of them, yet still have some growing to do.
There is still some time before the trade deadline, but what Murray will have to decide until that time is whether to acquire a top-four defenseman as a buyer to help with a playoff push, or to become sellers and maintain a certain status quo for the rest of the season. Ottawa has some good pieces up front that they can offer along with a draft pick or two for such a piece. If Murray does decide to go for it, he should do it sooner rather than later in order to better salvage the season.