The Buffalo Beauts earned a very pronounced first win of the 2018-19 NWHL regular season. Dispelling the Connecticut Whale in a decisive 4-0 win on the road at Terry Conners Ice Rink on Oct. 7, 2018, the Beauts return to Buffalo to play their first home game. Back in the friendly and familiar confines of the HarborCenter. This time the Whale will be making the journey to Western New York, as the Beauts will entertain their hometown faithful on Saturday Oct. 13, 2018 at 1:30pm.
The @BuffaloBeauts home opener is just 5️⃣days away!

The city of Buffalo and @HARBORCTR have become a destination for women's hockey players and fans.@NathanielAOlivr describes the Buffalo experience: https://t.co/WyspGIU2P8

🎟 https://t.co/DE7692NBvw pic.twitter.com/RMKHylH8n5

— NWHL (@NWHL) October 8, 2018
The fact that the two teams have met so recently may have sparked an early rivalry between the two that will get carried over to the HarborCenter. The Beauts are perpetually loaded for bear, while the Whale are a team consisting of players that do not lightly take a stick being shoved in their craw. That being said, if there is one thing that the Beauts have shown time and time again is that they feed off of a raucous home crowd. The HarborCenter is bound to be packed and it will be symbiotic as the players will feed off of the fans, and the fans will be delighted by the efforts of their players.
As we gear up for the second meeting between Buffalo and Connecticut of this early season, here are some things that you will be able to expect from the Beauts. Rest assured that you are not going to want to miss this home opener.
The Best Forward Line in the League, Already?
Maddie Elia, Dani Cameranesi and Hayley Scamurra, oh my! The biggest takeaway from the Beauts victory over the Whale on Oct. 7 is that they likely have assembled the best forward line in the NWHL, already. In the 4-0 victory, this trio combined for eight total points as a forward line. Elia and Scamurra are picking up right where they left off from 2017-18. Elia scored the first two goals of the game, with Scamurra and Cameranesi adding the assists on both markers. Scamurra – the reigning NWHL Rookie of the Year – scored the final two Beauts goals herself, meaning she recorded points on all Buffalo tallies. A rather astounding four points in one game by the standout star for Buffalo.
Elia and Scamurra were accustomed to playing on the same line together last season. Combining both players with original Beaut Kourtney Kunichika may have proven that they were the top NWHL line this past season. Elia, Scamurra, and Kunichika each scored 14 points in 2017-18, with Scamurra leading the Beauts in goals with seven, Kunichika leading in assists with 10, and Elia doing a bit of both with five goals and nine assists to her credit. The three were so dangerous together that many speculated that by the Beauts not having brought back Kunichika for 2018-19 that something wonderful was now horribly lost.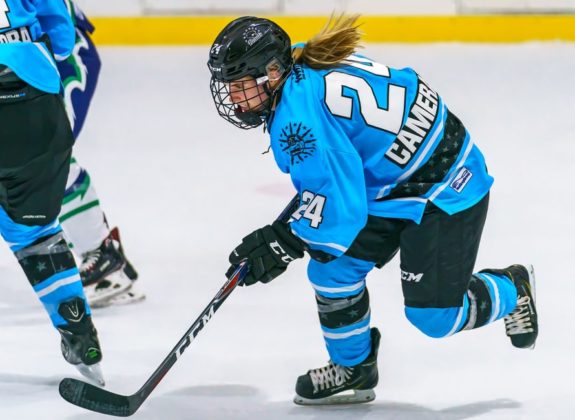 Those fears have proven to be totally unfounded. Putting Cameranesi onto the line in place of Kunichika may have taken the line to new heights. At the 2018 PyeongChang Winter Olympics Cameranesi tied Jocelyne Lamoureux-Davidson for USA's team lead in points with five a piece. Additionally, the first-year Beaut was second in goal scoring for the Americans with three goals, behind Lamoureux-Davidson's four. Fresh off of a Team USA Olympic gold medal, Cameranesi is now a Buffalo Beaut.
The combination of talent that these three come up with is extraordinary. Elia is a big, physical, devil-may-care kind of player who is also offensively dangerous. Scamurra is a thoroughbred whose strength while possessing a lithe build is unmatched throughout the league. Cameranesi has tremendous playmaking ability, but can also put the puck home. At some point or other, this line is going to need a name to accompany it.
A Decision to Be Made in Goal
Buffalo Beauts rookie goaltender Nicole Hensley not only earned her first NWHL win in the game against the Whale, but she picked up the first professional shutout of her career as well. The Buffalo goalie did not face much action though in the process. Hensley was credited with making 10 saves in the 4-0 whitewash. She needed to turn aside no more than four shots in each period. Rather light work for the 5-foot-6 Olympian who hails from Lakewood, Colorado, USA. Still, Hensley made the saves that needed to be made, and that is all that truly matters.
First game ☑️
First win ☑️
First shutout ☑️

What a #Beauts debut for @NicHens29! pic.twitter.com/QLZhUK2Lt8

— Buffalo Beauts (@BuffaloBeauts) October 7, 2018
Now Buffalo's head coach Ric Seiling has a goaltending decision to make for the home opener. Does he ride Hensley's shutout and give her back-to-back starts? Or does go with the highly anticipated NWHL debut of Shannon Szabados – arguably the best goaltender to ever play in women's hockey? A proper balance needs to be attained when utilizing both high-profile goalies. We saw one – now is the time to see the other. From a theatrics standpoint, it would serve a Buffalo crowd well if Szabados gets the start for the team's first home game. Even novice women's hockey fans know that she is a netminder to marvel over. Our money is on Szabados.
No matter which goaltender ends up getting the nod, NWHL fans will be treated to an Olympian either way. The 24-year-old Hensley won gold with the Americans in PyeongChang. The 32-year-old Szabados helped Canada bring home the silver in South Korea, but won gold in Vancouver 2010 and Sochi 2014. Szabados holds legendary status. Hensley is well on her way to doing the same. Both are capable of being the talk of the town in Buffalo, so fans are in for a treat regardless.
 Additional Faces to Make Their 2018-19 Debuts
Let us not forget that there are some Beauts who did not play in the road win in Connecticut. Forwards Taylor Accursi and Meghan Fonfara, defenders Jacquie Greco and Jordyn Burns, and goaltender Julia DiTondo were all scratches for the first game. This is going to be a positive challenge for Buffalo all season long – how do you insert so many important players into the lineup? It is both a difficult problem to have and a good one. The team is blessed with a plethora of integral pieces, but only so many can suit up for each game.
Accursi is maybe the most difficult scratch to swallow, and it is not likely that she will sit out very often. As a rookie during the 2017-18 campaign, she was one of just six Beauts to score double digits in points. Accursi's six goals and five assists for 11 points in 15 games were the second-highest point total on the Beauts last season behind the three-way tie between Elia, Scamurra, and Kunichika. THW has come to affectionately refer to number 95 as "The Magnificent Accursi". Her stickhandling is a spectacle all of itself, and her maneuvers with a puck are like that of a wizard or a magician. Though she may have sat out in Connecticut, it will be hard to keep her designated to street clothes this weekend. Look for her to make her seasonal debut at the home opener.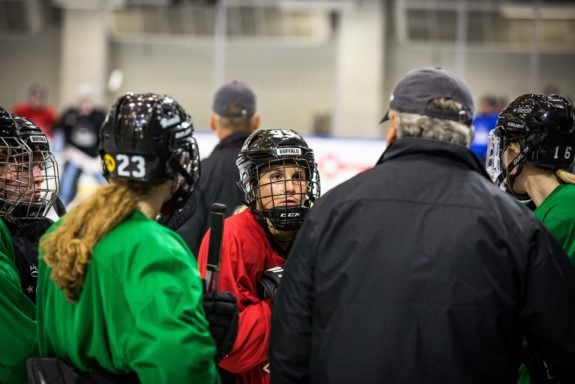 Similar to Accursi, blueliner Jordyn Burns will need to see some playing time soon. A member of the Beauts 2016-17 Isobel Cup-winning team, Burns has proven to be Buffalo's steadiest stay-at-home defender. Not a flashy player, she excels at performing the underappreciated aspects of the game. Proper positioning, reading plays well, bailing out her goaltender, forcing the opposition to make an undesirable play. Though she has remained out of the limelight in most instances, Burns' reliability saw her named a 2018 NWHL All-Star last season. She has 30 career NWHL regular season games to her credit, and has compiled four assists in that time. She is also an NCAA Champion with the University of Minnesota from the 2012-13 season.
An Enjoyable Time for All
Each of these facets to the Buffalo Beauts will make for a memorable first game of the season at the HarborCenter. The players are indeed primed – they want to see themselves get a win-streak going. Buffalo is undoubtedly the team to beat this year in the NWHL. The trouble is – which other team in the league has the weaponry and the skill to disable such an armament? You will be hard-pressed to find one. The Beauts have the unenviable position of having the early target on their back, but the word "unenviable" is deceptive and lies in the eye of the beholder. The Beauts themselves feed off of the pressure more than any other team.
Whether you are able to attend in person or watch the live stream, you will not want to miss Buffalo's home opener.
General Manager of the Buffalo Beauts (NWHL). Hockey history writer "The Hockey Writers". Credentialed media for the NHL Combine and 2018 IIHF World Junior Championships in Buffalo, NY, USA. Born and raised in Buffalo, NY. Lifelong hockey fan for over 40 years. Proponent of the women's game.