The Buffalo Beauts held their first practice of the 2018-19 NWHL season on Sept. 19, 2018. A lot of new faces were present and a lot of familiar ones too. For many of the newest Beauts this is a time for gaining familiarity with one another and finding a bit of a rhythm. The collection of players assembled by Beauts General Manager Nik Fattey come from a wide variety of backgrounds – Olympians, NCAA champions, fresh-faced rookies from college, original NWHLers, NCAA Division III programs. Any tentativeness in getting to know one another is quickly subsiding and the one word which seemed to permeate through players and coaching staff alike would be "energized".
"I know that everyone is ready to rock," shared newly acquired forward Kelly Babstock. "You can feel the energy. We know what we're going to do this season. We have goals and we're going to accomplish those goals. Having a winning season. That's what we're going to do and I'm excited to do that in Buffalo." Babstock played the first three seasons of the NWHL as a member of the Connecticut Whale, but signed with the Beauts during this summer.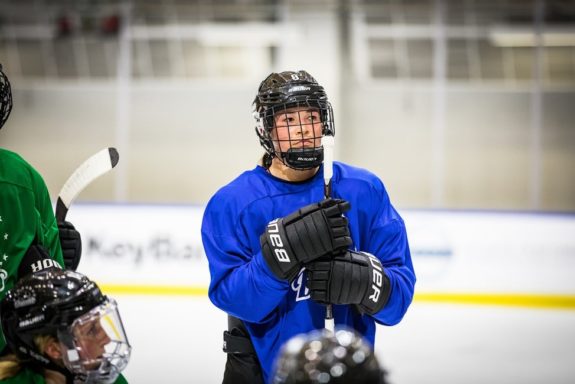 After witnessing the first of two practices that are open to the media and to the public, THW offers our insight into three key takeaways from the team's first official gathering on the ice for the 2018-19 NWHL season. Make no mistake – this Beauts' roster is everything that it has been cracked up to be, and then some. They are the league's force to be reckoned with and they are going to have fun doing it.
1. Goaltending Is the Finest in the League
The goaltending is very much what we thought it would be.
Buffalo's three goaltenders look fantastic on paper and they are even better to witness in person. Olympians Shannon Szabados and Nicole Hensley, and second-year netminder Julia DiTondo are the real deal. Each looked not only very comfortable in practice, but also imbued a sense of focus even in these early goings. Szabados is considered by many to be the finest goaltender ever in women's hockey. A three-time Olympian (two golds, one silver medal), she will be playing her first season of women's professional hockey after a number of seasons playing in men's pro minor leagues. Twice Szabados has been named Best Goaltender at the Winter Games. Hensley is fresh off of Olympic gold at the 2018 PyeongChang Games, and having graduated from Lindenwood University after the 2015-16 season, this will be her first professional experience as well. DiTondo served mostly in a tertiary role for the Beauts during the 2017-18 season, and is one of 11 players (so far) making a return from that particular squad.
Each of the three goalies is presently getting familiar with one another and their new teammates. They interacted cohesively, with each seeing fairly equal action during various drills. As the Beauts coaching staff begins its assessment of how the three shall be used in seasonal play, they are each excited for what the overall whole of the team is, no matter who fulfills what role.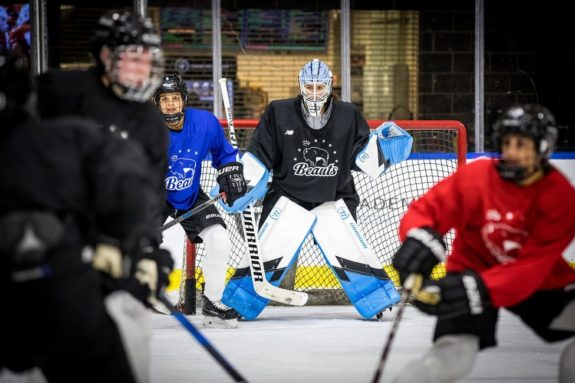 "It's nice," Szabados told the media afterward. "Got to meet a lot of new faces today, and it was nice to finally step out on that ice. A lot of energy out there. It was fun to be a part of for sure."
In addition to Szabados and Hensley, there are three other Beauts with Olympic experience – Emily Pfalzer, Lisa Chesson, and Dani Cameranesi. To go along with that level of experience and success, defenders Pfalzer, Chesson, Jacquie Greco, Jordyn Burns, Sarah Casorso, Blake Bolden, and forwards Hayley Scamurra, Emily Janiga, and Corinne Buie are all Isobel Cup champions. So while the three goaltenders are getting acquainted with one another, there is a highly talented collection of players surrounding and supporting them.
"There's a lot of good players on the team," Szabados continued to say. "I think all around everyone has a lot of skill. On paper it was fun to see throughout the summer. (It's) fun to see in person today. As a group, impressive."
Szabados' save percentages through her three separate Olympic Games are an astounding .980, .954 and .949 while playing three games in each tournament. In Hensley's lone Olympic game in PyeongChang against the Olympic Athletes from Russia she pitched a shutout. DiTondo has yet to make a regular season or playoff appearance since beginning her NWHL career, but we are hoping for her to have an opportunity this upcoming season.
2. At Least One More Signing to Come
There were 20 players participating in the first Beauts practice. The two notable omissions were signed players Pfalzer and Bolden who were not in attendance for this particular night. Interestingly enough, there was one player present – forward Meghan Fonfara – who was included as an invite to the camp but who is not officially under contract. Fonfara is a native of Elma, New York and possesses tremendous size at 6-feet tall. She is a recent graduate from the NCAA Division III school Elmira College. In 103 career games Fonfara scored 34 goals and 31 assists for 65 points.
GM Fattey confirmed that there would be at least one more player to be signed to the Beauts before regular season play begins.
"We're definitely going to be signing one more player," Fattey stated. "Absolutely. The league is 22 to 25 players (for each team), so yes."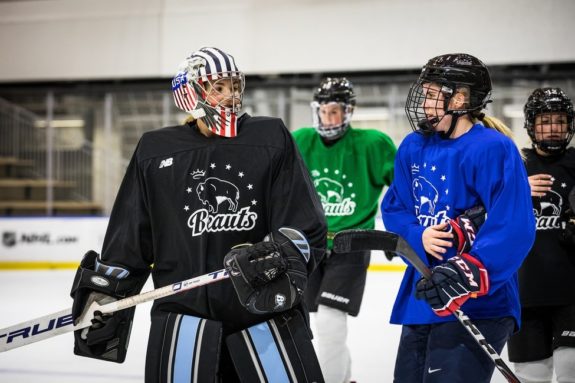 Whether this yet to be determined player ends up being Fonfara or another skater remains to be seen. During the forward's senior season at Elmira she set career highs in games played (30), goals (12), assists (14) and points (26). Fonfara would certainly add depth to the roster and some additional size among their already sizable forwards.
Regardless of whom Fattey ends up adding to the roster between now and the Beauts' first regular season game – Oct. 7, 2018 on the road against the Whale – he is enthused about the energy already evident in his team – including those out on the ice and behind the scenes too.
"It's really exciting," he stated. "Players arriving today and seeing the new locker room and all the stuff we've been working so hard for in the offseason. Jami Cohen (Operations Coordinator), Chris Bandura (V.P. of Media Relations), and the whole team coming together. Meeting the players face to face, and all the players meeting each other. It's really exciting. Big day. You can feel it. I don't know if you can sense it in practice that the excitement is there, but we're already working pretty hard. Everyone is happy to be here."
3. The Beauts Are All Smiles
There was some speculation that with the amount of high-profile signings the Beauts made during the summer that some of the "blue collar", tight-knittedness of the 2017-18 squad was lost. One look at the Beauts at the Sept. 19 practice and it was obvious that this notion or fear is totally unfounded. Rather, the complete opposite is in effect. Everywhere you turned there were genuine smiles on the players and coaches faces, and they were connecting and gelling with one another – the earliest workings of a team coming together. As Fattey had alluded to, there was very much a strong sense of positivity in the air and permeating throughout the drills and chatter on the ice.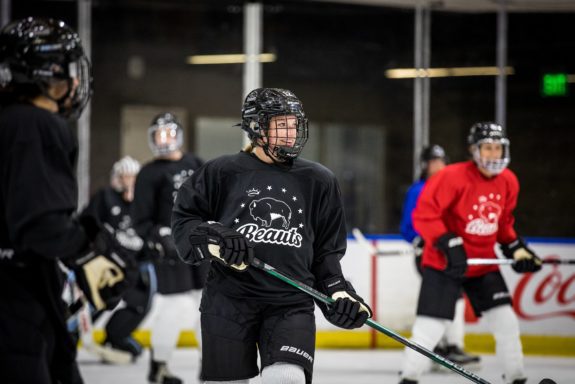 Let's face it – there was a lot of feverishness building up just through the summer signings alone. Every time NWHL fans turned around a new Beaut was added to the roster. The team came out hot and heavy with both barrels blazing as soon as free agency got underway. After months of seeing the names hitting the headlines and rolling across Twitter, the players could simply be themselves for once – they could be teammates.
Perhaps returning veteran and last year's team captain Corinne Buie said it best after practice:
"It was super fun to see all the signings during the summer," the two-time Isobel Cup champion said. "It was a really long summer just waiting for it to start. There was a core group of girls that were here training together the whole summer. We were just getting more excited with every signing that we would see. Our roster was looking pretty stacked. Early on we had a ton of signings compared to all the other teams. The excitement has been building through the summer, and I can't believe we're already here, just ready to go.
General Manager of the Buffalo Beauts (NWHL). Hockey history writer "The Hockey Writers". Credentialed media for the NHL Combine and 2018 IIHF World Junior Championships in Buffalo, NY, USA. Born and raised in Buffalo, NY. Lifelong hockey fan for over 40 years. Proponent of the women's game.