Over the past few seasons, no player on the Buffalo Sabres has been quite as enigmatic as Victor Olofsson. Since joining the team full-time, he has shown flashes of brilliance and clearly has the tools for success in the NHL. He's never been able to sustain it, however, and has become a polarizing figure amongst fans as a result.
---
Latest News & Highlights
---
With one year left on his contract and the Sabres at a pivotal point in their progression, Olofsson's future with the team is very much up in the air this summer, and it's difficult to foresee what comes next for him, for better or worse.
A Tough Time to Debut
To be fair to Olofsson, not all of his struggles have been his own doing. He was a long shot to make the NHL after getting drafted 181st overall in 2014, but he rapidly ascended through the minor leagues and joined the Sabres for the 2019-20 season. Upon debuting, he immediately provided a boost and recorded 20 goals and 42 points in 54 games, earning the moniker "Goalofsson" from fans. And while it seemed like he was on the path to a Calder Trophy nomination, dark clouds loomed ahead.
His rookie season was halted that March due to the outbreak of the COVID pandemic, and it never got a chance to continue. The Sabres were one of the seven teams that didn't qualify for the restart when the NHL resumed play in August, and they had a wait almost a full calendar year before they stepped onto the ice again. Though the shortened 2021 season was dreadful for Buffalo, Olofsson managed a decent performance. His numbers regressed slightly, but nobody could fault him given the circumstances, and he continued to show promise for the future.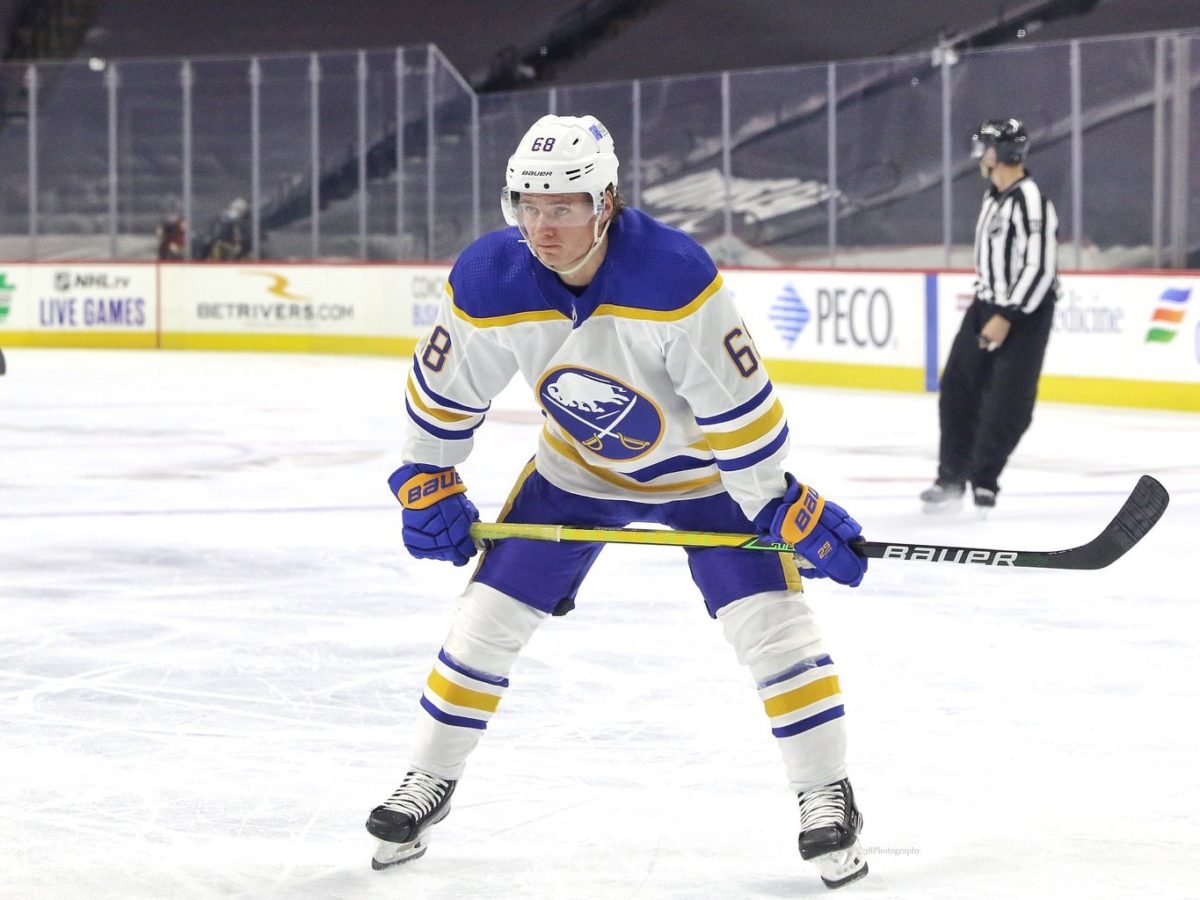 Cashing in on that promise has become the issue that's defined his career to this point, however. Featuring a powerful slap shot and an even better wrist shot, the Swede is tailor-made for all offensive situations and has scored 20 or more goals in three of his five seasons, particularly on the power play. But while he's always been an offensive threat, inconsistency has been his Achilles heel, and he hasn't managed to put together a complete season from start to finish to this point. After catching fire in the second half of the 2021-22 campaign and scoring 13 goals in 34 games, the foundation was laid for him to break out further in 2022-23. Whether or not he did depends on how you choose to look at it.
More of the Same for "Goalofsson"
In terms of production, Olofsson's season was strong, and a career-high 28 goals helped the Sabres' offense transform into one of the best in the game. He continued to earn a regular spot on the right side of the power play and was an excellent complement to Tage Thompson on the left side, giving the top unit two viable options for one-timers. He also proved to have a flare for the dramatic along the way and scored numerous clutch goals, perhaps none more so than on Jan. 7 in overtime to end a brawny, back-and-fourth contest against the Minnesota Wild.
However, the results weren't as pretty on the other side of the puck. Defensive struggles plagued the Sabres all season, and getting sound two-way play from forwards proved to be a major issue, with Olofsson the most glaring example by far. His back-checking isn't great, and it would be fair to call him a liability outside of the offensive zone. His propensity for disappearing for large stretches also remained, as he went 16 games without a goal from Jan. 28 to March 7. This may have been the reason for his benching in April, despite the fact that Buffalo was battling for a playoff spot.
Olofsson's offensive acumen is impossible to deny, but his game remains very one-dimensional. He often relies on teammates to set him up for scoring opportunities and rarely creates plays for himself, as evidenced by his career-low 12 assists. With the skill and poise he possesses, he could easily be a 40-goal and 80-point scorer, but his inconsistency has prevented him from reaching that potential, and he settles for being a middling contributor.
Olofsson's Future With Sabres Is Dubious
The Sabres' emergence this season was a sight to behold, but it ironically clouds Olofsson's future with them. Career years from Thompson, Alex Tuch and Jeff Skinner and the emergence of Dylan Cozens, Casey Mittelstadt and others make the 27-year-old far more expendable, as does the potential impending arrivals of Jiri Kulich and Isak Rosen (from '6 questions for Sabres, Kevyn Adams this offseason: Who's in net? Victor Olofsson's future?,' The Athletic, 4/18/2023). As a result, the team could opt to move on this summer.
The winger will become an unrestricted free agent after next season, and with a manageable $4.75 million cap hit, general manager Kevyn Adams has the option of shopping him around. Olofsson would be a tempting asset for teams looking to improve their power play, and his stock is high enough to command a decent return. The Sabres could easily use him to either directly acquire a defenseman or a mid-round draft pick that they could use in a future move.
Final Grade For Olofsson
Olofsson has always been above-average, but both fans and the media alike know that he's capable of more. If the speculation proves false and he remains with Buffalo for next season, head coach Don Granato will have to find a way to make him a better all-around player.
Related: Sabres 2022-23 Season Report Card: Tyson Jost
The Sabres have more than enough offensive firepower to justify trading him for a defenseman or even a better two-way forward and can no longer afford to have a spot taken up by a power-play specialist. Still young at 27, he still has plenty to offer the team, but he'll have to up his game if he wants to have the continued chance to do so.
Final Grade: C+
---
---