The start of the 2023 NHL Playoffs has been nothing but chaotic. With three Game 7's and upsets to boot, fans have been treated to the highest levels of drama the sport of hockey has to offer.
---
---
Thanks to all the chaos, fans are tuning in to watch the games. Both ESPN and Warner Brothers Discovery, the parent company of Turner, have seen improved TV ratings throughout the first round.
One of the big questions coming in was just how much of an impact would having hockey on TNT and back on ESPN have on ratings? It's clear this has made a huge difference in year two.
Strong TV Ratings
On Tuesday, Warner Brothers Discovery released their viewership numbers for the first round on TNT and TBS with a sprinkle of TruTV in there if a game ran late. It was record breaking.
---
Latest News & Highlights
---
For the first round, WBD reports that overall ratings for the first round was up 18% from 2022. This made it the most watched first round on cable of all time with an average of 959,000 viewers per game throughout the first round.
In addition, Game 7 of the Florida Panthers/Boston Bruins series saw 3.2 million viewers tune into the game. This was the most watched first-round game ever on cable and the most watched first-round game on any channel in over a decade. The Bruins/Capitals game in 2012 was the last occurrence of this kind of viewership for one game in the opening round. At its peak, 4.1 million viewers were tuned in between 9:30pm and 9:56pm.
Then out west, the Seattle Kraken/Colorado Avalanche Game 7 drew in more than two million viewers. This was the most watched first-round game ever for the late window.
WBD also says that they've now televised the four most watched first-round games of all-time on cable.
On Monday night, ESPN released their viewership numbers for the first round. Below are some tidbits from them and then the overall outlook.
ESPN averaged 684,000 viewers across all of their Game 2's. Two games were on ESPN and two more were on ESPN2. This was up 27% from last season over the comparable Game 2's.
Through the first 11 playoff games televised, ESPN averaged 647,000 viewers which was a 10% increase from the first three days of the playoffs last season.
Specifically, fans age 18-49 are watching more this season as well with increases anywhere from 5%-34% depending on the game.
Through the first 14 playoff games including games on ABC, the average viewership was 745,000 total viewers, an 18% increase from last season.
Game 3 of the New Jersey Devils/New York Rangers averaged 1.6 million viewers on ABC and peaked at 2.2 million viewers. This was the most viewed Game 3 of a first round since 2018.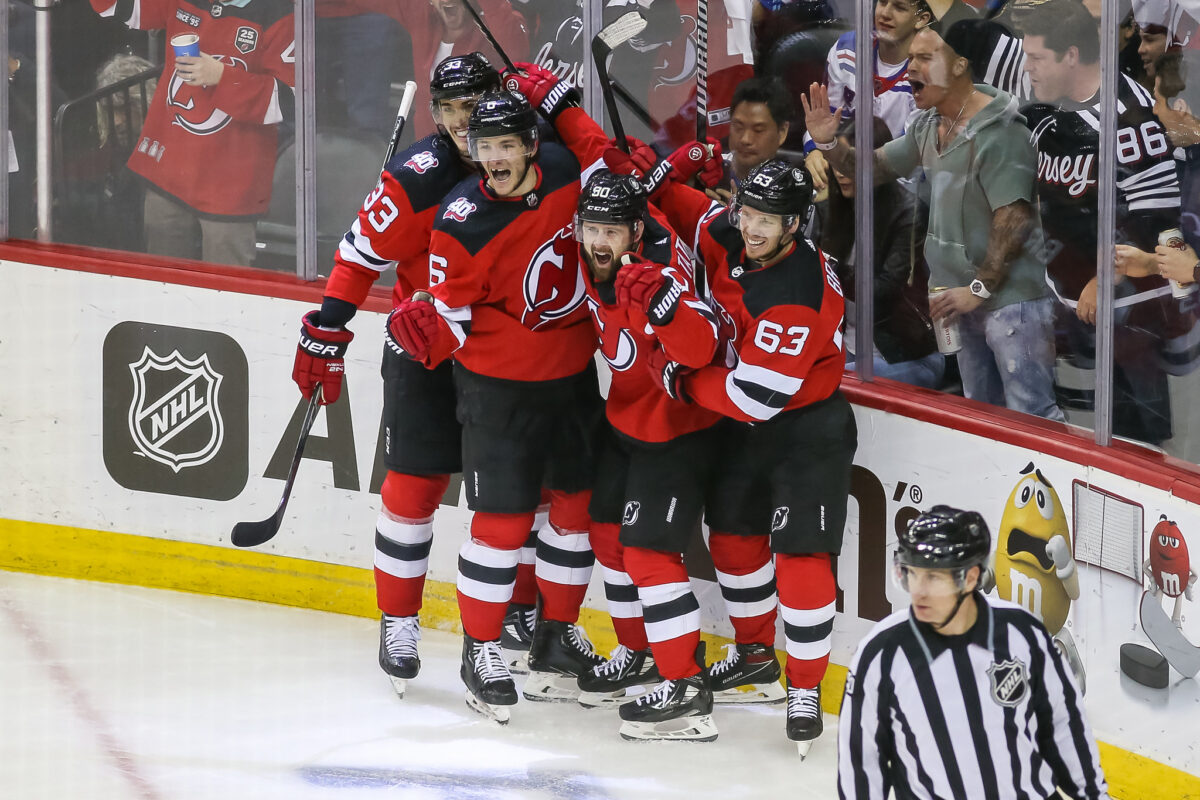 For the entire first round, average viewership was 881,000 which was up 22% from last season.
Rangers/Devils Game 7 averaged two million viewers which was the third most-viewed first-round game ever on cable.
The Walt Disney Companies had three of the top-five first-round games this season.
All broadcasts coexist with the RSN broadcasts in the first round.
Combined in the United States, round one was the most watched first round ever on cable and the second most watched first-round of all time.
Combined viewership in the United States averaged 1.1 million viewers, a jump of 49% from 2021.
A total of 11.8 million fans watched the three Game 6's in North America. The overall average per game in North America was 2.7 million viewers per game. This includes Canadian viewership.
ESPN & Turner Matter
What have we learned in the year plus of having ESPN and Turner as the rightsholders in the United States? Based on these numbers, it shows that their presence in hockey matters.
It's easy to see why. The ease and convenience of finding games is in a much better spot. NBCSN was not always easy to find especially if you travelled. Versus and OLN were almost impossible to find.
Most everyone with cable has access to ESPN, ESPN2, ABC, TNT and TBS. This is the thing fans have screamed for over the last several years. The TV ratings reflect how much easier it is to find games.
You Might Also Like
Also having two rightsholders makes it so that more games are shown nationally. While NBCSN certainly tried to get as much on as possible which included using channels like USA and CNBC, having more outlets available makes it easier to show more games. Splitting the package in this case makes complete sense.
The first step was to make the game more accessible. Mission accomplished so far. TV ratings are in a good place with both rightsholders. Now comes the time to start perfecting the broadcasts. That will come with time.
For now though, everyone wins especially the fans. The TV ratings are showing what we've known for a long time. The NHL and its product are better with ESPN and Turner both involved. It was long overdue.