The Buffalo Sabres are entering a very important offseason. The organization is looking to take the next step out of the rebuild stages and into becoming a playoff contender. A lot of the main pieces are in place for the future of the club, but there are still holes on the roster that need to be filled. Also, for the first time in a few years the pressure is on the Sabres from the fan base to put a winner on the ice. The years of "suffering" are over and now is the time to begin to pay back the fans for their patience.
I'll outline here the needs, potential targets and priorities for the Sabres this summer to improve the team. General Manager Tim Murray has the assets and cap flexibility to explore almost any trade or free agent.
Current State
Quickly I'll start be reviewing the current state of the Sabres. Last summer Buffalo found their new face of the franchise in Jack Eichel and acquired another top all round center in Ryan O'Reilly. The Sabres are the deepest at center they've been since 2007 with Daniel Briere and Chris Drury. Sam Reinhart burst onto the scene in his first full NHL season and blew by the expectations of many. Evander Kane had a strong first season in Buffalo by scoring 20 goals and playing with a relentless attitude.
The Buffalo blue line had its ups and downs last season. Rasmus Ristolainen had a career season and took over as the organization's top defender. Jake McCabe is another young player who stepped into a top four role and appears to be a player on the rise. Casey Nelson was intriguing as a late season college free agent signing. Also, top prospect Brendan Guhle could really push for a roster spot in training camp next fall.
The goaltending was a wash last season. Robin Lehner missed most of the season with an ankle injury, but gave the club signs of hope as he played well in his 21 appearances. Chad Johnson was a surprise, but will likely be in the net for a new team next season as he's set to become a free agent in July.
Here are some other housekeeping details that are important to know heading into the offseason:
Projected salary cap: 22.6 Million (via capfriendly.com)
Restricted Free Agents: Zemgus Girgensons, Jake McCabe, Rasmus Ristolainen, Marcus Foligno, Casey Nelson and Nic Deslauries
Unrestricted Free Agents: Chad Johnson, David Legwand and Carlo Colaiacovo
Draft Picks: 1st (8th), 2nd (38th), 3rd (69th, 85th, 86th, 89th), 4th (99th), 5th (129th, 130th), 6th (159th), 7th (189th, 190th)
Top prospects: Brendan Guhle (D), Justin Bailey (F), Hudson Fasching (F) and Cal Petersen (G)
The Forwards
One of the priorities if not the top priority of the Sabres offseason will be to find another forward to play with Reinhart and Eichel. Last season when the two began to play together near the end of the season Head Coach Dan Bylsma rotated a few players in with the young pair. The most successful player to play with the pair was Kane, but in the long run he doesn't seem like a fit for Eichel. Both players are shooters and like to carry the puck. Also, Reinhart and Eichel like to use their creativity to create offense while, Kane, likes to get as many pucks to the net as possible.
The options to fill that opening in the top six of the Buffalo lineup are endless. The first name that comes to mind however is Steven Stamkos. The 26-year-old forward is set to hit the open market and arguably be the biggest player to ever hit the open market. He's going to command anywhere in the neighborhood of 9 to potentially 12 million dollars a season. Buffalo has the cap space to make it work, but it'll mean they'll have to be very careful moving forward. The idea of Stamkos playing with Eichel and Reinhart sounds like a dream to Sabres fans. Three players who can score and skate is a lethal trio for any opposing defense. Buffalo has all of the traits Stamkos will be likely be searching for in a new team. However, the biggest competition will be division rival the Toronto Maple Leafs. As many know, Stamkos, is from Markham which is just outside of Toronto. Along with the Leafs, Montreal, Detroit, New York Rangers and Tampa Bay will be in the race as competition for Buffalo.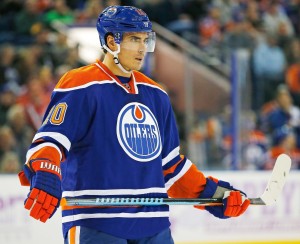 The options don't end with Stamkos. It's very possible and perhaps likely the Sabres will not land the big free agent. Another free agent like Kyle Okposo could make sense as a consolation prize. The former New York Islander would fit in nicely with the two former second overall picks in the top six. The concern with Okposo is how he'll perform outside of the spotlight of John Tavares and his contract on the open market. The idea of paying six and a half to eight million dollars for a player who hasn't scored 30 goals once and only 20 goals three times in his eight year career can be risky.
Beyond Okposo and Stamkos the free agent market dips significantly in top six forward talent. Murray could shift his focus from free agency to the trade market in his quest to fill a top six forward need. Players like Nail Yakupov, Valeri Nichushkin, Ryan Nugent-Hopkins, Rick Nash and Chris Kreider could be potential targets. Edmonton is opening to moving any of their young players besides Connor McDavid and Leon Draisaitl in the right deal. With the log jam in the Sabres defense the Oilers seem like a good match as a trade partner.
The bottom six on the roster seems to be pretty set, but Buffalo shouldn't be closed to the idea of adding a piece if they can find the correct fit and contract. Young players like Justin Bailey and Evan Rodrigues could fill open spots in the third and fourth line.
Before getting off the forwards Zemgus Girgensons is an important piece to touch on. The former first round pick is set to become a restricted free agent. The future of the Latvian native can be described as cloudy right now. Both the Sabres and Girgensons are not sure of the fit on the roster. He prefers to play center, but the top three centers on the roster currently belong to O'Reilly, Eichel and Johan Larsson. Girgensons fits best into a bottom six role, however, as I previously mentioned the bottom six is pretty set. If you include players like Bailey and Rodrigues pushing for roster spots, it appears there's no room. Buffalo could use Girgensons as a trade chip as part of a bigger trade, but at the same time he can be a useful piece moving forward. Girgensons will be a very interesting story line to follow throughout the summer.
So, here's a recap of how the forwards break down:
Need: Top six winger and bottom six winger
Strength: Center
Potential targets: Steven Stamkos, Kyle Okposo, Nail Yakupov, Rick Nash, Valeri Nichushkin and Chris Kreider
Trade chips: Zemgus Girgensons and Marcus Foligno
The Defense
According to the Sabres General Manager his biggest need in the offseason was finding a top two quarterback defenseman. The Buffalo blue line did struggle at times last season, but seemed to get on track in the second half of the season. Buffalo has a big log jam with currently seven defenders on the roster if you include the RFA's. If you throw Guhle into the mix, now it's eight. It's safe to assume that one of Zach Bogosian, Josh Gorges, Cody Franson or Mark Pysyk will not be on the opening night roster.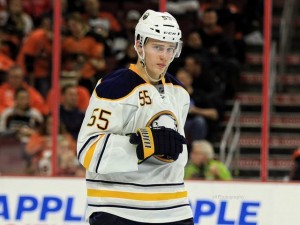 Ristolainen is the most important piece to get done first on the defense. The 2013 eighth overall pick is a restricted free agent and is likely due a big pay-day. The Sabres would be wise to lock Ristolainen up long-term at what will seem like a reasonable cap hit in a few years based on his potential. In the neighborhood of five years 30 million dollars is where a deal for the Finnish native could end up.
After signing all of the defense RFA's, the focus shifts to finding that long-term partner on the top pair for Ristolainen. The obvious need is to find a left-handed defender as five of the seven defensemen on the roster shoot right-handed. That being said, if the right player comes available I don't believe they'll pigeon hole themselves.
A few big names are rumored to be available in a trade. Cam Fowler, Tyson Barrie, Kevin Shattenkirk and Sami Vatanen. Barrie is the player here who may be the most interesting. He fits the requirement set by Murray of a quarterback type blueliner. His offensive game is impressive, but he's also reliable in his own end of the ice. Barrie is a RFA and only 24-years-old. If the Sabres can get their hands on a player like that the top pair is set for a long time.
The Anaheim Ducks defenseman Fowler has been coveted by Murray for a while. Fowler also has offensive upside, but not to the same level as Barrie. Fowler is also 24 and is signed for the next two years at a four million dollar cap hit.
If the Sabres can't find the right trade, they do have a few options in free agency. Buffalo could bring back old friend Brian Campbell for a short-term contract to provide power play help and play top minutes. They could also explore the option of brining on Dallas Stars free agent Alex Goligoski. Both player a similar game and are left-handed shots, but Goligoski is seven years younger than Campbell.
Defense recap:
Needs: Top two defenseman
Strength: Defense depth
Potential targets: Cam Fowler, Tyson Barrie, Brian Campbell, Alex Goligoski, Kevin Shattenkirk and Sami Vatanen
Trade bait: Josh Gorges, Zach Bogosian, Cody Franson and Mark Pysyk
Goaltending
Last season was more of a lost season in terms of goaltending for the Sabres. Robin Lehner played only 21 games after dealing with an ankle injury for most of the season. Chad Johnson and Linus Ullmark carried the load for most of the season. It was interesting to get a look at top goaltending prospect Ullmark in his first season in North America. The young Swede returned quicker than anticipated from double hip surgery. Ullmark had an up and down season between Buffalo and Rochester of the American Hockey League. He showed signs of being a legitimate NHL goalie, but also showed he has a few areas of his game to work on.
Johnson was certainly a surprise with how well he played this season. He actually played so well that he'll likely sign with another team as a free agent and compete for a starting job that he covets. The Sabres would surely love to have Johnson back as a number two, but the money and fit likely doesn't make sense for both sides.
Ullmark needs to spend at least a full season in the AHL before he can be a full-time NHL goalie. Thus meaning the Sabres will head into the goalie market to find a backup with Johnson's expected departure. They'll likely be in the market for a low-cost goalie on a short-term contract with Ullmark and prospect Cal Petersen in the long-term plans.
The club is still all in with Lehner who they gave up a first round pick to acquire last year at the draft. He showed signs of being a number one goaltender in his brief play this past season. At only 24-years-old Buffalo has no need to move away from the giant goalie. The key for Lehner will be to put in at least 50 to 60 games and prove he can handle the work load of a starter.
Goaltending recap:
Needs: Backup
Strength: Depth
Potential targets: Karri Ramo, Anton Khudobin, Jhonas Enroth and Al Montoya
For a little more fun here is my projected opening night roster:
Forwards:
Evander Kane – Ryan O'Reilly – Tyler Ennis
Sam Reinhart – Jack Eichel – Nail Yakupov
Justin Bailey – Johan Larsson – Marcus Foligno
Nic Deslauries – Evan Rodrigues – Brian Gionta
Matt Moulson
Defense:
Rasmus Ristolainen – Tyson Barrie
Zach Bogosian – Jake McCabe
Josh Gorges – Casey Nelson
Cody Franson
Goaltending:
Robin Lehner – Karri Ramo