By now, we all know what's wrong with the Buffalo Sabres.
Hell, I've jumped on that dog pile myself a time or ten.  It's easy when so many things have gone wrong for such a long time. So excuse me when, after trading captain Jason Pominville, I expected this team to be offensive to the senses, an absolute pain to watch.
Thing is, I was sort of wrong.  This team still isn't good but they also fight harder.  Mostly because they have to.  Still, they're not a playoff team and likely won't be after their final five games come to a close.
Yet instead of harping on what's wrong with this picture, we're going to go in a different direction: let's focus on the good things going on with the franchise? Maybe some positivity will get Steve Ott and the boys over the hump.
Center Is No Longer A Weakness
Remember the days when the Sabres were woefully thin down the middle?  Yeah, about that.
The team may have found it's top-line scoring center in the 23-year old Cody Hodgson.  He displays wonderful hockey sense in the offensive zone and hands to match.  He's played well alongside Thomas Vanek this season and looks like he'll only get better as the talent around him improves.
Behind him, it gets even younger.  2012 first-round pick Mikhail Grigorenko has all the talent in the world and will be given every chance to succeed in Buffalo.  He could be a dynamic player if handled right and is far and away Buffalo's best prospect.  The hype train may have gotten a little out of control for him before the season started but his disappointing showing shouldn't be considered the end of the world given he's just 18.
Also taken in the first round of the 2012 draft is Zegmis Girgensons. Quite the opposite of Grigorenko, Girgensons is known more for his two-way play.  Speedy with good size and tenacious forechecking ability, he could develop into a good number two center or, in a perfect world, a great number three behind Hodgson and Grigorenko.
Last, but certainly not least, is Buffalo's newest acquisition and the centerpiece to the Pominville trade Johan Larsson.  Projecting as a very good number two, Larsson is earning rave reviews in the AHL for his dominant two-way play already.  He'll fit the trend of defensive responsibility out of the forwards but he has an offensive potential that could make the Pominville deal a steal for the Sabres.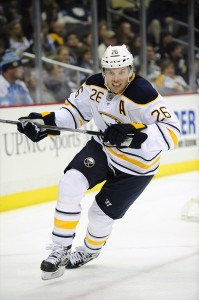 Still Have Tradable Assets
The rebuilding process has already seen a wonderful start and it should only get better this June at the NHL Draft.  Considered to be very deep, the Sabres have two first-round picks (which would have them picking 10th and 18th based on current standings) and could add two very talented prospects to their talent pool.  Or, perhaps, they could package those picks to move up and grab on of the impact prospects on the board.
Not only that but they still have assets to move.  Drew Stafford was rumored to be on his way to Winnipeg at the deadline and could be valuable to teams looking for secondary scoring or power forwards.  Stafford has the talent but maybe a change of scenery would be best for everyone.
Thomas Vanek is an option should the right offer come along.  His price tag is hefty ($7.5M) but he has just one year left on his deal and is an upper-echelon goal-scorer.  Putting him on a contender where he doesn't have to be "the man" could push him into another stratosphere.  The likely answer with Vanek, however, will be holding onto him and re-signing him.  He's been the face of the franchise for awhile now and the team may want to keep him around.
The biggest trade chip available is goaltender Ryan Miller. While it's been difficult for teams to trade their star goaltenders (Roberto Luongo, Ilya Bryzgalov) there is one big difference between Miller and that group: Miller has just one year remaining on his deal and doesn't require a long-term commitment. If a team in need of a goaltender thinks he can push them over the top, the haul could be bountiful for the Sabres and Miller would get a chance to win as he deserves.  A win-win for both.  Suitors could open up at the draft, especially if someone exits the playoffs quickly due to shaky goaltending.
Oodles of Cap Room
That's right: oodles.  The team is picking up $700k of Pominville's salary but compared to the $6.5M they would have owed him next year, that's nothing.  Stafford and his $4M could come off, as could Ville Leino's cap hit should the team buy him out.  They already stand to have nearly $20M in cap room heading into the off-season with only Hodgson, Brian Flynn, and Jhonas Enroth in dire need of signing.
They could easily sign a veteran presence or two to fill in the back end or merely keep the room free and use it as an asset in trades. Being able to take back a bad contract could net the Sabres valuable assets to aid the rebuild.  Darcy Regier, or whomever is running the show by then, will definitely have a lot of room to play with and can be flexible in the decisions they make.
Locking up Hodgson and Enroth will be the priorities. After that, it will depend on what the team has done/will do with Miller, Stafford, and Vanek.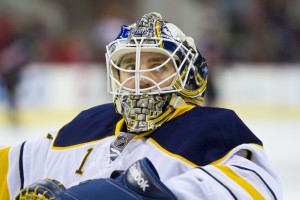 Enroth Has Made Miller Expendable
I'll let you in on a little secret that only Buffalo fans know by now: Jhonas Enroth is actually pretty good.
He had a catastrophic start to the season under Lindy Ruff, becoming such a liability that it didn't look like he'd see the crease from any closer than the bench.  Then Ruff was gone and suddenly, a new Enroth emerged.  He's been absolutely fantastic since Ruff's firing and now sports an 4-2-1 record with a .924 save percentage and a 2.40 goals against average.
In January/February, he only started twice under Ruff and the numbers were beyond bad: 0-2-0, .847 save percentage, and 4.75GAA.  It looked like any hope the Sabres had for him was gone.
Then Lindy got fired and the real Enroth emerged, almost as if he was being held hostage and forced to watch his "Jean-Claude Van-Damme playing goalie in Sudden Death" clone only to triumphantly escape: in March, he was fantastic going 2-0-1 with a .940 save percentage and 1.95 GAA in four games played.  In April? He's been incredible: 2-0-0, .972 save percentage, and a "seriously?" 0.86 GAA to go with a shutout.
He's been flatout amazing and, as with his goaltending cohort Miller, has kept the Sabres in games they never even belonged in.  Enroth's emergence, brief as it's been, gives the Sabres hope for life after Miller.
The Team Has Heart
That's not something you could say about the team at very many points over the last few years but it looks as if the team has responded since the firing of Ruff.  Seeing your captain and a few veteran defensemen get shipped out of town probably has a bit of a wake-up effect on the team, too.
The real bright spots on the team have been guys like Flynn and Kevin Porter.  The two have gelled with the dormant Marcus Foligno to provide energy and effective forechecking as well as defensive responsibility – something the Sabres don't have nearly enough of.
Flynn has been tremendous; he plays heads up, skates his butt off, and puts himself where he needs to be. His four goals this season were all well-deserved and he's been a pleasure to watch.  Can't wait to see him in the lineup for a full 82 games.
If the leadership issue can be addressed – and there seems to be a divide amongst the fan base as to what to do with Steve Ott – two of the biggest problems the Sabres had to start the season will be alleviated.
So all is not bleak for the Sabres.  The playoffs probably aren't happening and they may have played themselves out of a top ten pick but there are things to be happy about.  Now if they can just piece it together next year, we'll all be happy.