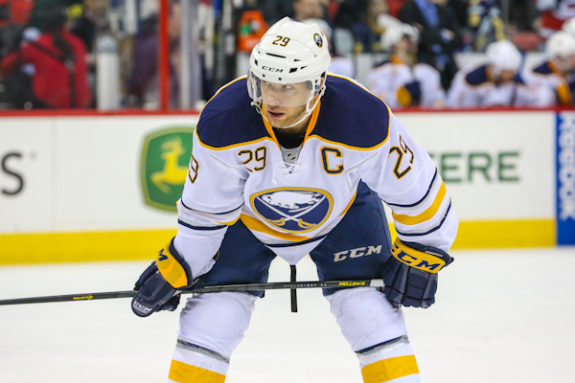 Wednesday's NHL trade deadline brought several surprising major trades. The Minnesota Wild's move to acquire Jason Pominville ranks pretty high among those. Most expected the Buffalo Sabres to trade away veterans, but captain Pominville wasn't on that list. Meanwhile, most expected the Wild to be involved in at least a couple of trades, but not of this size.
General Manager Chuck Fletcher had to pay a steep price to acquire the talented winger. The deal sent promising young forward Johan Larsson and top prospect goaltender Matt Hackett to Buffalo. Larsson has been lost in the fold this season, but he has been playing exceptional hockey for the Houston Aeros in the AHL of late. The 20-year old has 37 points in 62 games on the season and he had 10  in 11 games in March.
Hackett hasn't performed quite as well as he was expected to after impressive NHL showings in the 2011-12 season. He conceded five goals on 33 shots against Dallas on March 28 in his only appearance of the season for Minnesota. Hackett hasn't dominated the AHL in the way that many expected him to either posting just a .907 save percentage in 43 games. However, the 23-year old was still widely expected to be the future of this franchise in net and he was comfortably a top five prospect for an organization that is regarded as having one of the better prospect bases in the league.
In a previous article I discussed the need for Fletcher and the Wild to be aggressive at the trade deadline and not be to guilty of sitting back on their heels after Minnesota had made a positive start to the shortened 2013 NHL season [see: NHL Trade Deadline: Five Players Who 'Fit' Minnesota Wild]. My suggested trade targets were all pending free agents and low cost acquisitions. There's little doubt that Fletcher has made a mess of the balance in putting together this huge trade for Jason Pominville.
Pominville is unquestionably a great NHL player. He has six straight seasons of 20+ goals, scoring 30 goals twice and scoring 60+ points on five occasions. Last season he was named team captain and went on to score 30 goals and 73 points in 82 games. He has 10 goals and 25 points in 37 games this season. He has just five assists in the past 13 games as the Sabres have gradually slipped away from the postseason places.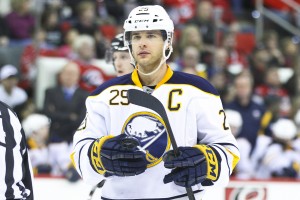 Crucially, Pominville has shown that he is a strong all-round player. He leads all Sabres' players icing 3:53 minutes of power-play time per game and is second among forwards icing 2:06 minutes of short-handed time per game. Early projections have Pominville taking injured Dany Heatley's spot on a line alongside Kyle Brodziak. He will continue to see a lot of ice time and will definitely be an asset to this Wild line-up.
The problem is that Pominville being unquestionably a good hockey player isn't a good enough reason to trade him. There needs to be a vision and rationale behind every move that a General Manager makes.
Fletcher's rationale in trading for Pominville is at least reasonably transparent and decipherable. The Wild currently have the third best record in the West and it's clear that Fletcher decided that making an aggressive move to enhance the team in the short-term was worthwhile based on that.
Fellow THW writer Sheng Peng has highlighted the over-dependence of Minnesota's offense on Matt Cullen and Devin Setoguchi during their recent winning streak [see: Minnesota Wild: Four Who Must Step Up]. This move is clearly aimed at addressing that issue. Pominville's addition boosts the Wild's offensive ahead of the stretch run and postseason.
The strength and depth of the organization's prospect base will have given Fletcher the confidence to trade away some pretty good young players. Hackett has arguably been overtaken on Minnesota's goaltender depth chart this season by 22-year old Darcy Kuemper. Larsson was struggling to get noticed among a talented group of young forwards including Charlie Coyle, Jason Zucker and Mikael Granlund.
A trade can rarely be evaluated immediately. However, the opportunity for this trade to be evaluated as 'successful' down the line is quite slim. There are really only two outcomes that could justify the high price that Fletcher has paid. Either Minnesota has to make a serious (at least conference finals) run in the 2013 NHL playoffs, or Pominville has to be integrated into the Wild line-up in the long-term without disrupting the current balance of this developing roster.
Proactive roster building can have its rewards. It's important not to get stuck standing pat and not to become afraid of change. However, such moves need to be made with the understanding of the team you are before the trade. Minnesota are currently just six points clear of ninth place and entered the season generally considered to be a border-line team.
Little has happened through 36 games to suggest that those evaluations were skewed. Head coach Mike Yeo has had to deal with consistency issues both offensively and defensively. The Wild own middling goals per game and goals against per game averages, and a pair of middling special teams units. A roster led by Fletcher's prized free agent summer additions Ryan Suter and Zach Parise entered the trade deadline in good position to claim a first postseason berth since 2008, but not in the discussion as a serious Stanley Cup contender.
This team was more than a big splash away from being a serious championship contender. They didn't have the look of a team that was ready to mortgage significant pieces of their future for one more player to push them over the edge.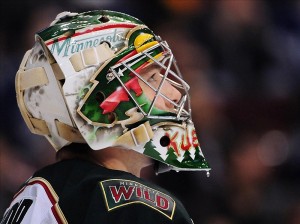 The price in this deal was extremely tough. Larsson is a talented forward in himself and highly regarded for his offensive skill set. The 20-year old has impressed with the Houston Aeros in his first North American professional season.
However, the big piece in the trade was young goaltender Matt Hackett. That's the price that it is problematic for this team to have played. Fletcher probably considers Kuemper and European goaltending prospect Johan Gustafsson as a good enough base of young goaltenders. However, neither of those players have the same upside that Hackett has. Goaltenders have a notoriously difficult and longer development path and Hackett"s performance in the 2012-13 season shouldn't have been seen as a major concern. It also means that quantity is even more important in terms of goaltending prospects. Kuemper has developed sharply over the past year, but it is very possible that he will hit a bump in the road over the next couple of years and there's still no certainty that he will become a starting goaltender.
If Pominville becomes a regular in this team's top six and re-signs as a key part of this team over the next five to six years and/or Hackett doesn't pan out as a strong starting goaltender in this league then perhaps this trade will be reflected upon positively. It isn't so positive on the face of it though. Right now it looks like the Minnesota Wild have traded away what could have been a crucial piece of their future for a good forward who may or may not be with the franchise for longer than the short-term.
Those concerns about Pominville's future in Hockey Town are largely financial. According to Cap Geek Minnesota has around $9 million of cap space to spend ahead of the 2012-13 season. That money needs to be spent on re-signing or replacing several key pieces including starting goaltender Niklas Backstrom, starting defensemen Jared Spurgeon and Justin Falk, and top nine forwards Pierre-Marc Bouchard, Matt Cullen and Cal Clutterbuck. The maths isn't adding up right now for Fletcher and the Wild.
There's a chance that Fletcher decides to use a compliance buyout on Heatley this summer freeing up an extra $7 million of cap space. However, that won't necessarily make it much easier past next season. Pominville is an unrestricted free agent next summer. He will almost certainly want a raise on his current $5.3 million number. Does Fletcher really want to back himself into a situation where he is paying Parise, Pominville and Mikko Koivu more than $6 million per year while the likes of Coyle and Granlund are developing?
The good news is that Jason Pominville shouldn't have too many problems fitting in on this roster. He is a decent two-way player, he can play in all situations and be effective and he has shown the potential to be the scorer and the play-maker on a line. It's just hard to see this deal as anything but a blunder from Chuck Fletcher.