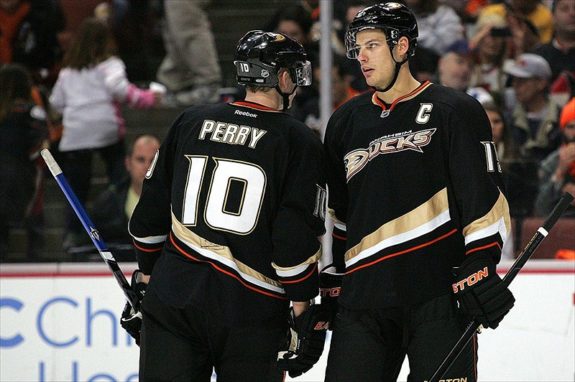 With six games left in the shortened season, it's time to start addressing the strengths and weaknesses of the Anaheim Ducks. Though they've been sitting up on top of the Pacific Division and also in the standings for the majority of the year, there is definitely room for improvement if this team doesn't want to have an early first round exit.
Here are the main problem areas the team needs to address before entering the playoffs:
Penalty Kill
There's the infamous quote "Offense wins games; defense wins championships." Just looking at the stats, the Ducks' are sitting towards the bottom of the cellar at 21st place on the kill. Sadly, it's another year that the Ducks are nabbed with a plethora of penalties as they have been short handed 144 times this season. Anaheim really needs to stray from their usual antics on the ice come playoffs. They need to button it up when a call is made and they need to tightly grip their sticks when they're tempted to take a penalty. The Ducks are no stranger to the box and by now should've accepted that they are one of the most penalized since dating back to the Brian Burke and Chris Pronger days.  The postseason is an unpredictable glass case of emotion. Let's just hope they can contain themselves.
Lack of Consistency
When the twins, Ryan Getzlaf and Corey Perry, are having an off-night the team is there to usually follow, but the Ducks didn't get this far with a lack in production. Anaheim, for the first time in quite awhile, are able to roll out four potential scoring lines. When the scoresheet doesn't depend on a few selective players to put up numbers and when the team scores at least three, their odds of winning is that much better.
Goaltending
Viktor Fasth's NHL debut couldn't have come at a more perfect time. The Swedish, 30-year-old netminder has been playing out of his mind for his first season in the league. With the inconsistent performances by No. 1 goaltender Jonas Hiller and the uncertainty of his health, mentally and physically, Fasth has stepped it up. I truly believe Hiller has no lingering signs of vertigo, but Fasth's stellar performance may be getting to his head. I've always been an advocate of teams utilizing their goalie tandem instead of relying solely on one. It shows versatility and a monumental trust regardless of who is between the pipes. There's more times I've felt let down by Hiller this season, as he has allowed numerous soft goals and doesn't look like he has playing up to his full, confident potential. When a goalie is confident it reverberates to the rest of the team, so the two need to play on top of their heads.
For more information throughout the season follow me on Twitter @m_drinnenberg and on Facebook here.